For mountain bikers who enjoy riding over trail terrain and thinking about investing in mountain bikes specifically built around trail biking, you probably want to look after this article of Polygon Siskiu T8 review. Get thorough insight into what makes a Polygon Siskiu T8 worth your cash and how it is compared to the Polygon Siskiu T7 models. Here is the article you need, hope you enjoy your reading!
What is a Trail Mountain Bike?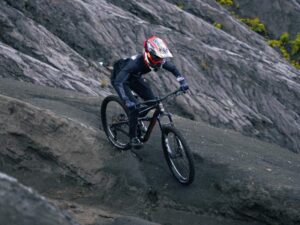 A trial mountain bike is specially designed for riders who love the adventurous side of mountain biking. Although they can also allow riders to perform like riding cross-country, it is usually seeking bigger features and obstacles during the ride. The trail riders often seek out fast, flowy, and more technically challenging riding.
The characteristic of a trail mountain bike are as the following:
The fork-in trail bike will be heavier and burlier with fork stanchion between 34mm and 36mm to increase steering precision and stiffness when the rider is moving fast around rough stuff;
The trail bike fork travel will be around 130mm to 150mm so it can handle more technical terrain as well as bigger drops and jumps;
Generally comes with an air spring although a coil spring might be used too;
The trail fork usually will have a fork lockout and travel adjustment to lower the front fork when climbing;
Some of the trail bikes usually come with shorter chain stays and lengthen top tubes to allow riders being more planted over the bike's center of gravity;
Trail bikes in modern days are usually equipped with dropper seat posts to allow riders to move the seat up and down and out of the way when hurtling down a hill and riding in technical sections. This way, riders will have more control over the bike.
The Polygon Siskiu T Series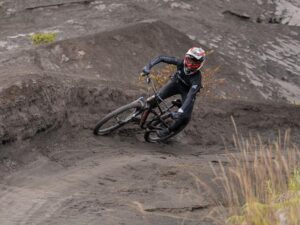 The Siskiu T series opens up to any trail for just anyone. You don't have to worry about not being able to get your most wanted trail bike because of the expensive price anymore because, with Polygon, you can have the high-quality trail bike without having to rob your bank account.
Speaking of the Polygon Siskiu T series, currently, there are two models of this bike. The Polygon Siskiu T7 and Polygon Siskiu T8 which we are going to review later on. Siskiu T is a responsive and agile type of bike when being ridden on the trail.
The handles found in the Siskiu T design are striking the balance between playful handling and high-speed control. Both Polygon Siskiu T7 and Polygon Siskiu T8 have been designed with Polygon's Wheel Fit Size System with the 29″ models featuring the 135mm rear travel and 140mm fork while the 27.5″ with 140mm on rear travel and 150mm upfront.
The seat tube in the Siskiu T series has significantly been shortened so it can fit the 150mm dropper posts (small and medium frame) and 170mm dropper post (large and extra-large frame). The chain stays are also shortened to ensure the overall wheelbase isn't too long for general trail riding.
The faux bar suspension design is allowing the bike to be more lightweight and gives a low pedal kickback, pretty ideal for trail riding and puts more concern on the hard and fast riding as it improves the pedaling performance. The kinematics of the bike improves climbing efficiency and small bump compliance.
Have the introduction of the Siskiu T series gotten your full interest? Whether it has already or is about to get into your "must-have" bike list, here is the 2022 Polygon Siskiu T8 review that will help you in deciding on an investment.
The Review of Siskiu T8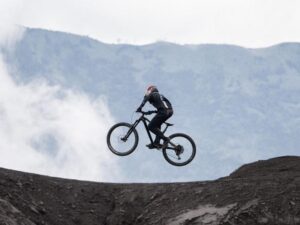 Before we get started, you have to know that Polygon is always improving their bike manufacturing to make it more perfect to support each of their customers' riding styles. Hence, you sometimes will be asked which year of release when you are asking for customer reviews about Polygon Siskiu T8 Reddit.
The Siskiu T8 first launched in 2017 and has been the "do it all trail bike" ever since. However, to keep up with the trend and latest mechanism, the bike keeps improving. That's why you can find Polygon Siskiu T8 2022 being sold on the market nowadays.
So what makes the bike from the latest year different from others? Let's talk about the closest model, Polygon Siskiu T8 2021 vs 2022. The Siskiu T8 Dual Suspension category is the one suitable for the trail. The 2022 model comes with a 140mm front fork (29″), 135mm (29″) rear travel, and 55mm rear shock. This shorter suspension travel fork gives riders a bob less experience when climbing up steep trails in a standing position.
While the Polygon Siskiu T8 2022 is retaining the agility, versatility, and easy-going trail manners of its 2021 model, it also offers the ability of harder rip when riding on descents, making the bike best for climbing. Weight-wise, the Polygon T8 2022 is about 300gr lighter than the 2021 series, not a very big difference, but can make a change during the climb.
But anyway, both Siskiu T8 2022 and 2021 are built around the Shimano SLX 1×12-speed drivetrain which offers smooth, fast, and more accurate shifting. It almost comes on par with the higher level of the groupset, the Shimano XTR, but with a more affordable price tag. The suspension used for Siskiu T8 is Fox 34 Rhythm, the very nice and well-performing suspension you can ask for within the price range offered by Siskiu T8 (around SG$3,249).
The difference between both isn't that big either, just a little bit of weight changing for comfort upgrades. The 6061 aluminum material that built the frame of this bike is making it stiff, has a strong structural, and tough, with good corrosion resistance and good machining characteristic.
The price offer is also affordable considering the mechanism and technology it has to offer. However, if you want a slightly lower cost to adjust the budget, you can take a look at the Siskiu T7 series too. Here is the brief Polygon Siskiu T7 review:
The Siskiu T7 is also built with the strong and lightweight ALX alloy material with the 140mm (29″) suspension fork and 55mm rear shock. Equipped with 1×12-speed Shimano Deore, giving a consistent and pleasant shifting performance. The suspension used to build the Siskiu T7 is from RockShox Recon RL which offers the rebound damping adjustment with an open lock compression setting that the rider can control by an optional remote.
Although some people argue that the RockShox RL doesn't have as stiff and less flex as the FOX 34, considering the price tag of the Siskiu T7, this bike is already on top of its level. To conclude, both Siskiu T8 and T7 series are of great value with an outstanding performance ratio and price. Both are one of the nicest-built bikes within the price range they offer.
If you are looking for a cross-country bike, you can refer to another blog post on our website that reviews the Siskiu D series. You can get a brief Polygon Siskiu D7 review and comparison between Polygon Siskiu D5, Polygon Siskiu D6, and Polygon Siskiu D7.
Regardless of which bike manages to prick your interest, only buy the original one from Rodalink as the official distributor of a wide range selection of bikes, accessories, parts, and apparels.
When another official distributor will deliver the bike disassembled and you have to look up the tutorial on YouTube about how to put the piece of each bike together, Rodalink is the only distributor that is going to deliver your bike in a ready-to-ride form. This means you can say goodbye to the nuisance of putting your bike together before hitting the road because Rodalink's professional team will do it for you instead.
You can also get free delivery for every purchase of accessories, parts, and apparel for around SG$200. If you are registering as Rodalink community members, you will also be granted a special deal and eligible to join the exclusive event that is tailored for members only. Get all you need for your riding journey from Rodalink. Beneficial, hassle-free, and easy bike Shopping is possible if you are buying from Rodalink.