Loving the feeling of riding through the singletrack, rocky climbing and descends, as well as rolling on fire roads? The cross-country bike might be suitable for you who love to ride on technical tracks. Here is the Polygon Syncline C5 review, a top-performing cross-country bike with modern geometry that is specifically built for professional cross-country racers to trail seekers.
Brief Introduction to Polygon Bikes
Polygon Group is a bike manufacturer from Indonesia that has been designing, building, and engineering world-class bikes since 1989. The company is devoted to producing fresh and authentic bike designs with global relevance, therefore, to achieve these goals, Polygon has maintained partnerships with engineers, creative thinkers, industrial designers, and professional riders across North America, Europe, and Asia.
Having bike manufacturing facilities on their own, allows Polygon to control all aspects of the manufacturing process intensely. Each year, Polygon has fulfilled the market demand by producing over 1 million bikes. This productive act is also allowing the company to significantly leverage cost efficiency resulting in offerings of high-quality bikes at a competitive price that is incompatible and unbeatable by other competitors.
Polygon Mountain Bike
As a bike manufacturer, Polygon has built a wide range of bikes that will be suitable for riders with different riding styles. One of them being the mountain bikes. While a big number of Polygon's bikes within various models are built around the lightweight and budget-friendly ALX alloy material, there are also a few of the bikes in higher-tier that are built with the ACX carbon fiber material, for example, the Polygon Syncline 5.
Interested to know what this bike has to offer? Here are the Polygon Syncline C5 — specs that you will not regret getting know of:
Bike Frame and Geometry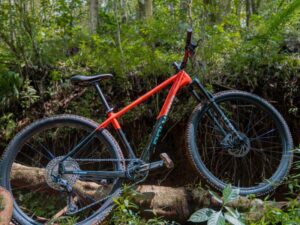 As we have mentioned earlier, despite being the same cross-country mountain bike, the frame of the Polygon Xtrada series is built around the lightweight and durable ALX 6061 material while the Polygon Syncline is built around the most lightweight material that is also durable: the ACX carbon fiber.
ACX carbon fiber is the lightest, stiffest, and strongest material to build a frame. The material is made from a scientific blend of Toray T700 and High Modulus M series carbon, resulting in the maximization of strength and stiffness at high rest areas.
The ACX carbon material that builds the Polygon Syncline C5 makes the bike super light in weight and has a stiff construction. The extra layers of carbon in a specific pattern, offer an ideal excellent pedal transfer and dampening vibrations. The M-sized Polygon Syncline C5 weight is around 13.4kgs.
Aside from that, Polygon Syncline C5 features the modern geometry design with a slack head tube and steep seat tube angle, ensuring the bike handles perfectly and could effortlessly travel up and down the mountain. The internal cable routing gives the bike a neat and stylish look.
Wheelset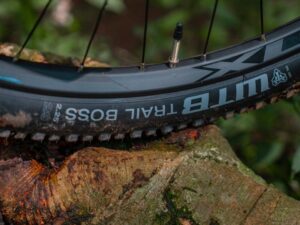 Polygon Syncline C5 wheelset is built of Entity XL2 32H and the WTB trail boss tires, offering better traction and grip on trail track.
Suspension Fork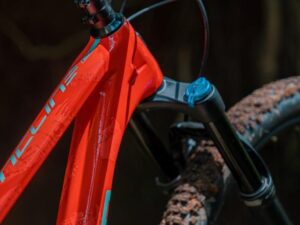 Polygon Syncline C5 is built with FOX 32 Rhythm Fork with 120mm travel and 15×110 thru-axle, offering the riders to have a comfortable ride over the cross-country terrain and better control over the bike.
Groupset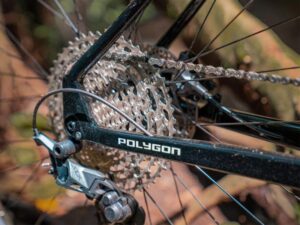 Polygon Syncline C5 uses the Shimano SLX 1X12-speed groupset making the bike a great shifting performance over rough ground and great ergonomic shifting performance, giving the bike a reliable performance.
Braking Systems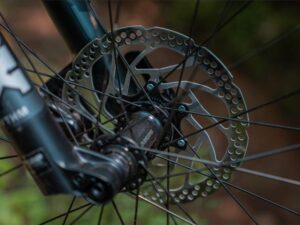 Both 2021 and 2022 Polygon Syncline C5 use the Shimano MT410 hydraulic disc brake that delivers a smooth and efficient braking system with a minimalist design. The braking system features a one-way internal fluid circuit that makes the bleeding easier and the great piston retraction increases pad to rotor clearance. In addition, there's Ice Tech compatibility to reduce the braking surface temperature by around 50°C.
Conclusion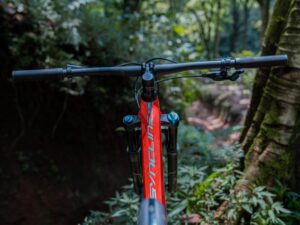 From the Polygon Syncline review above, we can conclude that the Syncline C5 is lightweight, rigid, fast, and ready for a race over the singletrack trails. The bike is perfect for riders who are looking for an adventurous ride or are passionate to be part of cross-country mountain bike racing, the Syncline C5 is a perfect fit for you.
Besides the Polygon Syncline C5, there's also another model of carbon-framed hardtail cross-country bike known as the Polygon Syncline C2 and Polygon Syncline C3. A comparison between Polygon Syncline C3 vs C5 can be seen in the table below:
| | | |
| --- | --- | --- |
| | Polygon Syncline C3 | Polygon Syncline C5 |
| Frame | ACX XC Performance | ACX XC Performance |
| Suspension Fork | RockShox Recon, 120mm | FOX 32 Rhythm, 120mm |
| Groupset | Shimano Deore 1×12-speed | Shimano SLX 1×12-speed |
| Rear Derailleur | Shimano Deore 12-speed | Shimano SLX 12-speed |
| Brakes | Shimano M201, Hydraulic | Shimano MT401, Hydraulic |
| Wheelset | Entity XL2 32H | Entity XL2 32H |
| Weight (estimated) | Around 13.4kg (M-size) | Around 13.4kg (M-size) |
| Price | SG$1,899 | SG$2,199 |
From the Polygon Syncline C3 review, we can conclude that Polygon Syncline C3 is the mid-range level of the carbon-framed cross-country bike that is also great for a cross-country race with a more affordable price range.
If you are interested to invest in this carbon-framed cross-country mountain bike, you can get the original piece at Rodalink. Rodalink is the official distributor of Polygon bikes that also provides a wide range of bike selections, accessories, parts, and apparels from the world's renowned brands.
The benefits of purchasing at Rodalink are not only you will be guaranteed original bikes but also have your bike delivered to your doorstep in a ready-to-ride form. You can also complete the free registration to become part of the Rodalink community members and get the latest updates on new arrivals and best deals, as well as being eligible to join the exclusive events that are applicable for members only.
The members of the Rodalink community will gain collectible points for every purchase at Rodalink that are valid for two years counted from the day of purchase. You can redeem these points to purchase discount vouchers. Visit Rodalink now and bring home your dream bike.