Looking for an entry-level hardtail cross-country mountain bike that is not only built around high-quality components but also offers the best pricing? You might need this Polygon Xtrada 5 review to be one of your references before deciding to purchase a hardtail cross-country bike for your off-road riding. So, here is your read, hope you enjoy it!
What is a Hardtail Cross-country Bike?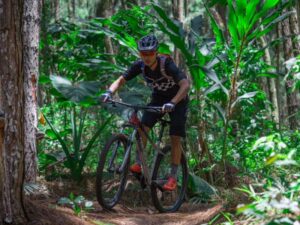 The cross-country mountain bike is one among four types of mountain bikes that have become an Olympic sport since 1996. The cross-country mountain bike courses and trails consist of a mix of rough forest paths and singletrack, smooth fire roads, and paved path that connects other trails.
The cross-country mountain bike relies more on physical prowess than technical ability hence, making the bike deemed as the easy or intermediate level of a mountain bike. The geometry of cross-country mountain bikes gives a more upright riding position in comparison to road bikes.
Cross-country mountain bikes often feature a suspension fork in front known as the hardtail cross-country bike. There's also a cross-country bike that features suspension in both front and rear that is called a double or full suspension mountain bike. The suspension fork is usually 120mm in length.
Polygon Xtrada Series: Polygon Xtrada 5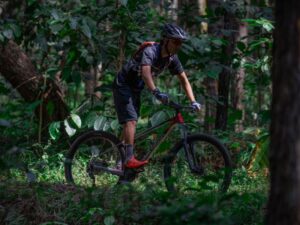 The Polygon Xtrada is born to be impeccably versatile, effortlessly fast, and obsessively comfortable, making it the true cross-country mountain bike with geometry built for stability and speed combined with tough and trail-ready components.
Following the title of this article, here is the Polygon Xtrada 5 2021 review you might want to get a better understanding of:
Bike Frame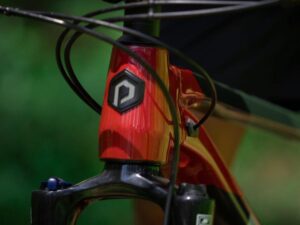 The Polygon Xtrada 5 is built around a full ALX 6061 alloy frame using hydroformed heat treatment technology that gives the bike a perfect balance between strength and a lightweight bike frame. The Xtrada 5 weight is around the average weight of a typical cross-country bike which is about 14,3kg for the S-sized with the 27.5″ wheel size.
This model of cross-country mountain bike is designed with internal cable routing technology that gives the bike a clean and stylish look. Featuring the tapered head tube, Polygon Xtrada 5 offers steady steering.
Suspension Fork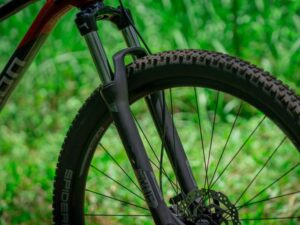 Polygon Xtrada 5 is a hardtail cross-country mountain bike equipped with SR Suntour XCM-HLO suspension of 120mm travel, lockout and preload feature to adjust the bike with the terrain it crossed, ensuring the bike stability and durability.
Wheel Size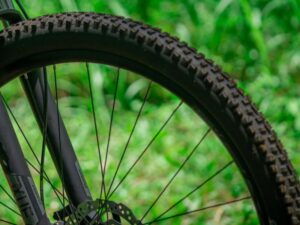 For the 2021 series, there's only one size option which is the Polygon Xtrada 5 29″ wheel size. However, the Polygon Xtrada 5 is coming with the option of a 27.5″ sized wheel and the 29″ sized wheel.
The wheel of Xtrada 5 is a pair of Entity Mitz which is made of a hard compound heavily treaded tire that easily handles the roughest trails. Not only that but Xtrada 5 is also built with the Wheel Fit Size system that will perfectly fit riders to offer the optimum and efficient riding experience
Groupset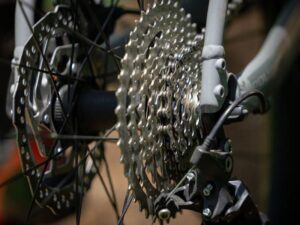 For the groupset, Polygon Xtrada 5 uses the 2×10-speed Shimano Deore, one of the best racing groupsets within the budget that you can find. Each of the chainrings is constructed differently to balance use against weight and longevity as well as giving enough range to pick up speed and get through the difficult climb. It also uses the Shimano Deore shifter which is responsive and easy to use.
Braking System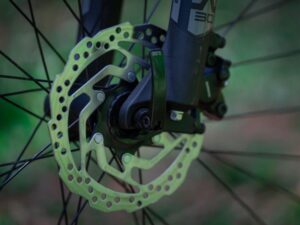 Polygon Xtrada 5 is using the Tektro hydraulic braking system that is not only powerful but also performs well even over wet trails. Riders will only need to use 2 or 3 on the brake lever to engage with the brakes.
Handlebars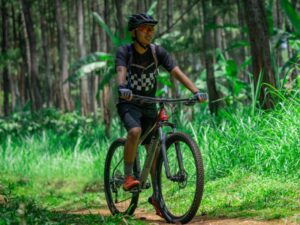 Polygon Xtrada 5 is using the 760mm Entity handlebar which comes with the perfect length and is suitable for fast trail riding although it might not seem as comfortable when you are using it for commuting around the urban areas.
Conclusion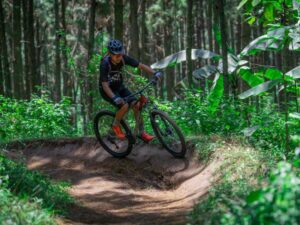 According to The Bike Settlement on their Polygon Xtrada 5 2022 review, this bike is a true cross-country bike built around speed and stability combined with tough, trail-ready components that will be perfect to be ridden on all-day mountain adventure or simply hit the local singletrack trails.
When talking about reviews, between the Xtrada 5 2021 and 2022, the glaring difference is probably the availability of wheel size options. If you have already finished reading this Polygon Xtrada review, you can now decide whether to invest in Polygon Xtrada 5 or not.
The new boost hub spacing from this mountain biking is, offering a stiffer wheel with more tire clearance and shorter chainstays which makes the bike easier to flick around the corners. The internal routing is just a cherry on top of the bike as it gives a neat and clean look.
If you are looking for a groupset of 11-speed, you can consider having the Polygon Xtrada 6 instead. This Xtrada 6 is equipped with a Shimano Deore 1×11-speed groupset which not only promotes the smooth shifting of both front and rear to maintain the speed in a change of terrain.
For riders who don't have a burden on the budget, you can directly consider investing in the advanced version of the hardtail cross-country bike, the Polygon Xtrada 7 which uses the Shimano Deore 1×12-speed groupset with Shimano MT201 hydraulic brakes that are even more responsive and powerful braking system.
Already decided to invest in Polygon Xtrada 5 and is currently looking for Polygon Xtrada 5 for sale? Visit Rodalink, the official distributor of Polygon bikes that is located on Jurong East and East Coast. The best part of shopping at Rodalink is, while usually shopping in the distributor shop will leave you puzzled as you need to assemble the bike on your own, Rodalink will make sure to have your bike delivered to you in ready-to-ride form.
To prove the durability of the frame material, Polygon offers a five-year warranty for the bike frame counted from the day of purchase under the conditions bike owners are not doing any modification or upgrades that will cause the warranty to be void.
By shopping at Rodalink, you don't have to worry about not finding the bike that will suit your budget and needs, because Rodalink offers a wide range of bikes selections from world's renowned brands with the most affordable pricing within other competitor bikes of the same quality.
You can also find varieties of accessories, parts, and even apparels to complete your gear preparation before starting the cross-country mountain biking journey. So what are you waiting for? Fulfil your mountain biking dream along with Rodalink.