If you are the type of rider who is interested in riding a mountain bike that performs well for climbing on the ups and nailing the descents equally well, the cross-country mountain bike like the Polygon Xtrada series is the perfect option for you. Here is the Polygon Xtrada 8 review to help you understand the bike better before deciding to invest.
Mountain Bike Type According to Riding Style
Nowadays there are various types of mountain bikes specifically built around high-quality components that offer incredible confidence for different types of trails. Hence, beginner riders will have to consider these few tips before buying their first mountain bike:
It is mandatory to choose the type of mountain bike that suits your riding style;
Finding the best size that fits you perfectly for a comfortable ride;
Pick the bike components that fit both your budget and riding goals. You can make a comparison across models to get the best bike.
There are four types of mountain bikes that suitable for different riding styles, they are:
Cross Country Mountain Bike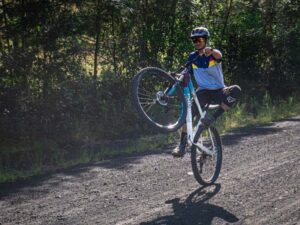 The cross-country mountain bike is specifically made for riders who prioritize climbing over descending and care about pedaling performance. The cross-country bike usually comes with a 120mm travel fork and 29-inches wheel.
The geometry of the cross-country mountain bike is almost similar to a road bike except it comes with suspension. The hardtail cross-country mountain bike is built around one front suspension while the double suspension has the front and wheel suspension. The Polygon Xtrada 8 is an example of a hardtail cross-country mountain bike.
The tire of a cross-country bike usually favors efficiency, reducing weight, and higher rolling resistance instead of traction and control over the road.
Trail Mountain Bike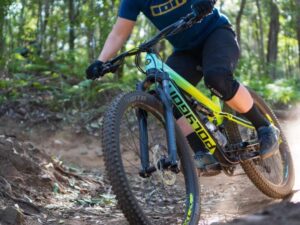 In comparison to any other type of mountain bike, the trail mountain bike is probably the one that is capable of being ridden on the widest range of terrains. This type of bike is a great option for climbers and perfect for descenders. The suspension of trail mountain bikes ranged from 120mm to 150mm. Trial mountain bikes have a chunkier tire that strikes balance between durability, traction, and rolling efficiency.
Enduro Mountain Bike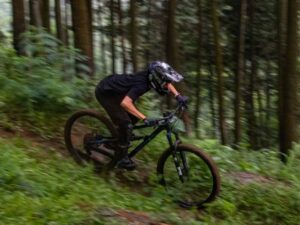 For riders who love a couple of laps at a bike park or some other shuttle-accessed terrains, the enduro mountain bike will nail it well. Usually, the enduro bike will have a geometry that favors descending to climbing. The suspension of the enduro mountain bike length is around 150mm to 180mm while the tire favors aggressive knobs for cornering and traction.
Downhill Mountain Bike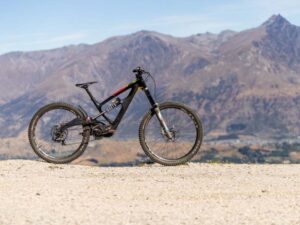 The downhill mountain bike is specifically designed for big drops, jumps, steep, and gnarly terrain. It is built around a burly frame with double crowns and suspension around 203mm of travel. Tires on downhill bikes are geared for durability with 2-ply casings for traction and durability.
Polygon Xtrada Series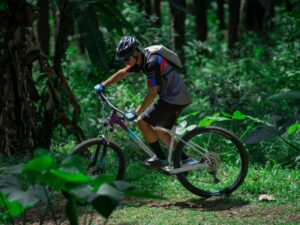 The Polygon Xtrada series is a type of cross-country mountain bike manufactured with ALX aluminum alloy material and a tapered headtube that makes the bike durable, lightweight, and more stable.
Today, we are going to talk about the Polygon Xtrada 8, built around the super light ALX 6061 hydro-formed aluminum, heat-treated, and butted tubing that gives optimal strength while still ensuring the bike is lightweight. The tapered headtube offers stability while the boost system has also allowed for shorter chain stays making it easier for the back of the bike to flick around the corner.
The handlebars of Xtrada 8 are wide with a short head tube allowing wider body truths, better body support, and inclination towards streamlined riding. The suspension of Xtrada 8 is RockShox Recon RL with 120mm travel for a 27.5-inches wheel and 100mm travel for the 29-inches wheel.
Xtrada 8 2018 is built with a Shimano XT MIX 1×11-speed groupset, featuring a single-click upshifting which makes it easier to run through gears more quickly, giving a smooth and precise shifting.
The Xtrada 8 is coming in six different sizes that will suit most of the riders. For a better understanding of bike sizing, you can refer to the following chart:
| | |
| --- | --- |
| Rider Height in cm | Frame Size |
| 148cm to 158cm | XS |
| 158cm to 168cm | S |
| 168cm to 178cm | M |
| 178cm to 185cm | L |
| 185cm to 193cm | XL |
| 193cm to 198cm | XXL |
For budget planning information, the Polygon Xtrada 8 price is around SG$1,399. Considering the specification given, it is not exaggerating to say that the Polygon Xtrada bike has been offering the most affordable bike among others with the same specifications.
But anyway, in recent days, you might find it difficult to find the brand new Xtrada 8. The latest version of Polygon Xtrada 8 is in 2020, therefore, you won't be getting the specification Xtrada 8 2021 anywhere.
However, if you are looking for a hardtail cross-country bike that is also coming with equally great specifications—if not better, you can consider investing in Polygon Xtrada 7 instead. The Polygon Xtrada 7 is equipped with an SR Suntour XCR32 fork in 120mm travel, giving the rider maximum comfort during the ride.
The groupset of Polygon Xtrada 7 is Shimano Deore 1×12-speed with the single chainring that offers simplicity and ease of gear shifting while reducing a few ounces off the bikes. Polygon Xtrada 7 is utilizing the advanced technology known as the Wheel Fit Size system. This technology presents a lineup where each frame size with wheel size perfectly fits the riders for better power transfer and riding efficiency.
If you have decided to finally invest in the Polygon bike regardless of which series, you can visit their official distributor at Rodalink. There is a wide range of bike selections from the world's renowned brands that offer high-quality components at affordable pricing. Aside from bikes, Rodalink also offers various accessories, parts, and apparels that will complete your mountain biking journey.
So what are you waiting for? Grab the best hardtail cross-country mountain bike within your budget only at Rodalink.