Traditionally, a road bike is installed with a rim brake as its braking system. But nowadays many manufacturers have started to build road bikes with a hydraulic disc braking system. Understanding there are pros and cons of rim vs disc brakes road bikes in the cyclist community, we have compiled some information about both braking systems that will help riders to decide which is suitable for their riding style.
Get to know what rim and disc brakes are? Why is it important to have an understanding of both braking systems? Are there any recommendations of which is better among rim brake vs disc brake road bikes? Find the answer you need through this article.
What are Rim Brakes and Disc Brakes?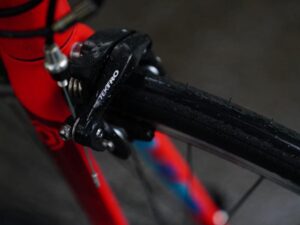 Talking about the differences between rim brake and disc brake bikes, you will have to learn about where the force is applied to both braking systems. In a rim brake bike, you will find that the brake's caliper is mounted to the frame and fork near the outer diameter allowing the brake pads to squeeze the braking track on the sidewall rims.
While with a disc brake bike, the brake's caliper will be mounted to the frame and fork closest to hubs where the rotors will be attached so the brake pads can squeeze against the rotors instead of the rim.
Despite being a braking system in a bike, both are different, and converting road bikes from rim brakes to disc brakes is most likely impossible without getting to change most parts of your bike or getting a new bike for the greater good.
Why are Brakes So Important?
While it is like stating the obvious, a brake is an essential component of a bike, especially when being ridden downhill or when encountering an obstacle on the road as it allows the rider to have control of when the bike will be put to a stop.
You will wish to have a good set of brakes installed on your bike so it will put them on a full stop the moment you are pulling the lever. Although it looked simple, a great braking system might come in handy and become a lifesaver in crucial events.
Rim Brakes and Disc Brakes Difference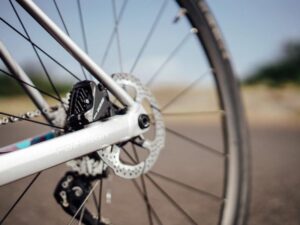 Aside from the braking force that is located in two different areas, there are still a few differences between both rim brakes and disc brakes bikes as you can look in the following table:
| | | | |
| --- | --- | --- | --- |
| No. | Features | Rim Brakes Road Bikes | Disc Brakes Road Bike |
| 1. | Consistency | Yes under the dry conditions | Yes at any road conditions |
| 2. | Better Clearance | No | Yes |
| 3. | Lightweight | Yes | No |
| 4. | Easy to Maintain | Yes | No |
| 5. | Budget | More affordable compared to Disc Brake | Cost slightly higher than Rim Brake |
| 6. | Better Braking Power | No | Yes |
Based on the table above, the information we can absorb is that a road bike with disc brakes generates more braking power than a rim bike, allowing riders to have a less tiring and more fun riding experience even when having to go for long distances.
The braking force given by a disc brakes road bike is also far more consistent than a rim bike because a disc brake can work perfectly fine in wet conditions and the best road bike disc brakes that use flagship braking parts like Shimano built with ice technology that will prevent overheating.
However, one of the concerns among road bikers will be the weight of the bike. Designed to be aerodynamic, especially on a performance or racing road bike, the extra component in the disc brake will just add a few ounces of extra weight which caused road bike racers to prefer rim brakes. A rim brake road bike also easier to maintain and this makes the cost of getting a rim brake will be far more affordable than disc brakes.
Which Brakes are Better?
After understanding the advantages and disadvantages of disc brakes and rim brakes on road bikes, you might want to find the answer to which brakes are better options for long-term investment. To be honest, both braking systems are good on their own and are worth the investment. However, if you only want to pick one, then you should consider your riding style and personal preferences.
With a rim brake bike, you will gain the braking you desire and it is naturally lightweight so if you are looking for marginal gains, a rim brake is a more fitting option than a disc brake. But if you are looking for a braking system that can do well even during the wet rainy season or if you are living in an area that consists of gravel terrain and not minding some extra cost, a disc brake is a great choice.
The disc brake has become more and more common on road bikes and many manufacturers have been starting to build their bikes with a disc brake although you can still find they have both options so riders can choose what they want to get. For example, Polygon bike brakes are built with rim brakes for all-rounder road bikes and disc brakes for performance (racing) road bikes.
Conclusion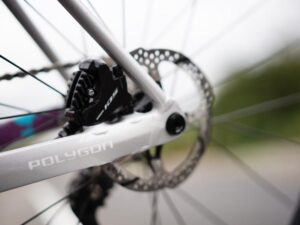 To summarize all the information, when looking for a braking system for a road bike, it is important to understand your riding style and the area that you will be crossing with your bike. Consider getting disc brakes if you want a longer rim lifespan, consistency in braking despite extreme ride conditions, improving heat dissipation, larger tire clearance, and a more powerful braking system.
But if you are looking for a race road bike with an aerodynamic design and come with parts that are easier to install and maintain, you will fall in love with rim brakes more than anything else.
If you are looking for road bike recommendations, we will love to introduce the Polygon road bike to you. Polygon road bike brakes come with two options, rim brakes, and disc brakes, so you can have one that fit according to your preferences.
The Polygon road bike disc brake can be found in their performance bike category, using flagship parts like Shimano Ultegra and even Dura-Ace. As for Polygon road bike rim brake, they are also using high-quality parts like Shimano 105 as their braking system.
Shop for the original bike and parts only in Rodalink; the official distributor of Polygon which also offers a wide range of selections for bikes and parts from renowned brands. The amazing part about purchasing from Rodalink is, besides you being guaranteed to get 100% original pieces.
You will also don't have to worry about the payment because you can buy now and pay later by choosing Hoolah as your payment option with a 0% installment fee. Besides bike and parts, you can also shop for your other bike essentials such as bike accessories and apparel. By purchasing non-bike products for SG$200, you will get free delivery offers.
It's time to fulfill your cycling needs with high-quality bikes and parts at a competitive price which you can only find at Rodalink.