A brake lever is a small metal lever mounted on your handlebars that when being pulled, will actuate the brake and bring riders to a halt. Installed on the handlebar, a brake lever is one of the upgrade components by a biker. If you also want to replace your road bike brake lever, you might want to read this article.
When doing a replacement of a bike brake levers, it is important to acknowledge which type of brake levers you need. Matching the correct type of brake lever to the corresponding brake type is essential to ensure the bike works properly. So what are the types of brake types and the brake lever types? Note down the information below or bookmark this page for future reference.
What is a Road Bike Brake Lever?
A road bike brake levers are usually mounted on the handlebars, transmitting the force applied by the riders through either a mechanical or hydraulic system. At a glance, the brake levers work like:
The standard pull levers work with caliper or cantilever brakes. This is often found in a road bike;
The long pull brake levers work with direct-pull cantilever brakes such as the v-brake levers and cable disc brakes just as found on mountain bikes.
To avoid getting too little or too much mechanical advantage, a rider is required to match the correct type of brake lever to its corresponding brake type. Mechanical advantage is the leverage and travels the lever system needed to properly actuate the brake.
Brakes Type
Talking about the brakes type, generally, four types of brake calipers are mounted differently on the frame and work with different types of brake pads, such as:
U-Brake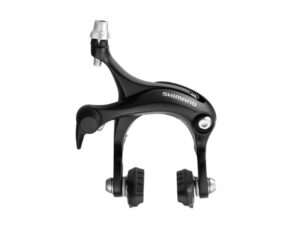 Bolts through the hole through a bicycle frame that is drilled by its manufacturer with either hex/regular or recessed type of nuts. The essential things a biker should pay attention to for this type of brake are:
Make sure to get the correct type of but for your frame;
Measure the length of caliper arms so they can line up brake pads with the rim of your bike's wheel, make sure they are not too short nor too long.
Cantilever Brake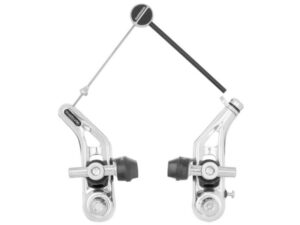 Bolts onto the brake bosses—a threaded tube which is attached to the frame— on either side of the wheel. This type of brake requires a cabled yoke and straddle cable to operate and work with a short pull brake lever.
V-Brake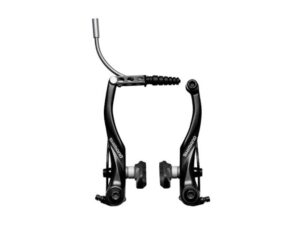 Also known as rim brakes, attached to brake bosses but instead of a short pull brake lever, this type of brake needs a long pull brake lever to properly work and needs a special piece called a "noodle" to make the cable work properly.
Disc Brake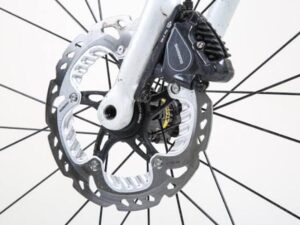 This type of brake is mounted into special tabs which are built by the manufacturer on the frame. For the working system, disc brakes operate at the center of the wheel known as the hub rather than on the rim like the previous type of brakes.
A disc brake can either be cable-actuated or hydraulic depending on each manufacturer. Hydraulic brakes use brake levers to push fluid through a hose so it can move the piston of the caliper, forcing the pads to go against a braking surface.
Brake Lever Type
For the broad category, brake levers are divided into the ones that are designed for drop handlebar usage and the ones that are designed to be used for flat/upright handlebars. To know them better, please take a look at the descriptions below:
Drop-bar Handlebar Brake Lever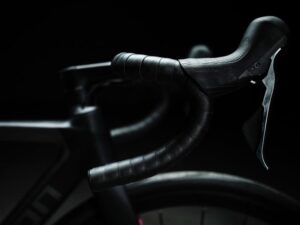 A drop-bar handlebar brake lever is often pictured as:
The integrated levers are the combination of shifter and brake levers with one work mechanism. By means, if a riders pull the lever towards the bar, it will actuate the brakes and if the lever or pedal is pushed to the side, it actuates the derailleur;
The lever that is clamped onto the drop bars located near the stem is known as the cross-top or the interrupter lever. This cross-top can be used in conjunction with some standard drop-bar brake levers as well as all of the integrated levers.
The drop-bar handlebar brake lever is more compatible with road bikes and gravel bikes as it can support the aerodynamic riding positions.
Flat & Riser Handlebar Brake Lever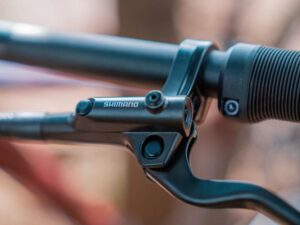 The flat & riser handlebar brake lever is described as:
A long pull brake levers usually have a great distance between the point of the lever pivot and the cable's end so when you move the lever, the cable is pulled more. This type usually works well with both v-brake and disc brake;
The short pull brakes have a lesser/shorter design between the cable's end and the pivot. Opposite from the long pull brake, this short pull brake is pulling less cable when riders move the lever. Works pretty well with both road caliper brakes and cantilever brakes. The Shimano short pull brake levers are 105 5800 series, Ultegra 6800 series, Sora 3500 series, and Claris 2400 series;
The flat Bar brake lever sometimes joined the same mounting bracket as the shifter.
Flat & Riser handlebar brake lever commonly being used for mountain bikes, BMX bikes, and also city bikes.
To conclude about short pull vs long pull brake levers, a short pull brake lever pull a shorter amount of cable when being actuated. Short pull brakes are intended only for both side pull and center-pull caliper brakes, cantilever brakes, also mini v-brakes.
Conclusion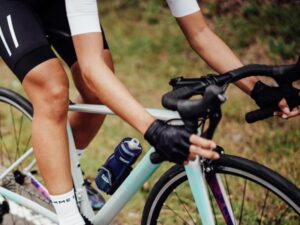 Whether you are going to modify your bike and upgrade it to be a better version, or simply preparing yourself to invest in a bike, understanding the different types of its components and knowing its use is necessary and will help you to prepare and be able to make a correct decision.
Initially, the brake levers are divided into the drop bar handlebar brake lever and flat bar handlebar brake lever with the flat-bar brake lever having a long pull and short pull brake levers system. Shimano 105 and Ultegra are considered the best short pull brake levers that are often found in bikes.
An example of the usage of Shimano 105 and Ultegra can be found in the Polygon road bike. Polygon Strattos S5 Disc and Polygon Strattos S7 Disc, are examples of Polygon road bike brake levers using Shimano 105.
If you looking for brakes that work perfectly fine and are great for commuters and touring bikers, the Tektro brake levers are also options. Although of course, Shimano brakes usually provide better braking at speed within any circumstances including wet weather.
Now, if you are looking to upgrade your Polygon brake levers or wish to invest in a road bike with an amazing braking system, you should have visited Rodalink. Rodalink is an official distributor of Polygon which also provides a wide range selection of bikes, parts, accessories, and even apparel all from renowned brands with high-quality and affordable price offer.
You can also enjoy a special deal and participate in special events by completing the free registration as a part of Rodalink community members. There's no more hesitation, all you need to do is visit Rodalink and tell their team about what kind of bike you are looking for to get the assistance for the perfect bike that suits you most. Cycling is easier and more relaxing with the help of Rodalink!