The road bike disc brake gained popularity a few years ago. Many bike manufacturers have changed the traditional rim brake bike and replaced it with a disc brake system. However, this decision has caused controversies as many pro riders to disapprove of this switching idea.
Back in 2016, there are a huge discussion regarding the pros and cons side of the usage of disc brakes after UCI decided to suspend the usage of disc brakes bike for professional racing events. Later in 2018, this suspension is being lifted and the disc brake allowed to be used for racing making many people get curious about what exactly is a disc brake road bike and why it is causing such a big deal among cyclists?
Is there any benefit to using a disc brake? What makes some groups of people think that a disc brake is considered better than a traditional bike and whether or not a disc brake truly is better than a traditional bike? To fulfill your curiosity, we have already gathered some information about disc brakes on a road bike and summarized it.
Keep reading to find your answer and get recommendations for the best road bike disc brakes that are worth investing in!
What is a Road Bike Disc Brake?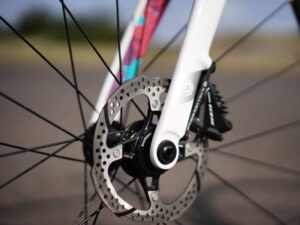 While a traditional brake or widely known as a rim brake directly clamps on the sides of the wheel rim, making the rim a main structural component of the wheel as well as playing the role of mounting the base for the tire and the braking surface all at once, a disc brake simply move the braking duties to a much smaller rotor that directly mounted into the hub.
Despite still having the brake caliper mounted to the frame and fork, the caliper of the disc brakes is still situated much closer to each axle. Not only that, the glaring difference between rim vs disc brakes road bikes is how both of them are usually being operated.
The rim brakes are more of a cable-actuated in which, the caliper and levers are connected by braided steel cables that force the caliper to clamp down on the rim once its rider pulls the levers. On the other side of the story, a disc brake usually comes with a fully hydraulic variety where both the cable and housing have been replaced by a non-compressible fluid and hose in a fully sealed system.
In other words, the disc brakes bikers only have to pull the lever and it will immediately push a plunger in the "Master Cylinder" and then push that fluid through a hose to the caliper at the other end. To make it easier to understand, the hydraulic pressure in disc brakes date is the main cause that pushes the caliper pistons out and clamps the disc brake pads onto the rotor.
A disc brake also has a cable-operated mechanism in which the cable will pull one or two of the pads in the caliper together and squeeze against the rotor. This type of cable-operated disc brake usually is more affordable compared to the hydraulic one.
Disc Brake Feature and Benefit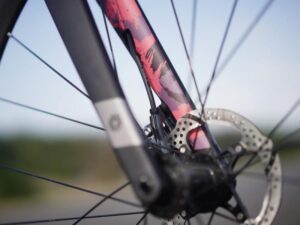 Citing Shimano's page, one of the benefits of using a road disc brake is the consistency it delivers. Installed far from the moisture and muck, making a disc brake road bike can spin up from a road or a trail. A disc brake will perform just well, even under wet conditions.
The braking system only requires a light input on the lever to work offering the rider of any level a less tiring and fun ride. Besides, a disc brake is a great alternative for the rider who loves to ride on a rougher surface like the Gravel and Adventure road bike that needs wider rims or tires.
A disc brake comes with superior heat dissipation ice technologies that will reduce brake fade and ensure a reliable brake performance. It also has a compact and stylish design that will keep your bike look presentable.
Disc Brake Pros and Cons
Are you thinking of making a road bike disc brake conversion? Don't rush it. Here are the advantages and disadvantages of disc brakes on road bikes that you need to consider before deciding whether or not to converse your bike with a disc brake bike:
Advantages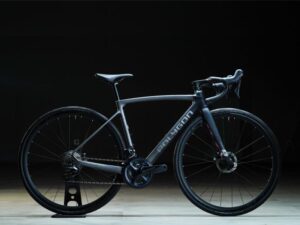 Here are some advantages of having a disc brake bike:
Disc brake bike has a powerful stopping power that can work properly in every situation;
Disc brakes provide varying degrees of braking intensity allowing the riders to apply the amount needed braking power precisely;
Road bikes with disc brakes can accept significantly wider tires than a rim bike;
Disc brakes can work even when dirty and are suitable in all weather conditions, perfect for riders who love to go off-road or inclement weather.
Disadvantages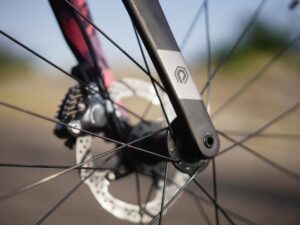 While talking about the advantages of disc brakes, it will only be fair if we are also informed about its disadvantages. Baden Cooker, a former professional racer once said that he is against the idea of using a disc brake bike, especially during races because of the parts' weight.
Since disc brakes are prone to make noise, regular and scheduled bicycle disc brakes maintenance is required. This is also the reason a disc brake will usually cost higher than a traditional rim brake. Besides, disc brakes are not self-energizing, causing them to need a power booster.
Considering a disc brake requires so many components, it usually comes with a few ounces more weight compared to rim brakes. To compensate for this weight, manufacturers will usually use the material of carbon road bike disc brakes so it will still become aerodynamic and lightweight as a road bike should.
How Disc Brake Change Road Bike
Now after understanding the pros and cons of disc brakes, all of us have to agree that disc brakes improve absolute stopping power, brake modulation, and control in any circumstances. So, the reason most manufacturers decide to switch rim brakes to disc brakes.
Besides, after switching rim brakes to disc brakes, the tires and rims no longer have to fit between the brake calipers so the road bike's wheel can be more aerodynamic, the tire can be wider, and run at lower pressure while offering riders a more comfortable ride.
Conclusion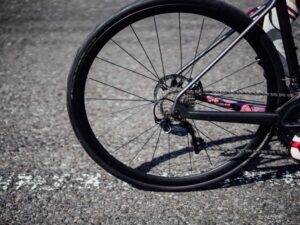 Since it is impossible to change a rim brakes road bike into a disc brake road bike without having to change the whole bike, riders have to think thoroughly before making a buying decision.
Speaking of which is better between disc vs rim brakes road bike, both are great depending on what you are looking for when investing in a road bike. If you are looking for a road bike with a braking system that requires less maintenance, is more lightweight, and is more budget-friendly, a rim brakes road bike will be a perfect fit.
But if you are living in a region that requires you to ride up and down a hill area, usually take rougher roads and gravel, planning to go for a ride on the muddy road, or enjoying a long ride, you might want to go for a disc brake road bike.
Understanding the needs of each rider might differ from one another, you can get either rim brakes or disc brakes from a Polygon road bike. They are launching the Strattos series which comes with two optional braking systems. If you want Polygon road bike disc brakes, you can get a Polygon Strattos S8 Disc and Polygon Strattos S5 for rim brake.
To get the original Polygon disc brakes, you will love to visit Rodalink which is the official distributor of Polygon that not only sells a wide range of bikes but also accessories, apparel, and parts. Shopping in Rodalink is also easy. They have offline stores located in Jurong East and East Coast also an online store where you can make purchases 24/7.
Get a special offer by making a free registration to become part of their Rodalink community members. There are lots of deals and events that are accessible only to members. You can also grab your bike now and pay it later by using ShopBack as your payment with 0% of the installment fee. Decide the type of bike you need the most and get the original piece at a reasonable price only at Rodalink!