Ever heard about 21-speed bicycles and wondered what they mean? It's the multiplication result of the bike's chainring and gear that determines the speed of a bike. It might be a little confusing for beginners but don't worry because we will provide you with information about what road bike gear is and how to choose the right one for your road bike.
What is Road Bike Gear?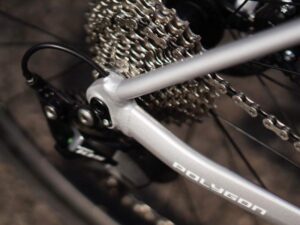 First, you have to understand that the purpose of a bike gearing system is to help you maintain a comfortable pedaling speed despite the terrain you are riding on. Understanding how your bike gears work will help you ride farther and faster with more comfort in between.
The simple formula to determine the speed of your bike is to multiply the number of cogs in your cassette by the number of front gears or the chainrings. A bike will have three front gears (chainrings) and seven rear gears (cassette) to get the 21 speed bike gears explained.
This is also how you have the 18-speed bike gears explained; two front chainrings with nine rear cassettes or usually written as 2X9-speed groupset.
Does the larger amount of your bike gears make your bike run at a faster speed? Well, not necessarily. You might get slower with lower gear but higher gear will also make you slower in tougher terrain if you are unable to match it with your pedaling power.
This is why you need to understand how road bike gear ratios impact the power input you need to give when pedaling, how many options you have regarding a bike's gear ratio, and how you use your gear the most efficiently.
Road Bike Gear Ratio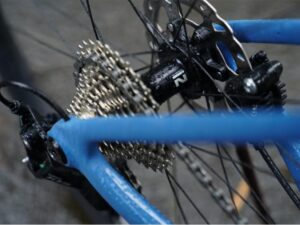 Before determining bicycle gears for dummies, you must have heard about how the power transferred from your legs to the wheels and the road is generated from your gearing and presented resistance.
Brian Taylor, the leader of power meter technology once said that both the power riders apply to turn the cranks and the rate at which riders turn the crank are critically important for them to ride the way their body is designed or trained to. To conclude this, each rider needs a different type of gear because each rider's capability to generate power varies from one another.
In other words, choosing the size of gear will depend on bikers' stamina, the goals they had for riding, and their riding style.
Different Types of Gears
Before getting onto what bike gear to use on flat road or another riding surface, it will be great to learn different types of bike gear, such as:
Standard Double Chainset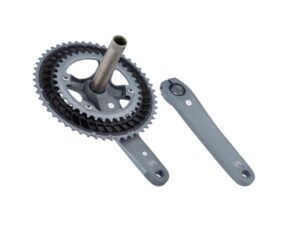 Comes with two standard front-rear (chainring) and a different number of sprockets at the rear, often written as 2X9-speed groupset, 2X10-speed groupset, or even 2X12-speed groupset.
The classic 53-39T combination is also known as a standard chainset despite being rarely specced on bikes by manufacturers. This standard double setup is usually preferred by bike racers since the largest size of chainring for bigger gears offers the possibility of smooth pedaling during high speed.
If you wish to change the gear to lower or higher, you might have to check your warranty and consult the modification with a professional. You can bring your bike to Rodalink's one-stop cycling store to get advice from a bike professional.
Compact Chainset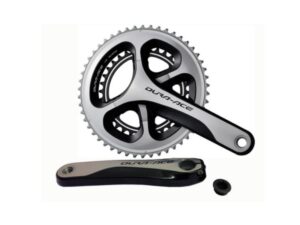 A compact chainset is just like a double setup, but with a reduced chainring size. It usually comes with 34T inner chainring and 50T outer which have become a popular choice for bikers who want to ride on steep hills albeit sometimes quite slowly. Some others also want to turn smaller gears at a higher cadence to avoid putting much stress on their knees.
Semi-Compact Chainset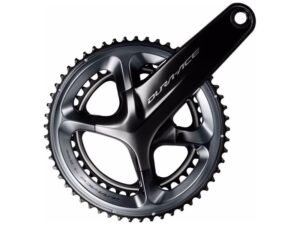 Sometimes also known as mid-compact or faux pro, coming with 52T outer chainring and 36T inner chainring which indicates the bigger chainring isn't far off from standard double's 53-39T despite not being as big and still larger than found in compact chainset.
This semi-compact chainset became popular because they offer some benefits for riding on most types of terrains. Shimano also offers semi-compact chainsets except for their entry-level groupset.
How to Use Road Bike Gear?
Now that you learn about road bikes from the gear ratio, types of gears, and even have the formula of bicycle gears explained more simply, then it's time to learn about how to use the road bike gear. Here is the mandatory knowledge:
How to Shift the Gear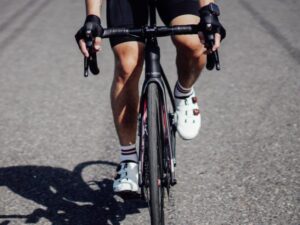 Shifting the gear is one of the most fundamental mechanical systems of a bike including a road bike. Although it seems classic, practice on how to gear and shift efficiently will not only make your ride more comfortable but also faster and increase your endurance on longer rides.
For a groupset of more than two front chainrings, you can use a left-hand shifter to move the chain on the front chainrings. Here are the tips on how to work on your road bike gear shifter:
If you have three chainrings or above, you can start with your chain on the middle ring and then adjust it up and down based on how it is needed;
If you have two chainrings, start with either an upper ring or a lower ring then shift based on your need;
If you want to make climbing significantly easier like climbing hills, for example, you can move your chain to the smallest front chainring;
On the contrary, if you want to make pedaling significantly go harder like when going down hills or in the need to control your speed, you can move your chain to the largest chainring in the front.
For a groupset with a single chainring in the front, you can use your right hand to move the chain on the back cassette, like:
If you want to make your riding progressively easier like during the climb, move your chain to the smaller cogs at the back;
During descending, to make your pedaling progressively harder, you can move your chain to the larger cogs in the back.
How to Shift Properly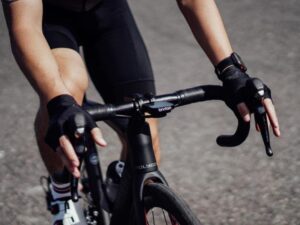 For a proper bike shifting, here are some tips that you will find useful:
Anticipate the terrain of where you ride, shift right before you start to climb instead of during the halfway up;
If you shift on the hill, shift one gear at a time and relax pressure on the pedals momentarily as you shift;
While hard-to-pedal gear gives you the impression of being faster, it reduces your strength and can take a toll on your knee so try to use an easier gear, and pedaling at a higher cadence will be much more efficient.
Conclusion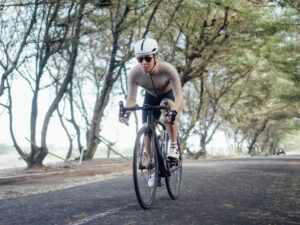 You can make more difference to your cycling experience by understanding how to efficiently use your gear. Not only that, but you will also be able to expand the lifetime of your chain and ensure it stays in good condition.
Are you looking for the right groupset for your bike? You can visit Rodalink and find not only a groupset but everything you need for your bike. You don't have to worry even though you are new to the cycling world because Rodalink's team will provide you with the assistance you need. They are committed to providing their customers with the best services and high-quality products from renowned brands.
They also have a one-stop cycling shop where you can go directly in case you need an upgrade to your bike, need some parts to be changed/repaired, or simply when your bike needs maintenance. Joining Rodalink's community by registering as a member for free will also give you benefits such as a special price for the service fee.
Not only that, every purchase of accessories, apparels, and parts valued at SG$200 or above is eligible for free shipping. There is no other store that offers a benefit over benefits for their dearest customers more than Rodalink, so don't hesitate to visit Rodalink and let them fulfill your cycling needs!