When talking about a bike, we will also have to talk about groupset. A road bike groupset is a collection of components that allow the bike to be ready to go for a ride and stop. A road bike consists of a drivetrain, shifters, and brakes.
In the market, the brand of road bike groupset is dominated by three major companies such as Shimano, SRAM, Campagnolo, and many more. But how to choose the right groupset that is suitable for your riding style? How many types of groupsets and what are the road bike groupset ranking? Get your answer here.
What is a Road Bike Groupset?
Let's say a groupset is the heartbeat of a bike. Besides bike frames, a groupset serves as one factor that determines the price of a bike. Without a proper working drivetrain, shifters, and brakes, you will not have a working bike and your carbon fiber frameset will be another pretty costly garage decoration.
Nowadays, there are plenty of brands that manufacture groupset, giving riders more options in finding one that suits them most. Riders can choose whether to get themselves an electronic or a cable shifting, which is greater between disc brakes and rim brakes or how many sprockets they want for their drivetrain.
A full groupset components consist:
Chainset or also known as crankset;
Bottom bracket;
Brake and shift levers;
Brakes.
If you are also unsure which type of groupset you need, don't worry because we have already listed down the best road bike groupset 2022 for your reference.
Type of Groupset
Big brands like Shimano, SRAM, and Campagnolo have a series of groupsets arranged into tiers. So if riders want to compare the groupset with one another, they will likely be looking out for the equivalent instead of wasting time comparing those that come from a different tier.
But before we are talking about Shimano groupset ranking and hierarchy, it will be good to introduce 3 major categories of groupset choices, such as:
Electronic Groupset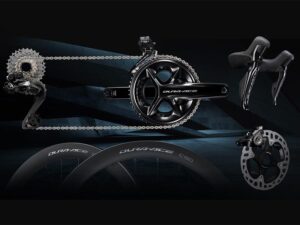 An electronic groupset has gained popularity for a few years now. As the name suggests, an electronic groupset refers to the bicycle changing gear method that enables its riders to shift just using an electronic switch instead of using mechanical cables and conventional control levers.
This electronic switch mentioned usually connects to a battery pack and small electric motor which drives the derailleur and switches the chain from cog to cog. The connector can be wired or wireless depending on its manufacturer.
Groupset that falls into this category are:
Shimano Dura-Ace Di2;
Campagnolo Super Record EPS;
SRAM Red eTAP AXS.
Mechanical Groupset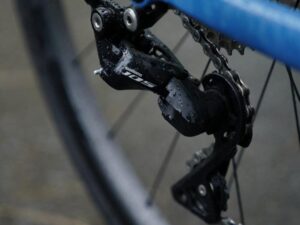 An old-school shifting type of road bike. The gear changing is done within thin shifting cables that connect the shift lever to the gear lever, front derailleur, and rear derailleur. When riders operate the shift lever, the cable will shorten or lengthened by a predefined distance while the front derailleur will lift the chain to a different cog with the rear derailleur moving the chain from sprocket to sprocket.
Examples for this groupset category are:
Campagnolo Super Record;
SRAM Force;
Shimano 105;
Campagnolo Chorus.
Budget Groupset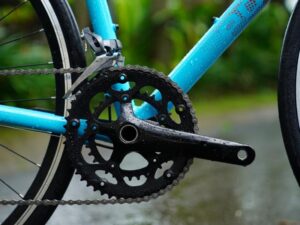 Understanding that not all bike lovers are having the same budgeting to modify their bikes, there are plenty of options for well-performing groupsets that make it to the road bike groupset chart that comes from the lower end of the pricing spectrum. Despite not being able to find much carbon, ceramic, or titanium material from this type of groupset, you will still be getting the hard-wearing and easy-to-maintain groupset with affordable replaceable parts.
Examples of groupsets from this type are:
Shimano 105;
Shimano Tiagra;
SRAM Rival.
Groupset Hierarchy by Brand
As promised, we will summarize the groupset hierarchy according to the brand. In this article, we will be sorting the big three renowned brands: the SRAM, Campagnolo, and Shimano road bike groupset hierarchy.
Shimano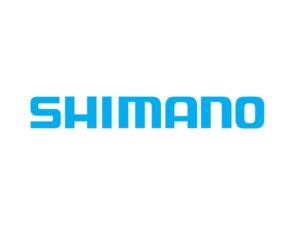 Talking about Shimano road bike groupset ranking, there is six-tier of it, being:
Pro-Level
In this tier, we will have Shimano Dura-Ace Di2 R9200 / R9250 with specifications such as:
Gearing: 12-speed
Shifting: Electronic
Break Type: Disc Brake
This groupset is using lightweight materials like high-grade alloys, carbon fiber, and titanium then combines them with a top-end design. This groupset can be found in the Polygon road bike Helios AX series; the Helios A9X.
Race-Level
The second tier of road bike groupset by Shimano is the Shimano Ultegra Di2 with 12-speed, wireless shifters, and is available for both rim and disc braking systems. The Polygon road bike groupset of Helios A8X is using Ultegra Di2.
Enthusiast
In this tier, we have Shimano Ultegra with an almost similar performance as the higher-end Shimano Dura-Ace except the pricing is not as pricey. The rider can focus more on the ride using this groupset because the shifting and braking system is easy and they come with a compact, lightweight, and highly-refined system. This groupset is being used by Polygon Strattos S8 Disc.
Mid-Range
The Shimano 105 and Tiagra are parts of this tier. Both Shimano 105 and Tiagra are considered the best groupset within the budget that is suitable to train beginner riders to ride in more serious races.
The difference between Shimano 105 and Shimano Tiagra is in the drivetrain. Shimano 105 comes with 11-speed while Shimano Tiagra is 10-speed.
Entry Level
In this tier, we have Shimano Sora, a 9-speed groupset that is pitched towards sports/fitness cyclists with a stylish and clean design. Adopted from a higher-level groupset, this groupset guarantees comfortable sports riding for both beginner and road bike enthusiasts.
Basic
Last but not least, the groupset in the basic tier of Shimano is Shimano Claris, which ensures an easy-to-operate, accurate, and light action shifting. Coming with the 8-speed drivetrain, it gives riders optimal ranges of gear for on-road cycling.
SRAM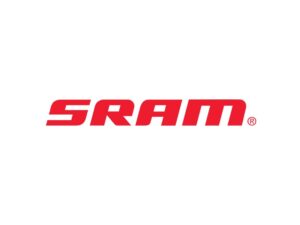 The road bike groupset from SRAM comes with five-tier in which the pro-level is Red eTAP, the race level being Red, the Enthusiast level being Force, and the Mid-Ranged groupset is labeled as Rival, while the entry-level called APEX.
SRAM is the first of these big three brands to launch a fully wireless groupset for the 11-speed SRAM Red eTAP. In 2019, Red e-TAP being improved into Red e-TAP AXS, a more advanced wireless groupset with 12-speed sprockets, and in 2021, the e-TAP AXS being brought to the Rival level to make it more budget-friendly.
Campagnolo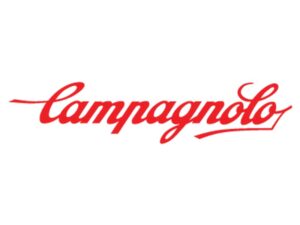 Campagnolo is sometimes addressed as Campag or Campy by some bikers. This company is historically famous for its invention of the rear derailleur and quick release shrews. The entry-level groupset of Campagnolo is called Centaur coming with 11-speed sprockets. A level higher comes Chorus and Records and on the pro-level sits the Super Record. All three Chorus, Record, and Super Record come with the 12-speed drivetrain.
Conclusion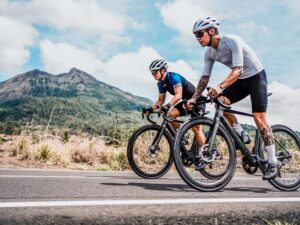 When buying a new bike, some bike makers will sub in some cheaper parts with a groupset and make you get a component from a different level or brand than the rest components of the bike.
In the previous chapter, we have already given you brief information on the hierarchy in each of the big three brands. For a better understanding, you can refer to the table below:
Level
Shimano
SRAM
Campagnolo
Pro-Level
Dura-Ace Di2
Red e-TAP
Super Record EPS
Record EPS
Race
Ultegra Di2
Dura-Ace
Red
Super Record
Record
Chorus EPS
Athena EPS
Enthusiast
Ultegra
Force
Chorus
Athena
Mid Range
105
Tiagra
Rival
Centaur
Veloce
Entry Level
Sora
Apex
Basic
Claris
If you are a bit budget-tight yet looking for a well-performing groupset, you might also lookup another option like a Rotor, FSA, or the China brand known as Sensah. You might also want to learn about retrospec groupset ranking or decaf groupset ranking that are decent and cost lower.
But anyway, if you wish to have a trusted high-quality bike that has been manufactured using one of the big three groupsets, then you might want to look at Polygon road bike at their official distributor store: Rodalink.
Most of Polygon's bike is being manufactured using the Shimano groupset. Rodalink also has a wide range of bike selections that guarantees their customers will get a high-quality bike at an affordable price.
Another benefit of buying from Rodalink is not only you are guaranteed to get an original piece. Rodalink also gets a one-stop cycling store so if you are into bike modification, you can directly consult with the professional and get the parts changed there.
Whether you are a beginner that just got into cycling or a professional that looking for a new collection of bikes, Rodalink has everything you might be looking for.