Because of the simple mechanical device a road bike has, many people might think it's enough to keep the bike clean and lube them regularly. The truth is, there are many areas that you should also keep an eye on to extend their usage periods. Here are 10 road bike maintenance guides that might extend your bike's parts and boost your cycling experience as it's new.
Inspecting Road Bike
It's better to be safe than sorry. Inspecting your bike is the best precaution to avoid a small problem developing into a safety hazard. Inspecting before getting your bike to hit the ground is quite simple, and you can do it by yourself, too. For your first Polygon bike maintenance guide, here are some parts that you need to pay attention to:
Check the Tire Pressure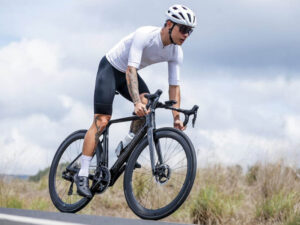 One of the most important things that should be written in your road bike maintenance checklist is to pay attention to your tire pressure every time before you start your rides. Since we have already learned how ideal tire pressure affects the comfortability and efficiency on the road, checking tire pressure is a detail we can't ignore.
Check the Brake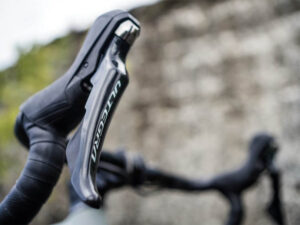 Try to squeeze your front and rear brake levers to testify whether or not your bike still engages smoothly and correctly. The standard lever should have a light feel and doesn't need excessive force to pull the brake. Consider replacing your brake cables and service the caliper if you already think your brake doesn't go as smoothly.
Checking the Chain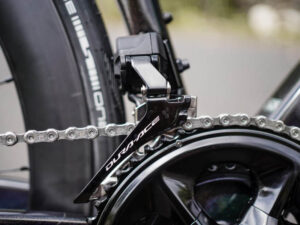 Keeping your bike's chain clean and well lubricated will ensure the bike shifts easier and extend the life of the groupset and the rear derailleur. You might also be checking for any sign of a chain wearing off.
The first step of Polygon bike maintenance, or any road bike in general, is based on those three points above. You can perform this maintenance all on your own, but of course, you can bring it to the bike workshop if you don't have much time to do all that.
Road Bike Maintenance Tips
Cleaning and lubricating the bike is part of the bike maintenance guide widely known and often performed by a bike owner. But if you are still going through a lot of hassle by disassembling your bike parts to do a thorough cleaning, especially on the chain parts, then you will need these tips:
Cleaning and Lubricating Bike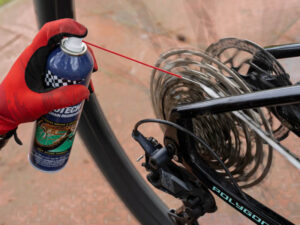 A road bike maintenance schedule is important to keep your bike on its best performance, especially if you spend lots of time riding in wet or muddy conditions. If you are usually riding your bike at a fast speed daily, you will have to clean your bike more frequently.
When it comes to cleaning your bike's chain, you can use a degreaser so you won't have to remove it and reassemble it later on. Perform a thorough cleaning of your groupset using EcoTech Multi Degreaser.
Besides cleaning your bike, you will have to ensure it's well lubricated. Lubrication protects the moving parts from wearing out because of friction, prevents the parts from "freezing," and keeps them away from rust and corrosion. Following the general rule, carefully wipe away the excess lube before riding the bicycle.
If your bike is more often being ridden to a moderately wet road, you can also go for this Finish Line Dry Lube Lubricant, which will protect your drivetrain from grit, grime, or dust with its wax-like synthetic film. This dry lube is also suitable for derailleurs, shifters, cables, and brakes pivot points.
Securing Bike Bolts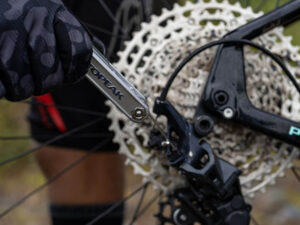 Remember that loose bike parts can lead to more severe wear and tears and cause poor bike performance. Hence, maintaining a "tight ship" of bike bolts is essential. For doing this, we recommend that you bring your bike to Rodalink's one-stop cycling shop to avoid over-tightening that may lead to component damage.
Replace Your Components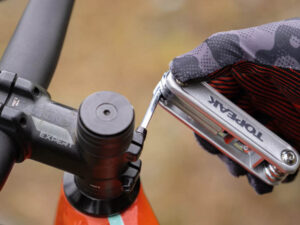 Every part or component sometimes wears out after usage, no matter how intense you look after them. Change your components when it needs to be replaced, don't wait until you have no other choice other than to change them.
For example, when a brake pad is worn out, it will shred your rim and cause more trouble, such as increasing damage to cassettes and chainrings. Immediate replacement on a worn-out brake pad will save you money from changing all groupset parts at once.
Point Maintenance Check on Road Bike
On the road bike maintenance course, there is 10 main point you have to check on your road bike maintenance, such as:
Headset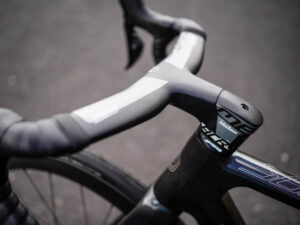 Sometimes, even a well-maintained bike can hide a bad headset bearing. To prevent corrosion caused by them, you will have to remove your stem and drop the fork out from the frame. On a newer frame, there will be sealed bearings that only need a thin coat of grease on the surfaces; then, you can put it all back together and torque to spec.
To check your headset, squeeze the front brake and rock your bike. For wheel and crank bearings, pull the wheel or crank side to side. If you feel a wiggle, then your component might need an adjustment. Don't ignore it if you don't want the case to get bigger and spend more money.
Gear Cables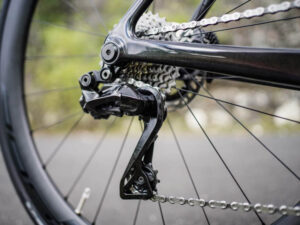 Since you are reading a bike maintenance guide, you will have to note that a gear cable can get kinked and fray, especially on a groupset with an external gear cable. This cable can constantly bend in the shifter and become weaker over time.
If you have an external cable routing, shift the relevant derailleur into the largest sprocket. When the chain holds the derailleur in this position, release all tension from the cable by stopping the cranks' movement and clicking the shifter down to the opposite way. Poke the cable out of the shifter and check for any sign of fraying gear cable. You can replace it if dubious.
Pedals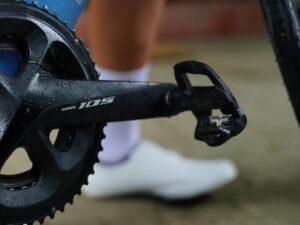 Replacing old and worn-out pedals are often overlooked by most cyclists. Do you know that a worn cleat surface on the pedal body causes an off-axis movement that can lead to knee pain and other severe injuries? This is why don't forget to replace your worn-out pedals when it's time to.
Free Hub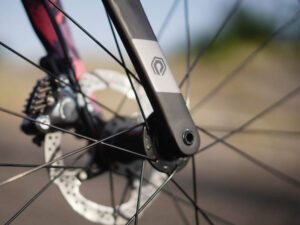 If you notice your hub has gotten noisier over time, it doesn't indicate the quality gets higher, but rather, it is some reminder your hub gives to you that it's likely to be either dry or dirty and needs some attention. To ensure you don't get chain droop or drops, it will be best if you are using the recommended lube; go with a thin grease or thick oil.
Chain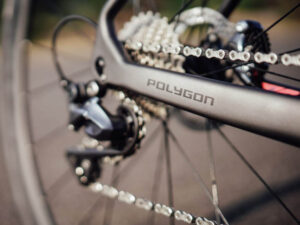 As mentioned above, it's crucial to maintain your chain clean and well lubed and measure its wear to replace it on time, so it doesn't wear out cassettes or chainrings. Many pro riders will replace their chain every 1,000km to extend the life of other parts in the groupset. You can measure your chain using a ruler or a digital chain gauge to understand better the right time to change your chain.
Dropout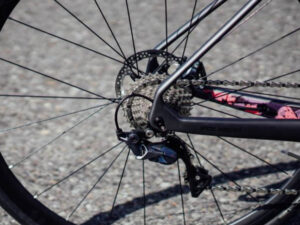 If your shifting is not perfect, you can try to check whether or not your dropout is straight since a modern road bike is built with an easy to bend soft alloy derailleur. If your bike ever falls with the derailleur-side down, check that the derailleur isn't being knocked out, or you might pull the chain out from the sprockets unconsciously.
Tires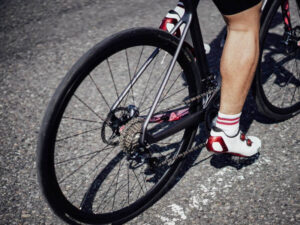 If your tire gets flat in the center, there is a high possibility of it being worn out. Remember that any protruding glass or wire must be removed, and consider replacing your tire if they're punctured through the tire.
Brake Pads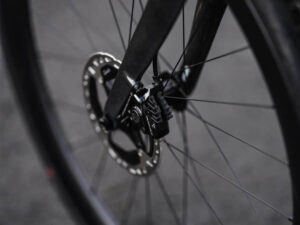 You can use a coarse file to get a little more life out of unevenly worn-out brake pads and readjust the pads to make them contact the rim correctly once you've squared it off. There is three sign of your brake pads already worn-out:
You can hear a gritty scraping sound;
The grooves in the pad have all but disappeared;
You feel stickiness when pulling the brake.
Loose and Rattling Parts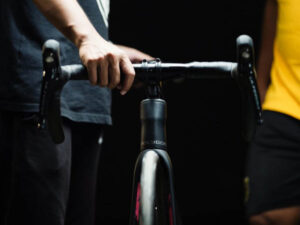 Finding rattles and creaks can sometimes be challenging. You can check for loose bottle cage bolts and jingling items in your saddlebag or its equivalent. Loose cassettes, hub, and headset may also cause rattling, and so does the shifter. However, fixing a rattling shifter might not be easy; perhaps you need to bring it to a professional.
Bar Tape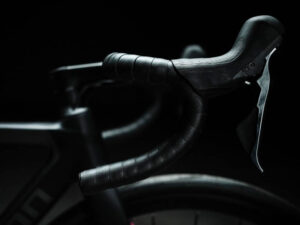 An important reason to replace your bar tape is to keep you checking your handlebar for indications of cracks or corrosion in a safe way. Changing a bar tape is quite affordable, and it might change your bike to feel like new again. You might also consider replacing a new cable along with bar tape.
Conclusion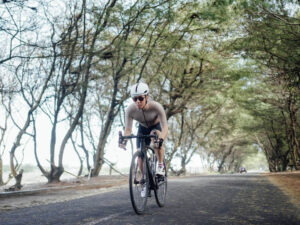 There's bike maintenance 101 every biker should keep in mind and take as a bit of timeless advice, such as:
Clean and lubricate your bike frequently because you can't adjust a dirty bike that is not lubricated;
Check your tire pressure before every ride;
Periodically check your headset, hub, and the crank's bearing;
If your bike makes some noises during the ride, check it;
Regularly inspect your carbon fiber frame for cracks.
For Polygon road bike maintenance, the guidelines are pretty much the same. But if you are unsure where to start after reading pages of road bike maintenance pdf or afraid of messing up some parts if doing maintenance on your own, you can bring your bike to Rodalink's one-stop cycling store. Let your road bike be handled by a professional is always the safest choice.
If you need any parts replacement, Rodalink also provides various types of original parts that will make the replacement services easier. You can also become part of the Rodalink community to get a special service fee and claim the special deals only available for members.