Generally, there are two types of brakes in the modern-day. One is known as disc brake and the others are known as rim brake or v-brake. You will still be able to come across road bike rim brakes nowadays although many manufacturers start to fulfill the demands of the market by equipping new models of road bikes with disc brakes.
Some people, especially newcomers to the cycling world, might not be familiar with the terms rim brakes, why it is important, and how it makes any difference between rim brake vs disc brake. Generally, there are four types of bike brakes: rim, disc, coaster, or drum brakes although nowadays, the majority of the bike will be manufactured with rim brakes or disc brakes.
What Rim Brakes Are?
The installment of rim brakes has been a standard to manufacture a road bike for a decade. A rim brake's mechanism is quite simple, riders only need to pull the lever and two opposing brake pads against the rim bike of the wheel will squeeze and make the bike stop rolling.
The material used to make rim brakes' pads varies depending on its manufacturer. Generally, they are made of either leather, rubber, or cork material and mounted in metal "shoes". Rim brakes are known and still widely used by most manufacturers nowadays because they are less expensive, light, mechanically simple, and most importantly, easier to maintain.
Here is a list of the best road bike rim brakes from the big name in the industry such as:
Shimano Ultegra BR-R8000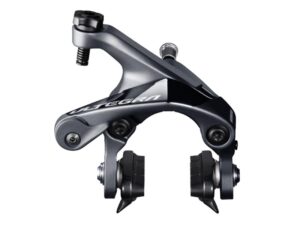 These Shimano rim brakes directly trickle down from the Dura-Ace groupset and hence are well known as the "pro-proven" brakes you might love to use. It offers a clear contact feeling while balancing the rigidity, stopping power, and weight. Coming with a stabilizer between axles, it will have the ability to reduce deformation while still improving the efficiency of braking.
Shimano Ultegra BR-R8000 gives riders a more predictable and linear braking curve. Aside from getting an additional few ounces of mass compared to Dura-Ace, Shimano Ultegra is a worthy investment every rider should consider buying.
Besides, it costs lower than a Dura-Ace and is more budget-friendly with a specification almost similar to its higher counterpart making Shimano Ultegra BR-R8000 one of the best rim brakes just one step below the Dura-Ace.
TRP R879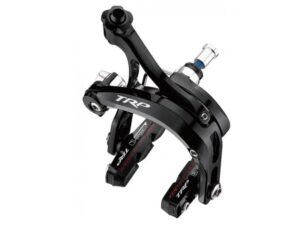 TRP brakes come with pads designed for both aluminum and carbon rims. This is another good option for riders who are on a budget but still wish to have parts of good quality. TRP R879 is manufactured with forged arms and stainless steel hardware whilst having a quick-release mechanism.
This model is ideal for lever ratios of 2.5 like those found in Shimano Dura-Ace BR-7900 and Shimano Ultegra BR-6900 weighing around 315g.
Why Are Brakes Important?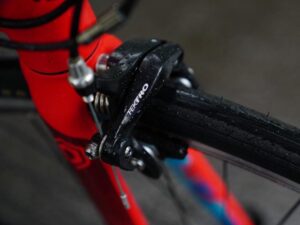 One of the most crucial parts of a bike is one of the most important components of a bike. Brakes allow their riders to have control of when the wheel will stop rolling and the bike will stop moving. A good set of brakes will respond quickly and put a bike to an immediate stop.
The controls of a brake are usually attached to the handlebars and connected to cables that run the wheels. Once the brake controls are pressed cable contracts slow down and stop the motions of the wheel. Adequate brakes have to be installed on road bikes to prevent bikers from crashing into any traffic incident.
Hence, when shopping for a bike, riders will have to consider a few factors and consider which types of brakes suit them most. After all, a disc brake won't be compatible with a rim brake bike and vice versa.
Since experimenting with two different bikes is not possible without having to invest in both types of bikes, you will have to think about it thoroughly before impulsively buying one. You will not only have to look for either the best road bike disc brakes or the best rim brake bikes 2022 but also which suits your riding style and your riding terrains.
Here are some main factors to consider when choosing the type of brakes you want for your bike:
All-conditions performance: disc brakes perform well even in wet conditions due to its positions far from moisture;
Responsiveness;
Rim life;
Ease of flat repair;
Maintenance;
Cost.
In all of those factors, when you talk about maintenance and cost between rim vs disc brakes road bikes, disc brakes require routine maintenance within a more rigorous schedule, unlike rim brakes. Rim brakes also cost less expensive because of this. But if your rim life can last longer, you might want to consider to invest a disc brakes bike.
Rim Brakes Pros and Cons
The advantage of getting rim brakes are:
Rim brakes are lighter in weight compared to disc brakes;
Rim brakes are easier to maintain;
Unlike disc brakes that will rub or squeal once the brake rotor gets bent or misaligned, rim brakes won't have this issue;
Rim brakes are more affordable if compared to disc brakes.
The disadvantage of rim brakes are:
Rim brakes, especially one with a carbon rim, easily build up water on the rim's surface during wet conditions hence, when the brake pads come into contact they will have to displace water before getting to the rim and stopping the bike. This makes this type of bike couldn't work properly in wet conditions;
Because rim brakes require to use of bike rims to stop the vehicle, making the lifespan of the rim itself running short quicker than a bike with disc brakes.
Conclusion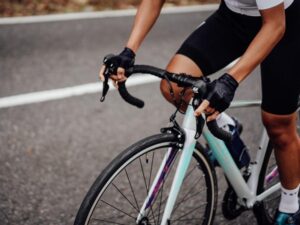 Although people might say that disc brakes are superior compared to rim brakes, these conditions depend on the riders themselves. Some riders might have found out that the pros of disc brakes won't outweigh the cons of rim bikes.
While disc brakes offer lots of benefits, they might be not easy to manage, a few ounces heavier than a rim bike, and will cost a bit higher than a rim brakes bike but at the same time, will work well in wet conditions and won't decrease the lifespan of a rim.
On the other hand, rim brakes are lighter in weight, easier to maintain, and more budget-friendly compared to disc brakes. The downside is that they might not work as great as disc brakes when facing wet conditions and you should be aware of the shortened lifespan of the rim.
Both types are great, depending on what you are looking for in a bike. Suit them with your riding style, riding terrains, and the weather around that area. Regardless if you are looking for a rim brakes bike or disc brakes bike, we will like to recommend you look at the Polygon road bike.
You can go for their performance bike such as Polygon Strattos S8 Disc if you are more into a disc brake biker or you can also find Polygon rim brakes bike in their all-rounder type of road bike such as Polygon Strattos S5.
No matter which type of Polygon road bike rim brakes and disc brakes you want to invest in, you can purchase the original one at Rodalink. Rodalink is an official distributor partner of Polygon. In Singapore, you can visit Rodalink's offline store on the East Coast and Jurong East. Or if visiting is inconvenient for your busy schedule, you can always purchase through their online store.
The benefit of buying through Rodalink is that you are guaranteed to get 100% original items in high quality at a reasonable price. Also, you won't have to go through much hassle of arranging your bike because they will have your bike delivered in front of your doorstep in a ready-to-ride form.
As an official distributor, there is a wide range of renowned bike selections that will suit your riding style and need. You can also get your needed bike accessories such as helmets, locks, and lights there. If you need biking apparel, Rodalink also has them ready to sell. In short, you will find every cycling essential at Rodalink plus free shipping for non-bike purchases of around SG$200. Get ready to cycle along with Rodalink!