Do you know that incorrect road bike sizing will negatively affect your comfort during the ride, reducing your riding efficiency and causing severe injuries? To increase efficiency in power transfer and bike handling, a fitting size of the bike is highly needed. Read through this article to find the road bike sizing guide and discover which is the ideal size you should get.
Road Bike Types
Generally, there are three types of road bikes, with two listed as the default and one listed as multiple categories. They are:
Performance Road Bike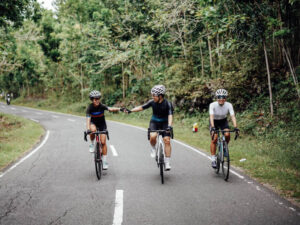 A performance road bike is also known as a racing bike which focuses more on the speed of the bike and enables the riders to go down the road with minimal losses. A performance road bike geometry is usually stiff, lightweight, and aerodynamic because it's manufactured with carbon fiber.
An example of a performance road bike is:
Polygon Helios A8
Polygon Helios A9X
All-Rounder Bike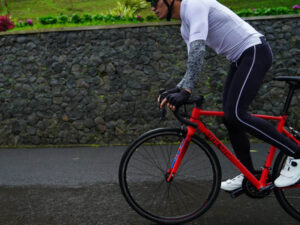 An All-rounder bike is usually used for climbing with a slightly more relaxed riding position than a performance bike. It can be ridden on smooth paved roads but is also decent enough for off-road travel. The frameset materials are also made with carbon fiber, alloy, or for a cheaper option using steel.
Polygon's all-rounder bike uses the mixed material of alloy frame and carbon fork. Hence, it's still rigid, lightweight, and aerodynamic, although still different from a performance bike; it excels in its field.
An example of an all-rounder bike is:
Gravel Bike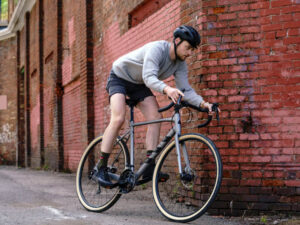 A gravel bike is a multi-categories bike that has been mentioned earlier. It adopts the look of a road bike with a drop-bar handlebar and can take some loads for short travel like a touring bike. Primarily focused on being well-performing on tarmac ends and doing great for long-distance commutes.
An example of a gravel bike is:
Road Bike Sizing Guide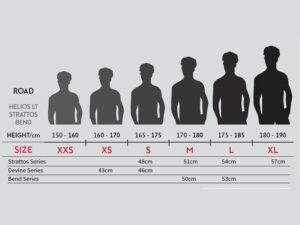 Road bike size usually comes in centimeters and is measured from the center of the chain wheel axle and the top of the frame's seat tube. The seat tube length often denotes the size, but the top tube length also serves as an important number to establish the right fit.
If a top tube is too long, you will be overreaching to the handlebars, and your riding position will be more aggressive hence, will cause discomfort during longer rides. You can look for a shorter top tube length for a more comfortable riding position. j
Refer to the bike's chart for a guide about which frame you should go for. Polygon's road bike uses a "T-Shirt Sizing" in S, M, L, and XL, but there will also be a road bike size chart cm to access so buyers can better visualize which size suits them more.
You will have to choose the road bike size based on your height and match it with the sizing chart below:
| | |
| --- | --- |
| Rider's Height (in Centimetres) | Road Bike Frame Sizing Guide |
| 154cm to 164cm | XS |
| 162cm to 170cm | S |
| 168cm to 176cm | M |
| 174cm to 181cm | L |
| 180cm to 187cm | XL |
| 185cm to 195cm | XXL |
Note that each bike manufacturer might have different measurements; the chart above is a measurement based on road bike size Polygon. The XS to XXL sizing is only available for Polygon Strattos Disc (performance bike) series. As for Polygon Helios LT (another type of performance bike), it also come with XS to XXL sizing but with chart as following:
| | |
| --- | --- |
| Rider's Height (in Centimeters) | Road Bike Frame Sizing Guide |
| 150cm to 160cm | XS |
| 160cm to 170cm | S |
| 165cm to 175cm | M |
| 170cm to 180cm | L |
| 175cm to 185cm | XL |
| 180cm to 190cm | XXL |
The sizing for Strattos series (all-rounder bike) is also based on this sizing chart except there's no XS and XXL in size for all-rounder bikes.
The Right Road Bike Size For You
To get the right measurement for you, aside from looking at the sizing chart, you will have to do some of the followings:
Measure Your Stand-Over Height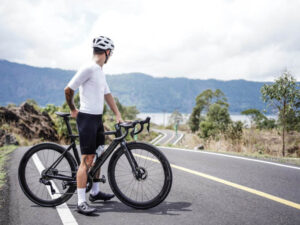 Stand over height is a measurement between the top tube and the ground. This measurement bears your overall comfort and performance during the ride. The ideal size of a road bike will leave a few inches between the top tube and your crotch when you are standing with your legs straight, feet slightly apart, and are barefoot.
If the gap is too wide, the bike sizing is too small, and if you have no room to maneuver, the bike sizing is too big.
Getting the Saddle in the Right Position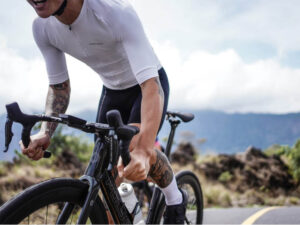 Typically, adult cyclists will be able to touch the ground on their tiptoe while sitting on top of their saddle. If you can't do this, it might be the possibility of your saddle being too high. On the contrary, if you can put the entire base of your foot on the ground, your saddle is too low.
Here are some tips for you to be able to get your saddle in the perfect position:
Sit in the saddle, but the ball of your foot on top of the pedal with a slight bend in your leg that is not perfectly straight, then place your other foot on the floor;
There must be a few inches difference between the saddle height and the size of the bike's frame;
Ensure the saddle is not slopping forward or backward, as it will cause discomfort during long-distance riding.
Measure the Reach on Your Bike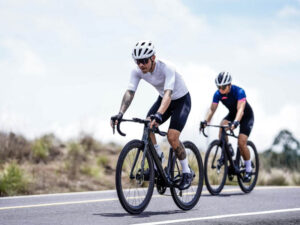 This reach of the road bike is measured by the distance between the saddle and handlebar. The ideal reach measurement depends on the length of your torso and arms. To be able successfully to measure it, here are the tips:
Sit on top of your saddle in normal riding position, then place your hands on the top of the handlebars;
Look down on the bars; you will find that the front axle of your bike is hidden from sight;
On the other side, if you can still see the front axle, the reach might be too long.
You need to be extra careful when adjusting your handlebar reach. It will give you sluggish handling that feels slow if you go for a long bike adjustment. If it is too short, it can be an uncomfortable ride with twitchy steering.
Conclusion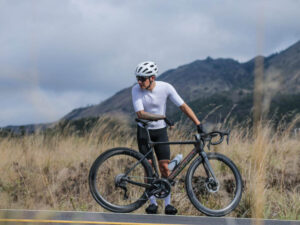 Aside from considering the quality and budget, when you shop for a road bike, it's essential to have one with the ideal sizing. The height of the riders usually measures road bike sizing. You can try measuring using the bike size calculator.
Different manufacturers might have different road bike frame sizes, but most are measured in centimetres. There is also a road bike size chart inches, but since in Southeast Asia, we had the measurement in centimetres more than inches, the road bike sizing on the table above will suffice.
If you wish to get the perfect road bike for your height, you can purchase your shop in Rodalink. They have a wide range of bicycles, accessories, parts, and apparel selections to make your bike shopping easier.
You can also consult with the professional team in Rodalink to find the best measurement of your road bike. In case you need some adjustments to boost your comfort during the ride, Rodalink also has a one-stop cycling store that could immediately assist you in adjustment. You can also have a 0% interest charge for installment if you choose ShopBack as your payment option. Get your hassle-free bike shopping with lots of benefits only at Rodalink.
You Might Love This!