Suddenly getting a flat on your tire during the ride can be quite annoying. However, instead of complaining, it will be more interesting if you learn about road bike tire parts as you proceed to fix the flat of your tire bike.
Initially, there are four major parts of a road bike tire. Discover these four essential parts of a road bike along with brief information about each part through this article, so make sure you keep reading.
Road Bike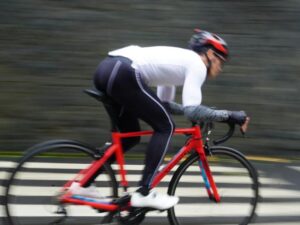 As the name suggests, road bikes are terms used to call bicycles that are specifically manufactured to allow their rider to ride fast over smooth and paved terrains. The common traits of a road bike are that they come with a drop handlebar and slick tire. For the brake, road bikes usually use a V-Brake although nowadays, many manufacturers have also used a Disc Brake for road bikes.
Generally, there are three types of road bikes, known as:
Performance Bike: more aerodynamic, made for running fast over a smooth surface, good for the race also doing well in climbing;
All-Rounder Bike: perfect for climbing, offering more comfortable riding positions, has even greater endurance;
Gravel bike: a good option for commuters. Tackle numerous terrain be it smooth pavement or a gravel road, good for short touring, and offer a comfortable riding position.
Some manufacturers will call a performance bike a racing bike. Performance bike is one of the Polygon road bike type represented by the Helios A series and Helios AX series. You can find more Polygon road bike through their official distributor site at Rodalink.
If you wish to get detailed explanations of road bike parts and function, you can refer to our linked article.
Road Bike Tire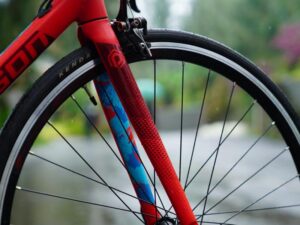 With naked eyes, you might not spot any differences in road bike tires. They typically feature a smooth tread surface or mostly known as being "slick" which provides riders with good rolling resistance and grip over the smooth surface. As for its size, generally, a road bike will come with a 700c wheel size except for the gravel bike of Polygon road bike which comes with a 650b.
For the width, the road bike's tire width varies from 23mm to 28mm range, although people might seem to upgrade their tire for some special occasion, that's uncommon. The size of the wheel and tire will usually be printed at the sidewall of the tire in an ISO standard. This standardized system uses two numbers to detail the wheel and tire size.
As an example, if your road bike has 700mm rim diameters with 28mm tire width, you will have seen your bicycle tire sizes being written as 700x28c. Before using this ISO standard, tire size was being determined by the ETRTO standard which used the measurement of tire width being written in front and the inner diameter of the tire being written after.
Talking about bike tires, there are three types of tires, which is:
Clincher tire: most common type requires an inner tube that sits between the wheel rim and tire to inflate and hold air. In case there's a puncture, riders can easily patch or even replace the inner tube;
Tubular tire: well known among professional riders due to the performance benefit this tire provides, however, rarely seen being used by recreational bikers as it's not as practical for daily usage;
Tubeless tire: almost similar to clincher tire except, as the name suggests, it doesn't come with an inner tube. Instead, this type of tire has a much tighter tolerance to create a firmer airtight seal. The sealant will be added to this type of tire so it can plug small holes and splits, reducing the chance of flattened tires.
Road Bike Tire Parts
Now that we have already gotten informed a little bit about road bike tires, it's time to get into our main topic, the anatomy of road bike tires and their parts.
Elements of a road bike tire will affect the performance, comfort, and durability during the ride. Hence, bike tire terminology is one of the topics about road bikes that are worth knowing. Elements mentioned include:
Bead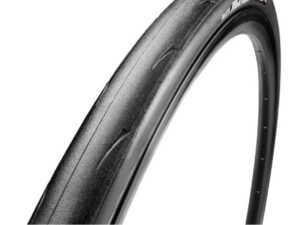 The tire bead is a part that holds the tire onto the rim. The tire bead is only found in clincher tires and tubeless tires. A tire bead is usually made of either wire or kevlar material. For a bike with more cost-friendly, people will often choose wire material while kevlar is the option for those who want premium quality tires can go for kevlar beads. The clincher tire that comes with kevlar beads is often referred to as a folding tire.
Casing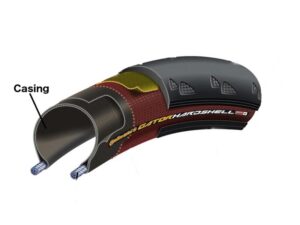 The foundation of a bike tire that connects the bead lies on the casing. Not only connecting, but this part also provides enough resistance from stretch to keep the air in while conforming to the ground surface. Usually, a casing is built with either nylon, silk, or cotton material and measured in TPI or Threads per Inch.
Tires with lower TPI will provide good puncture protection but do not have excellent rolling resistance. On the other hand, tires with higher TPI provide supple riding and good rolling resistance but are prone to have reduced puncture protection.
Puncture Protection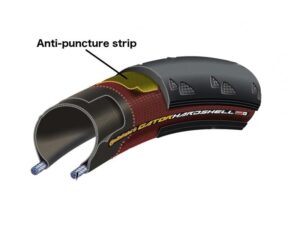 Some tires manufacturers will feature more rubber and increase the thickness of the tread and some others might use specific compounds to enhance tire resilience. All this activity is to improve the tire's resistance to puncture while keeping the tire stay lightweight despite being puncture-proof.
Sidewall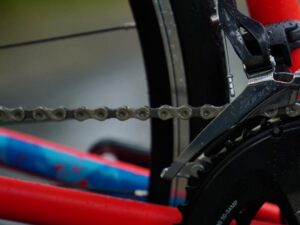 Part of the casing except it doesn't intend to touch the ground hence, it becomes the thinnest part among all other sections of tire anatomy. This part contains all the information about the bike's tire that you need such as the recommended tire pressure, the tire width, and the wheel size.
Tread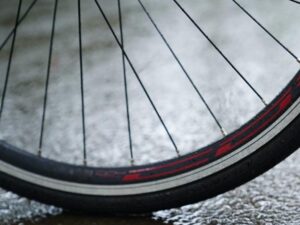 Part of the tire that contacts the ground. Typically, a road bike tire will have a very light patterned tread or no tread at all. This is because a road bike prioritizes speed, rolling efficiency, and lightweight. For a dry-conditioned road bike, they tend to come with a crowned profile of 23mm to 28mm tire width topped by a slick, smooth, and fast-rolling centerline.
Meanwhile, a wet weather road bike tire can sometimes dictate a slightly wider tire around 30mm to 32mm so it can have a better grip on the surface. This type often features a softer, grippier rubber compound and shallow, grooved tread to funnel the water away, making the ride less slippery.
Conclusion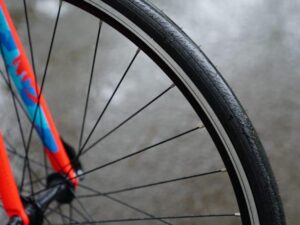 When discussing a bike, most people often talk about frame, weight, groupset, and rarely talk about the tire. However, the part that keeps us in contact with the ground is the tire therefore, it is also essential information every biker should know about.
A good tire, as matter of fact, will improve your comfort during the ride, lowering the rolling resistance, and giving you a more efficient ride. Hence, it is obvious that the type of tire used to build a bike has to be part of your considerations when deciding to invest in a bike.
Speaking of a road bike, the Polygon road bike tire is from a renowned brand with high quality despite being budget-friendly. For example, the performance bike of Polygon, the Heliox A9X Dura-Ace C60 uses the Schwalbe One Addix TLE 700x28c as its bike's tire.
Despite being budget-friendly, it can be considered one of the hidden gems among many other options available. As a matter of fact, not only do Polygon road bike tire parts serve as a high-quality product within the budget but the whole product is offering quality for price items to customers.
If you happen to look for the best road bike or road bike tire that will perfectly match your riding style and need, don't hesitate to visit Rodalink. Even as a newbie to the cycling world, if you are shopping through Rodalink, you will find anything you need regarding boosting your biking experience.
And you should never be worried about how to change a bike's tire because Rodalink with its one-stop cycling store along with its professional team will gladly help you with that. Purchase your bike essentials like parts, accessories, or apparel now, and if they exceed $200, you can claim the free shipping from Rodalink to your doorstep.