According to Grand View Research, mountain bikes and road bikes are two types of bicycles that have grown significantly. Road bicycles accounted for the largest revenue share over 40% in 2021, while mountain bikes are millennials' first choice. If you have to choose between road bike vs mountain bike, which one will you invest in?
Before making any decision, it's better to understand both types of bikes first. In this article, we will be breaking down the essential thing you need to know about road bikes and mountain bikes along with recommendations of the best bike that will suit you, so make sure you read this until the end.
What is a Road Bike?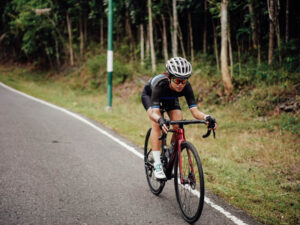 A road bike is designed with a slick tire and curved handlebars. Usually, this type of bike is suitable for on-road racing because it can perform at a fast speed under smooth pavement circumstances.
Due to its frame geometry and components, this bike is lighter than any other bike type, which gives a road bike another extra point. Since it's aerodynamic, it's not only fast in the straight line riding but also can be fast uphill.
What is a Mountain Bike?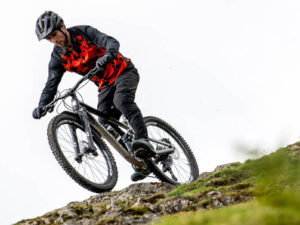 Mountain bike is mainly designed to be suitable for off-road trails because it comes with very low gear range for pedaling through steep trails. Most mountain bikes also have shock absorbers or suspensions, and they have a flat handlebar allowing the riders to have a more comfortable off-road ride.
Based on its number of suspensions, a mountain bike is divided into three sections:
Rigid: a mountain bike without any suspension;
Hardtail: a mountain bike with front suspension;
Full-suspension: a mountain bike with front and rear suspension.
Road Bike and Mountain Bike Purpose
A glimpse of both road bike and mountain bike will not give you a better judgment of which bike is more suitable for you, but understanding the purpose of both bikes reserved for their rider might help you make the right decision.
As the name suggests, a road bike is made for riding on smoothly surfaced roads. So if you want to ride long distances on the pavement, looking for a bike that is lightweight and is suitable for sprinting as well as riding in uphill areas, then a road bike is your best choice.
But if your long-distance riding area is more of rocky and muddy singletrack trails, then a mountain bike will be a better option since a mountain bike is manufactured with knobby tires, which can help the riders stay upright on a rougher and uneven trail.
In conclusion, both road bikes and mountain bikes serve different purposes. A road bike is mainly for users who love to sprint with a bike or ride long distances on the pavement, while a mountain bike is for users who love to ride their bike on a little more challenging terrain such as rocky and muddy singletrack.
When it comes to sport, road bike vs mountain bike for exercise, which one do you think will excel? A mountain bike has a sturdier frame and allows the riders to cycle in the upright position, and helps cyclists in burning more calories because they need more effort to propel.
On the other hand, a road bike with its incredible speed is suitable for a cardio boost, and since it is lightweight, it allows the rider to cycle for longer distances with more endurance. To conclude, mountain bikes are best for endurance and muscle building, and a road bike offers a better overall body workout, especially on cardio boost.
As for road bike vs mountain bike for weight loss, both bikes will help you build muscle and burn calories. Therefore, when looking for a bike to help you lose some weight, you need to consider geographical location, goals, preference, and experience level.
Road Bike and Mountain Bike Frame Geometry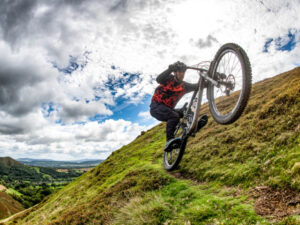 Another essential thing bikers should understand before buying a bicycle is the bike's geometry. Although some bikes will look almost similar from one to another, subtle changes in a bike's geometry can impact a bike's compatibility with its rider as it determines how the bike handles and the rider's position during the ride.
Here is the difference between both bikes in terms of their frame geometry:
Road Bike's Geometry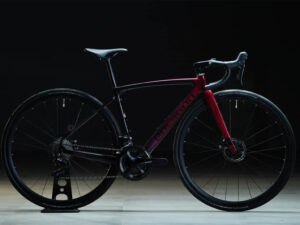 There are only two main keywords that represent the categories of a road bike: race and endurance. Thus, a road bike is usually manufactured with a more aggressive geometry. The handlebar shape and aerodynamic tube shape, typically manufactured with more rigid feelings, allow road bikes to run faster but are not suitable for an off-road ride.
Mountain Bike's Geometry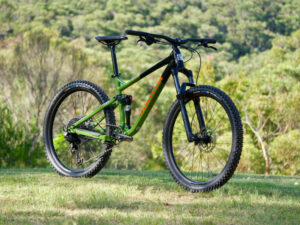 Mountain bike frame geometry is designed to help improve balance over bumpy sections and cushion blows. It also has powerful disc brakes, and massive gearing ranges to suit riding on almost all off-road terrain. It usually comes with a larger fork rake and a slacker head tube that keeps the bikers balanced on a steep descent.
Conclusion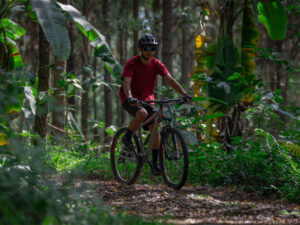 Based on the information above about the frame geometry, riding posture, rolling resistance, and bike weight, we can tell that between a road bike vs. mountain bike speed, a road bike will perform better and faster over smooth terrains while a mountain bike will do better in rocky and rooty area.
Besides a mountain bike and road bike, a hybrid bike will be best for short-distance commuting, running errands around the town, or even casual riding around the neighborhood.
This is because a hybrid bike combines both a road bike and a mountain bike. A hybrid bike takes the comfy riding positions you can find on a mountain bike but adapts to the fast-rolling and lightweight road bike frame. This bike is suitable for riders who choose to have more upright positions yet still can have fast riding on the smooth surface.
However, instead of searching for "road bike vs. mountain bike Reddit" or finding out which is best between hybrid vs mountain bike, it will be best to go directly to your local bike store and consult with the professional team to get the most suitable bike for you.
If you're living in Singapore, you can visit Rodalink's outlet at East Coast or Jurong East to get recommendations on the best mountain bike for road use and which bike will suit you best. Rodalink also offers the best road bike price and other's bikes at an affordable prices; with a wide range of bicycles you can choose from, you might get the chance to bring home your ideal bike within your budget.
Rodalink also has a membership program where you can register for free and can be used at Rodalink in Singapore, Malaysia, and Indonesia. By becoming part of Rodalink's membership, you will get the latest update on deals, events, and new arrivals at Rodalink. There will be deals and events that only members can get.
You will also get points for each purchase made. These points will last for two years and can be redeemed for a purchase discount. Register on Rodalink for more accessible shopping methods and claim many beneficial offers.