When long-distance off-road riding is a hobby that you enjoy but if it happens to make you suffer in pain post-riding, you will often be in doubt and ask yourself is it worth it to keep going? To be honest, it will still be worth it as long as you enjoy it. You just have to put a little bit of work on your touring bike setup so you can have a more comfortable ride.
Here, you will be introduced to the touring bike components that you might not yet realize can boost your riding experience as well as get the tips to set your touring bike and the reason why you still keep touring using your bike. Are you ready for all the information? Read through this article and enjoy your reading.
Touring Bike Components and Setup Tips
If you enjoy long-distance riding, having a touring bike will be perfect. But aside from getting a touring bike, it will be best if you know the components that make a touring bike so you can have a better understanding of it and boost the performance by setting each of the components to give you maximum comfort.
Besides, if you want to build a cheap touring bike by yourself, you will have to understand each of its components so, here is the detail:
Bike Frame

We all know that the purpose of a touring bike is to be ridden for long-distance off-road riding—in short, for touring. Hence, the frame of a touring bike is strong-built, usually with steel material. The most important thing is to get the right sizing of your bike frame.
By riding the correct size bike, you are guaranteed to have a more comfortable riding. But how do you get the sizing correct? The thing is, sizing between the brands of bikes is not consistent. Even bikes of the same brands might have different sizing for different styles of bikes.
However, you don't have to get too worried. Despite being not straightforward, you are still able to find your ideal sizing for a touring bike with a little bit of effort. The indicator of getting the correct size for your bike is by measuring your overall height and matching it with the sizing chart provided by the bike manufacturer.
Remember that you should get the correct sizing not only for increasing comfort during a long-distance touring but also to prevent yourself got a serious injury. Are you still having trouble determining the ideal bike size? You can visit Rodalink to get the assistance in getting the perfect size for your touring bike.
Brake Lever Positions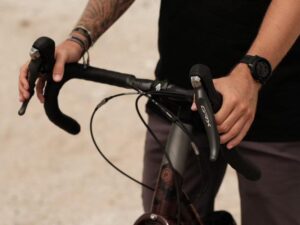 It might seem simple, but setting your brake in the correct positions will work wonders in bringing a comfortable ride. Wrong positioning of brake levers on your handlebar may cause you to overextend your wrist or kink it and lead to wrist pain.
There are three main aspects to consider when setting the position of your brake levers, such as:
The angle of the brake lever;
The reach of your hands to the brakes lever;
The brake lever is positioned on the handlebar.
Adjusting the brake is an easy and simple thing to do. You only have to be patient and take the time to set the brake lever into the most comfortable position that works for you to enjoy the pain-free riding. You can refer to our blog post about how to set the brake lever if you need complete guidance.
Handlebars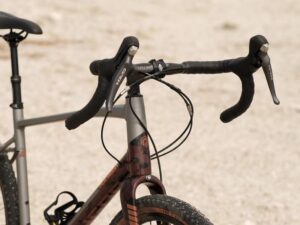 To get the right setup for your handlebars, you will have to get the reach and height right. Reach is the distance between saddle and handlebars, try to adjust your reach by moving your saddle forwards or backward on the sliders under it or by changing the stem on the bike to the shorter or longer one.
Every rider will have a different preference when it comes to the reach positions. However, if it's about touring, whether you want to ride your touring bikes for backpacking or bike touring, you may be feeling the most comfortable in a slightly more upright position.
Get a perfect balance of weight distributions between your hand and sit bones. If you feel too stretched out when riding your bike, your reach might be too long. On the other hand, if you feel you are too squished up, your bike ready might be too short. Try to adjust it until you get the ideal reach measurement.
As for heights, since touring bikers' main goal is about having a comfortable ride, getting a medium to higher handlebar is more advised since it will put less pressure on riders' wrists as well as help to avoid the upper back and neck pain which often suffered post touring rides.
Bike Saddle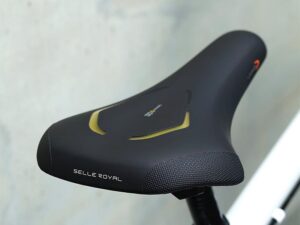 Ditch the idea of getting the expensive saddle equal to getting the most comfortable saddle for your ride. The comfort offered by your saddle rarely comes from its price tag but rather, what kind of saddle makes your bottom feel the most comfortable during the ride. The height, tilt, and reach usually are the contributing factors.
The basic way to get your bike saddle in the right place:
Sit on your bike with something to support you and stabilize yourself;
Place your heel on the pedal—with the pedal facing right at the bottom;
If your leg is in a straight line in this position, your saddle height is most likely to be the correct size.
Reason Why Should Travel Using Bike
At this point, you are probably already packing a touring bike and ready to hit the road. But if you are still unsure about whether or not to start your wonderful journey and conquer a thousand miles on your two wheels, here is the assurance you need, the reason why you should travel by your bike:
Bikepacking and bike tours are the perfect options for you who love adventurous journeys;
You can enjoy the beautiful scenery of each place your bike has taken you at a speed that you desire;
Meeting lots of new people and exploring the places were often not included in the tourist's package offer;
The budget touring bike often saves you lots of money while still being able to enjoy the amazing scenery.
Conclusion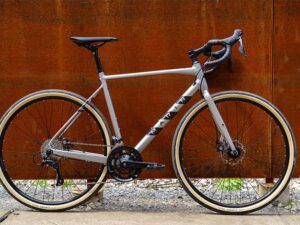 When talking about touring with a bike, some people prefer to get a gravel bike touring setup
gravel bike touring setup while some others choose to start touring on a mountain bike. Each of the choices is great but it will be perfect if you can get the proper touring bike to support your journey, especially if you often do this activity.
This is because a touring bike is specifically made to support your long riding journey and made to carry loads of gears yet can still take over both paved roads and gentle forests in remote areas. Most touring bikes are built with steel material so they can meet up the requirements needed by tour bikers: a strong-built and robust frame to carry loads.
However, the Polygon touring bike is built in the lightweight ALX alloy material. What makes the ALX alloy different from any aluminum material used by other competitors is that this material is not only light in weight but also very strong and stiff making the bike durable yet not hard to carry.
It is fair to say that the touring bike made by Polygon is one of the lightest touring bike you will love to have. Interested in investing in Polygon bike? Get the original piece only at Rodalink the official distributor of Polygon.
If you need bike accessories, parts, or apparels to complete your tour biking gears, you can also get everything from your checklist at Rodalink.