For some people who are more of an adventurous soul, touring sounded like an exciting activity. Aside from having a special trip with your group of friends, of course, you need a proper touring bike to maximize your touring experience. Here is an easy guide about touring bike Singapore you should get to know before deciding to buy one.
In this article, we will not only introduce a touring bike but also give you some recommendations of where to buy the best touring bikes within quality for the price.
What is a Touring Bike?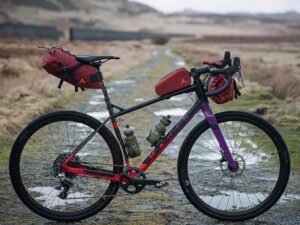 Most people often confuse a touring bike with a road bike because both seem to share similarities in their design at some point. However, there's an obvious difference between touring bike vs road bike.
The most obvious difference is a road bike is built with the purpose to offer a bike that can run fast over smooth surfaces, for racing, or even for day ride recreation. A road bike is manufactured to be lightweight with stiffness and speed as their plus point.
On the other hand, touring bikes are built to serve comfort, stability, and strength. Touring bike, as its name suggests, is specifically designed to work with a load—well, you do need to bring some necessary belongings during a tour, don't you? Frame-wise, a touring bike is heavier, stronger, and more robust than a regular road bike.
There are two subcategories of a touring bike, such as:
Gravel Bike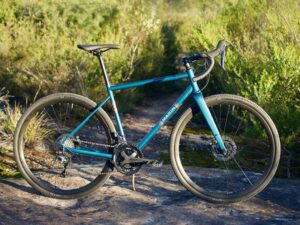 Many people might have been confused about whether a gravel bike is a road bike or a touring bike. Well, the confusion is understandable, because gravel bikes indeed fall into multiple categories. It can be considered a road bike at some point, but could also be considered a touring bike.
When talking about touring bike vs gravel bike, it depends on which bike you are getting. You have to understand that not every gravel bike is suitable for long-distance rides and touring. Some of the gravel bikes are designed with speed and aerodynamics at the forefront which might not be comfortable for a long haul.
Unless you are getting an adventure-ready gravel bike or just doing a short touring, a gravel bike is probably not serving your desire to have a long-distance with your group of friends. However, compared to a road bike which has a smooth and slick tire to help it reduce rolling resistance so the rider can go faster, a gravel bike tire comes with a tread pattern to help it improves comfort and grip on uneven roads.
Unlike road bike which typically comes with a short wheelbase and steeper angles for lively handling and agile ride quality, gravel bike got a longer wheelbase and more flare to offer a more comfortable ride.
You Might Love This!
Hybrid Bike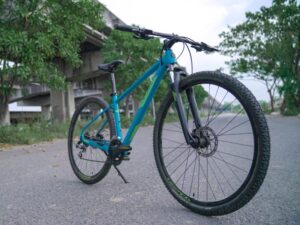 When you are contemplating between a touring bike vs mountain bike, you might probably take a look at a hybrid bike. A hybrid bike is a perfect blend of a touring bike, road bike, and mountain bike. It has the typical flat handlebars with a more comfortable sitting position for off-road riders, the lightweight found in road bikes, and mounting bags to transport belongings like those found in touring bikes.
The other differences between a touring bike and a road bike are that both have different components. A road bike will have a frame made of full-carbon fiber or mixed between carbon fiber forks with an aluminum alloy frame. They will have a slicker tire to reduce rolling resistance, with a shorter stack and drop bars to create a lower and more aerodynamic riding position.
With a mountain bike, the glaring difference is the weight of the frame and it's geometry. A mountain bike is made for adventure, challenge, and adrenaline ride while a touring bike is made for a comfortable long-distance ride. Mountain bikes needs more of sensitive steering to avoid surprise obstacles such as drop-offs or rocks while touring but a touring bike will have a body that are longer so it can provide more stability while carrying heavy loads.
You Might Love This!
Touring Bike Components
Here are the essential components of a touring bike:
Frameset and Geometry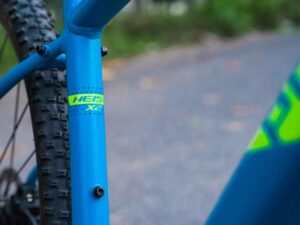 A touring bike's frame material is often constructed with steel or aluminum, with steel being a bit more favorable than aluminum. The reason behind this is quite simple, people often consider steel to be stronger and last longer. Steel indeed absorbs the vibration on the road better so it won't give its riders any "surprise" during a ride.
The fork will also make of steel material to let the rider have easier access to find a replacement for a replacement component. For the geometry, the touring bike is manufactured to have a longer wheelbase and chainstay with a lower bottom bracket that will help improve stability and comfort even when being ridden for a whole day.
Groupset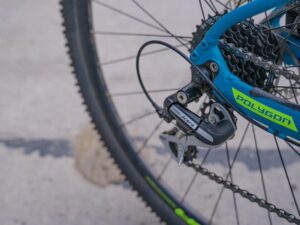 The touring bike will often borrow components from mountain bikes to provide a needed gear range for a touring bike. Normally, you will find chainsets with 48/38/28 chainrings and cassettes as wide as 11-36. However, if you are using the Heist7 series of Polygon touring bike Singapore, this bike will have 11-46 wide cassettes.
Brakes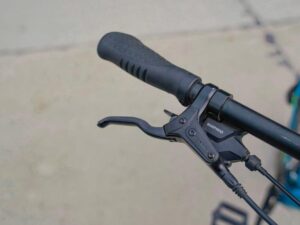 Most touring bikes nowadays are using the hydraulic disc brake that allows the rider to put the bike to a halt without having to use a powerful pull on the lever. On an older version, you might find some touring bike still uses the V-brake or rim brake but it should be lesser than those using a disc brake as their braking system.
Tires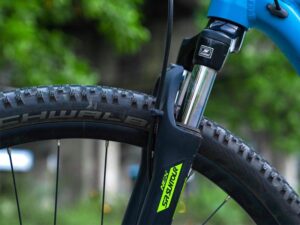 It's known that a road bike comes with a slick tire with little tread and grooves on the surface of the tire to get a lesser rolling resistance and allow riders to maintain their speed easily. The touring bike, on the other side, has room for a much wider tire with a thicker tread.
After all, a touring bike is meant to be ridden off-road and will occasionally carry some loads, so it will be better for a touring bike to have a wider tire to be able to take the weight and avoid puncture.
Conclusion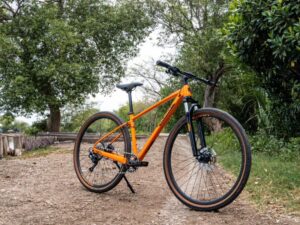 Despite sharing the same drop handlebars, the purposes of both road bikes and touring bikes are different. The only road bike subcategory that could be considered a touring bike is a gravel bike. An adventure-ready gravel bike can do well as a touring bike, while the standard gravel bike might be more of a commuter bike Singapore, but will do just okay for a short touring.
While it is arguable that a mountain bike is also good to be ridden like a touring bike, both are two different types of bikes and share different purposes. Mountain bikes are specially designed for going off-road, zipping around rock gardens, bumping over trails, and hopping over obstacles.
The rugged frame of mountain bikes is made to tackle the professional terrain and is used by thrill-seeking adrenaline riders. Meanwhile, touring bikes are specially designed to allow riders to feel more comfortable for long days in the saddle, letting the riders explore towns and cities regardless of the road surface being rough. The rugged frame of the touring bike is made to allow riders to carry loads during their trips.
Most of the touring bike is manufactured with steel material or somehow aluminum while mountain bike's material varies from steel to super-light carbon fiber materials. Mountain bikes can only be found using the wide flat bars while touring bikes have more options on their handlebar as it can be a flat bar, drop bar, or even the upright handlebar depending on the rider's preference of what kind of comfort they are looking for.
Touring bikes can also be considered one of the bikepacking bikes Singapore because the main idea of bikepacking itself is an exploration of off-pavement roads and trails, where you can ride your touring bike for this activity.
If you are looking for touring bicycles for sale, you can visit Rodalink. They are providing a wide range of bike selections as well as accessories, parts, and apparel. You can ask the Rodalink team to assist you in getting the best budget touring bike that suits your adventurous soul.
You can also choose to buy now and pay later with a 0% interest charge if you do your payment with ShopBack. Get your ideal bike delivered to you in a ready-to-ride form only by purchasing through Rodalink. Hassle-free bike shopping? Of course, Rodalink!