Have you ever gotten overwhelmed when visiting a bike store and finding lots of bikes that look the same yet are not the same at times? Although having quite similar outer looks, different types of road bikes are serving different riding purposes. Here are some guidelines you might need before buying your road bike.
The Type of Road Bike
Depending on its purpose, each types of bike will have different geometry and build with different frame materials and parts. Here is our summarization to help you understand more about various types of road bikes:
Performance Bike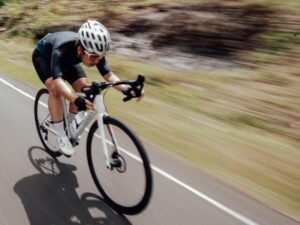 A performance bike or also known as a race road bike purposely designed to offer speed and agility during the ride. Having a goal of being fast, this bike manufactured has a low front end with a shorter head tube, flat stem, and low handlebar to give an aerobic position for riding.
A race road bike usually will cost a little higher than the other types of bike as it typically comes with the highest level groupset with a full carbon fiber frameset that is stiffer and more responsive. This bike is the perfect choice for riders that look for a bike that can go fast, climb well, corner neatly, and get them to the front of a race with a good endurance.
But if you are looking for a road bike that will give you a better experience and more comfort for a long-distance trip, then this type might not be very suitable.
All-Rounder Bike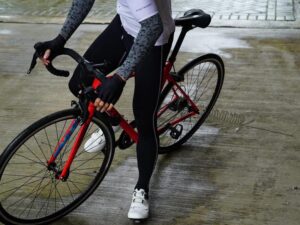 An all-rounder road bike sharing the traits of both performance bike and endurance bike. It is usually manufactured with a mixed frameset of ALX and ACX, allowing the bike to be light enough for climbing and aerodynamics enough for sprinting over smooth pavement but adapting to the comfort of an endurance bike.
Gravel Bike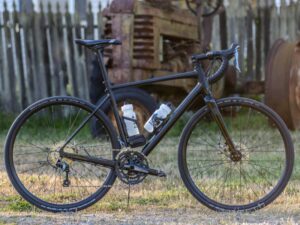 Also known as an all-road bike which combines a touring bike's geometry and setup more similar to an endurance bike. The frame is designed to be lightweight, has large tire clearance, and has easy handling that allows this bike to tackle almost all-road.
If you are planning to have a gravel ride or are looking for a bike that can run on singletrack trails and is still capable for commuters, then this gravel bike is your perfect option.
Road Bike Materials Guide
In general, the Polygon road bike is manufactured with three main materials, such as:
Carbon Fiber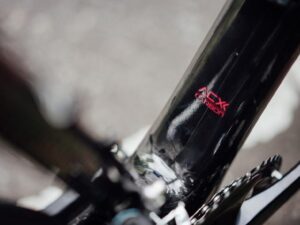 We all know that carbon fiber has been a standard material for a higher-end type of bike. The reason being the frame made of carbon fiber is lightweight and strong. Besides, it also does a great job of taking the road vibration without channeling it to the riders.
Slightly different from regular carbon fiber, each Polygon road bike type of performance bike is manufactured with ACX carbon fiber, advanced technology of a regular carbon fiber material which can maximize the strength and stiffness in crucial areas of the frame and extend the durability.
An ACX made frame has been proven to have a lightweight with optimum frame strength that will be an answer for cyclists who look for both lightweight and durable bikes.
Alloy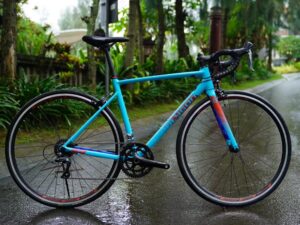 Now comes the most popular material that is used for many constructions of bike frames: the aluminum alloy. Alloy is often used by bike manufacturers because it is a strong and lightweight material that is more affordable than carbon fiber.
The alloy material is stiff enough to offer efficient bike handling. The only downside of the alloy is it absorbs the road vibration, but not perfectly. However, Polygon stepped in and became the game-changer. There are two types of alloy used in manufacturing Polygon"s bike. They are ALX Alloy and AL6 Alloy.
ALX Alloy is an aluminum material combined with Polygon's manufacturing technology that results in a lighter and tougher material than other same alloys used by competitors. Starting with ALX 6061, there are three tubing tubes and heat treatment resulting in maximum strength of a bike frame, and of course, more durable compared to others.
While an AL6 alloy frame manufacturing has to go through a very strict quality control process, going through various stages of inspection and being carried out thoroughly before being used to construct a bike frame to ensure it comes off as the best quality.
Steel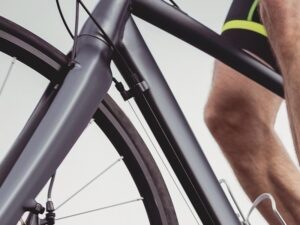 Nowadays, steel might not be as popular as it used to be. However, some people might still look for a steel material frame for custom because it is believed to be strong and will last longer, can be repaired easier than other materials, and it also costs cheaper.
The shortcomings of a steel material probably are it's not as lightweight as the others and it can rust.
Conclusion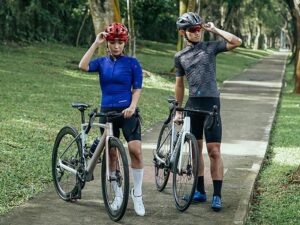 Although being classified as a road bike and looking similar from one to another, different models have different purposes and of course, come with different geometry, frameset, groupset, setup, and pricing. The only similarities road bike shares from one model to another is probably the drop handlebar.
Understanding different models of a road bike will save you from investing in the wrong model that doesn't fit your need. However, if you want to purchase a bike, it's recommended to visit Rodalink. They have a wide range of bicycle choices. You can find the various road bike brands and the other types of bikes like leisure, mountain bike, and folding bike—you name it, they have it.
They will also assist you to get the most perfect bike for you, be it by helping you choose the best Polygon road bike type or any other bike type, finding the best bike size for you, and even helping with the accessories and additional parts you might need.
The best part about Rodalink is that they have an offer where you will be given free shipping for any accessories, parts, and apparel shopping with an amount of SG$200. They also have a membership program which you can sign up for free and will grant you lots of deals and benefits exclusive to their community members. Get the best services and offers only in Rodalink!
You Might Love This!