Previously, outdoor activity was restricted due to the pandemic. Now, even though things are starting to get better and outdoor activity has already returned to normal, some people have already gotten used to enjoying indoor training. If you are also looking for an option to stay healthy without leaving your home, then you will find this article regarding types of bike trainers useful. Therefore, keep scrolling and enjoy reading!
Bike Trainers
Getting a ride outside, exploring new trails, and soaking yourself under the sunlight and enormous view indeed is a great experience. However, outdoor riding highly depends on the weather conditions outside. When the weather conditions are extremely unfriendly, the only option to keep your training going is by investing in an indoor bike trainer.
Different from a stationary bike that will hold your bike firmly in place as you ride, the indoor bike gives off the natural feel of an outdoor bike by providing a variety of resistance. But again, there are numerous types of bike trainers. Therefore, finding one that will work best for you might be some sort of difficult task. But worry not, because this article will be giving you the guidance you need.
Types of Bike Trainers
Typically, any basic trainer will deliver a good aerobic workout for its rider. In general, there are three types of indoor bike trainers such as the followings:
Turbo Drive Trainer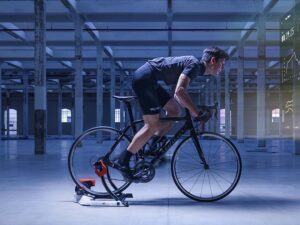 Characteristic of the turbo drive trainer is it clamps the rear of a bike into a static stand and is driven in two different ways, hence, it is grouped as:
Direct-Drive Trainer
The direct drive bike trainer is a type of indoor training equipment that attaches to the rear dropouts by replacing your bike's wheel and providing a direct connection to the resistance unit. To be fair, the direct-drive bike trainer is considered one of the easiest to identify as a direct-drive trainer because the equipment will require a cassette.
Typically, a direct-drive bike trainer will come at a higher cost but it pays off by the high level of resistance up to about 2,000 watts, the most realistic road feels with less noise, and the accuracy it serves.
Wheel-On Trainer
The regular turbo trainer or known as the wheel-on trainer uses the tire of a bike that is usually rolling on a metal or composite drum to drive the trainer. There's a dial that allows the rider to adjust how hard the roller press against the bike wheel once the bike has successfully clamped on the trainer.
If you are using the wheel-on trainer, it will be best if you are also buying the special tire with a hard compound with less resistance to wearing and built-up heat. But usually, the bike trainer tire can't be used for on-road riding.
Smart Trainer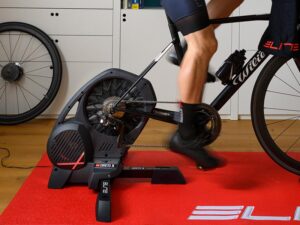 Rather than saying this is another type of bike trainer, a smart bike trainer is more of a feature that allows a turbo bike trainer to interact with training software like Zwift and TrainerRoad to control the resistance of the trainer, allowing riders to recreate rides or race without leaving the home.
Generally, most smart trainers work with both ANT+ and Bluetooth as wireless protocols giving riders easier access to connect with their friends and connect their trainer to another electronic device in the house. Smart trainers not only come with automatic resistance control but also include a power meter that helps riders to monitor how hard they have been riding.
Roller Trainer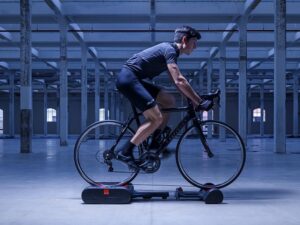 Essentially, a roller consists of three drums in a set that is bolted onto a solid rectangular frame that sits on the floor. When riding on rollers, your rear wheel drives the back pair of rollers and in turn, it drives the front rollers via a belt or a very elastic rubber band.
Unlike the regular turbo trainer where the bike trainer stands firmly on the ground so you won't have to worry about falling during your workout, a roller trainer requires its rider to be able to work on their pedaling technique, bike handling, and find balance as they ride on the roller.
Static Trainer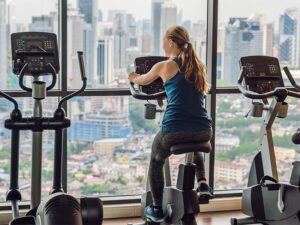 Compared to rollers and turbo trainers, the static trainer is said to offer a more stable and hassle-free experience of indoor training. The portability design makes it easier to store and more often than not, a static trainer will have adjustable tension control and magnetic resistance.
How to Choose a Bike Trainer
After knowing the different types of bike trainers, it's time to make a buying decision. However, we understand that sometimes, only knowing the difference each type offers still won't answer your confusion about how to find the best bike trainer for your needs. Hence, we have listed some of the considerations you have to make before deciding to take home any indoor trainer. They are:
Budget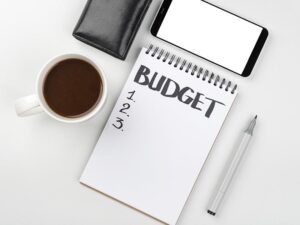 Of course, you first have to consider how much bulk you are willing to spend on a bike trainer. Each different type of bike trainer comes with a different price tag. Your goal is to find the best budget bike trainer that will not only help your daily workout but also help your saving at the bank from breaking.
You can consider having the Polygon bike trainer which is not only durable and lightweight but also offers competitive pricing. Most Polygon bike trainer, even the entry-level one, comes with the possibility for the trainer to be wirelessly connected to various software apps like Zwift and TrainerRoad.
Resistance Level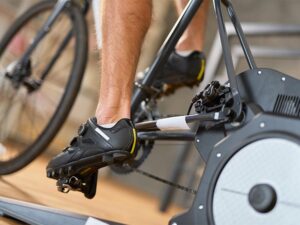 Resistance level mostly talks about the amount of power output riders can ride before it reaches the peak. A beginner rider mostly suitable for the entry-level bike trainer might be better than the advanced bike trainer that comes in a package with a power meter well worth the extra investment for riders who seek more serious training, like race training, for example.
Compatibility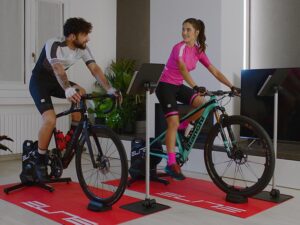 Generally, the bike trainers can fit a wide range of bikes. However, the axle attachment and width standard keeps changing so it will be best to double-check before purchasing. You can ask whether the trainer you are going to buy offers different attachment options like the thru-axle adaptor or free-hub options.
Durability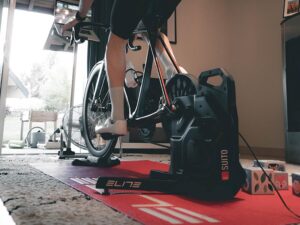 If you plan to do intense workouts using an indoor bike trainer, consider putting quality first because it will help you save some cash for the long term. Pay more attention to your fluid seal as some traditional bike trainers will bump into the problem of getting the fluid leak.
Conclusion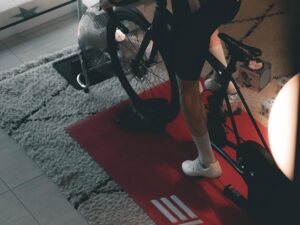 Different training goals will require you to need different indoor trainer equipment. For example, if you only wish to get an aerobic workout, any type of indoor trainer will give you the result that you wished for. But if you want to get the feeling of realistic road riding or even racing, then you might have to consider getting a turbo trainer or smart trainer.
If your goal is to work on your balance when riding your bike and boost your pedaling technique or overall bike handling, you have to consider investing in a roller trainer instead. Regardless of which type you have been deciding to get, consider having the bike trainer Polygon for high-quality equipment that comes at an affordable price.
To get a better experience when doing your training indoor, you might need some other accessories to complete your trainer setup, for example, a simple sweat matt to protect your floor from droplets, sophisticated gear like climbing simulators, or even special platforms that allow you to mimic the feels of your bike as if you are doing outdoor biking.
The good news is, you can get all of that above by visiting Rodalink, the official distributor of Polygon bikes that also provides a wide range selection of bikes, apparels, parts, and accessories from world-renowned brands.
If you are under tight budget control, you can consider purchasing by using ShopBack as your payment method so you can buy it now and pay it later with 0% of installment fee charges. You can also get free shipping by purchasing non-bike items for about SG$200. Acknowledging the fact that you might be busy, Rodalink also has an online store that you can access 24/7 and place your purchase anytime.
So what are you waiting for? Keeping up with your training and getting a healthy lifestyle in the middle of a busy schedule is no longer a daydream and Rodalink is ready to help you with that.