Do you have plans for a vacation to Singapore but want to do something unique and different? Or, want to do fun activities while walking around the city in Singapore? Whatever your plans are, you can try cycling on some of the fun cycling routes in Singapore. Cycling around the city on weekends or while on vacation in Singapore can be one of the choices for a fun and different outdoor activity from the usual tourist activities. You can enjoy the beautiful city of Singapore while exercising!
Then, what bike is recommended for cycling in the middle of Singapore? You might consider using a folding bike. Before we discuss cycling routes in Singapore that you must try, let's get to know folding bikes more closely.
What Is Folding Bike?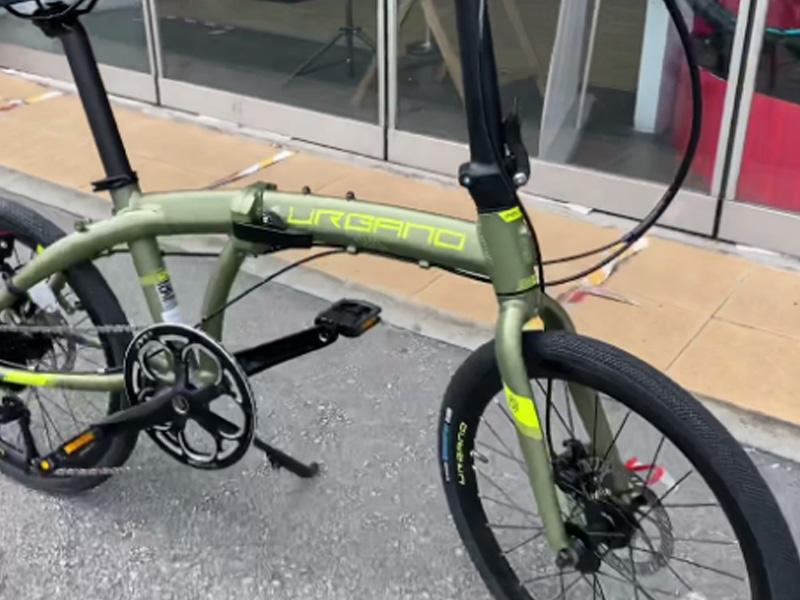 A folding bike is a bicycle that can be folded to produce a smaller and more practical form to carry or store. Folding bicycles are very simple and unique in their uses, perfectly suited to practical modern life. Folding bikes are the most developed type of bike in the bicycle industry. It is small, and light, and when folded to the size of a suitcase, we can easily carry it with us into the train, bus, or for long trips. Or if there is a shortcut that cannot be passed by vehicles (such as a pedestrian bridge), we can pick up the bicycle and continue the journey afterward.
No need to worry about leaving the folding bike, and no need to store it in a parking lot that is prone to theft, because folding bikes can be taken wherever you go. You can take it to the office, cafe, mall, and anywhere. The small wheels and the relatively lower seating position make it possible to put your feet on the ground/road at any time. This allows us to cycle more quietly and safely. You don't need special skills and strong muscles to use a folding bike. Even though it's small, the seat is adjustable in height. Small tires and light weight make this bike very easy to accelerate, beating the acceleration of normal-size bikes. Making this bike very suitable for use on busy city roads and traffic jams, it doesn't take a lot of energy to stop and start riding again. Bikes with larger tires/wheels are heavier at first start, draining more power on busy roads.
Popular Cycling Routes in Singapore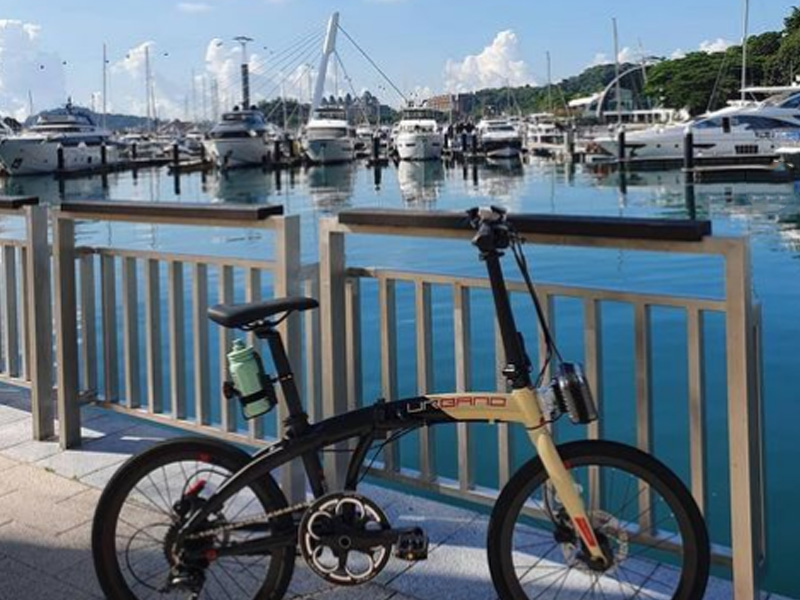 After getting to know what a folding bike is, now is the time to discuss cycling routes that can be your choice of activities on the weekend or vacation in Singapore. Let's discuss them one by one!
St. John & Lazarus Island

The first of the top 8 cycling routes is known for its untouched landscape and close encounters with nature—St John and Lazarus islands are perfect places to ride! Since the terrain is relatively flat, even an inexperienced cyclist can complete it without a problem. You can bring your bike to explore the island!

Jurassic Mile

The Jurassic Mile is Singapore's largest permanent outdoor exhibit of life-size dinosaurs. The 1-kilometer stretch from Tanah Merah Coastal Road to Changi Airport Terminal 4 features approximately 20 types of prehistoric creatures!

Changi Bay Point

Changi Bay Park Connector, Singapore's version of Jeju Island, is a 3.6km coastal route with endless spots for picnics and photography along the way. The park connects Changi Beach Park to the East Coastal Pathway Network—a good place for both strolls and serious runs! Changi Bay Point Park Connector stands out from the rest in its "overseas vibes", with lush lalang and a couple of lone trees—including one that appears to be floating.

Marina Bay Loop

The Marina Bay area, located in central Singapore, is a must-see spectacle filled with architectural masterpieces and other attractions. While there you can indulge in many activities—biking, shopping, and dining out.

Sentosa

The island of Sentosa, just off Singapore's southern coast, was once a British military fortress. After World War II it returned to British rule—and was renamed "Sentosa," meaning "peace and tranquility" in Malay. Few know that Singapore's first dedicated bike lanes are on Sentosa Island alongside roads. Throughout its remarkable history, Sentosa has transformed into a beloved island resort. Sentosa can cater to any kind of vacation experience, whether you want to relax or add some adventure to your trip.

East Coast Park

The East Coast Park (ECP) is one of Singapore's most popular hangout spots. The amenities—restaurants, playgrounds, and barbecue pits among other things—are excellent for many kinds of groups, including cyclists. The 10km seawall path that spans the entire beach is a sports enthusiasts' paradise, with its numerous revamps in recent years earning it wide praise for its stunning views and wide designated cycling paths.

Coast-to-Coast Trail

If you enjoy taking lovely long walks in lush greenery or exploring the outdoor spaces, then visit the Coast-to-Coast (C2C) Trail (Central). This trail will take you across Singapore to explore various sights and sounds! The park links nature areas, parks, and green spaces from Jurong Lake Gardens in the west to Coney Island Park in the northeast.

Coney Island

Coney Island Park is home to a wide variety of habitats, including coastal forests, grasslands, mangroves, and casuarina woodlands. It's also rich in history—some might even say it has magical powers! Some species of plants that grow in the park are thought to be extinct, but visitors may spot them there. Since its opening in 2015, Coney Island Park has been a top spot for families to visit for its beautiful scenery and easy cycling and hiking trails! Ride your bike down the central spine of Coney Island to experience nature.
Conclusions
Cycling around the city can be one of the activities you can do when enjoying the weekend or while on vacation in Singapore. You can ride a bike for exercise or just relax and enjoy the beauty of the cities in Singapore with its neat and attractive cycling track. Cycling in the middle of Singapore using a folding bike will make it easier for you when you have to take public transportation from one route to another because of its compact and foldable shape. Folding bikes can be the right bicycle choice because they are easy to carry everywhere.
If you are looking for a folding bike shop in Singapore, you can visit the Rodalink Singapore website. Rodalink provides quality folding bikes from brands that are already trusted. Polygon Urbano 3 and 5 are one of the recommended folding bikes available at Rodalink Singapore. In addition, you can also buy cycling equipment such as helmets, lights, etc. at varying prices. Don't worry, you can find various promos at Rodalink, starting from OCBC Installment 0%, Free Shipping, and Shopback, to different ongoing promos that you can check directly on the Rodalink website. Not only that, but you can also get various benefits by joining Rodalink Singapore members. What are you waiting for, let's start your unique cycling holiday with Rodalink Singapore!