If you are on a tight budget but still want to treat yourself with a great mountain bike or if you occasionally go mountain biking once in a while, a hardtail mountain bike will be your better option. Wait, what is a hardtail mountain bike? How does it benefit mountain bike riders, and what is its function? Find out more about hardtail mountain bikes through this article!
What is a Hardtail Bike?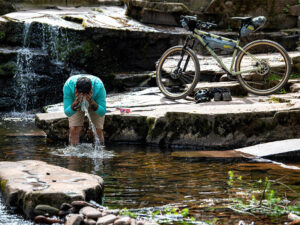 If you are looking for a mountain bike with a front suspension that is more durable and reliable even without rear suspension and is less expensive, then a hardtail mountain bike is your best option.
So what is a hardtail bike used for? Hardtail mountain bikes are usually offered as a great adventure bike for long rides and bike-packing activities. Aside from being more responsive than a dual-suspension bike when pedaling, this type of bike is also specifically designed to be ridden in a wider variety of off-road terrain, be it mountain trails, pump tracks, or other places.
The hardtail bike is also suitable for beginner cyclists with less experience because it does well in less intense trails such as woodland paths or urban streets.
Hardtail Bike History
If we were about to discuss a hardtail history, then we might as well start from the invention of the mountain bike during the late years of the 1970s and early 1980s. Before manufacturing a mountain bike begins, a group of mountain bikers race through the mountain hills using a balloon-tire beach cruiser with gears and coaster breaks.
Until 1977, Joe Breeze, who is later known as the designer of the very first mountain bike, had faced a few failed attempts at downhill races with a variety of bikes. This unsuccessful attempt then inspired him to invent a sturdier bike that could cope with downhill riding, known as a mountain bike.
Since then, many different manufacturers have started to produce mountain bikes and succeeded in making the mountain one of the most popular bicycles among cyclists. In the 1990s, Douglas Bradburry invented the first front suspension fork, and following this was the birth of a hardtail bike.
The Function of Hardtail Bikes
Many mountain bikers will start their journey with a hardtail. The main reason is that hardtail mountain bikes had a perfect blend of accessibility and versatility. Here is what a hardtail bike can offer to you:
Jumping with a Hardtail, Why Not?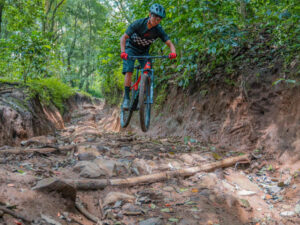 Although it's not as easy as jumping on a dirt jump bike which is specifically made for performing tricks, a regular hardtail mountain bike is still considered a good vehicle for jumping (on the right track)—the main reason is that this bike is made for outdoor conditions and has a sturdy frame that will compensate for the absence of rear shock. But of course, you still need to master the jumping skill to make your jump safer.
The plus point coming with the rigidity of this type of mountain bike is that you can use it to pump off the jump better and give yourself a little bit of extra momentum to spring off the jump harder. All you have to keep in mind is never forget to drop your saddle before starting the jump to minimize the unwanted bad experience.
Making You a Better Rider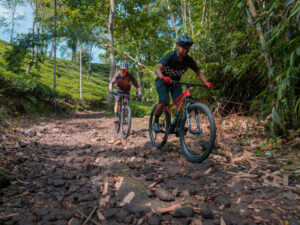 Many mountain bikes tend to start their mountain biking journey with a hardtail mountain bike. The lack of the rear suspension in a hardtail bike forces its rider to develop skills to understand which speed is more appropriate for a rider that matches their riding skill. A hardtail bike doesn't have the rear shock to smooth out bumps so that it can give riders a little surprise for every ride.
A hardtail bike gives much crisper feedback, allowing the rider to feel what the terrain is doing during the ride. This then develops a better understanding of riders to respond to the terrain instinctively.
Advantages of Hardtail Bikes
Enough with little examples of how hardtail vs full suspension mountain bikes makes you a better rider than you already are. Here are some advantages of hardtail bikes that you need to know:
Hardtail Bikes Doesn't Cost as Much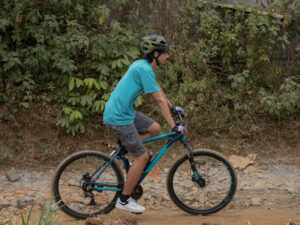 A hardtail mountain bike comes with a more straightforward design; it reduces some manufacturing costs, thus making it either cost less than a full suspension bike or come with much better components.
Saving Some Weight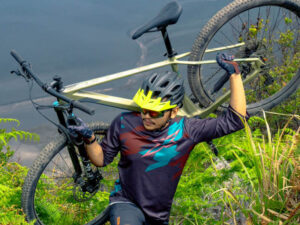 Since a hardtail bike's frame comes without linkage, pivots, and a shock, it automatically becomes much more lightweight than a full-suspension mountain bike giving a rider who spent lots of time in a saddle or often did climbing a better comfort in riding.
Maintenance and Durability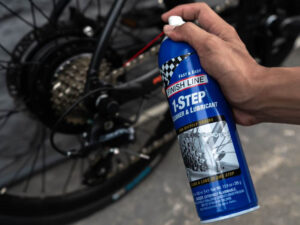 Given that the hardtail mountain bike has fewer parts with higher quality, the potential of any parts that need to be fixed is much less. Aside from that, a hardtail bike is built without a shock and rear suspension, making it turns out to be more durable and requiring less maintenance as well as lesser parts to be replaced.
Quality Rides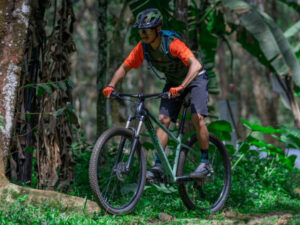 The best thing to consider when discussing hardtail vs full suspension for beginner is probably the riding experience these two types of bike offers. A hardtail bike gives a more responsive feel when pedaling rather than a dual-suspension bike able to. It doesn't matter if you lose some traction without a rear suspension because, in the end, for a fast and efficient ride, nothing can compare with a hardtail bike.
Conclusion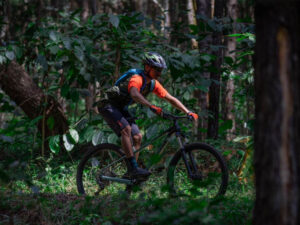 What is a hardtail bike? What is a complete suspension bike? A hardtail mountain bike is a simple mountain bike designed without rear suspension, while a complete suspension or full-suspension bike features a suspension fork up front and a rear shock.
What's the pros and cons of hardtail vs complete suspension mountain bike? Both come with their excellence and drawbacks. A full-suspension bike is suitable for riders who mostly ride on technical trails as it enables a smoother ride for rough terrains and gives a more comfortable ride as it soaks most of the jarring bumps and allows faster rides. However, this bike requires much more maintenance and costs higher than a hardtail bike.
A hardtail bike is more versatile for off-road terrain, offering a fun and fast ride in smooth trails. The simple design without rear shock makes it turns out to be more lightweight and require less maintenance and cost lower. The simplicity of its frame design, which comes without linkage, pivot, and rear suspension, saves a few ounces weight for a hardtail bike.
The downside of a hardtail bike is that it is not suitable for downhill trails or trails with more obstacles, as the absence of the rear shock makes it hard for the rider to control the bike.
If you want to find the best hardtail mountain bikes for your cycling journey, you can make registration on Rodalink. There is a wide range of bicycles you can choose from Rodalink. If you purchase from Rodalink, you will save yourself from hassle because your bike will be delivered to you in a ready-to-go form. Get the best bike shopping experience only at Rodalink; proof it yourself.
You Might Love This!