Living in a small spaced apartment requires you to be mindful with everything you purchase, including a vehicle. You have to make sure it's compact enough to be stored. And if you are the type who wishes to not go through a lot of hassle folding and unfolding a bike and getting the additional few ounces of weight to your bike, then it's the perfect reason why Mini Velo is your must-have bike.
What is a Mini Velo?
Have you ever seen a full-sized bike with a 20-inches wheel without any hinge on the frame rolling around the city? If you have, then you already get to see the popular Mini Velo bike. Most Mini Velo bikes are built in a lightweights frame, so it's easier for you to carry in cramped spaces.
Mini Velo is highly popular in some countries of Asia, especially Japan, and Mini Velo Singapore will be following the trend. The leading cause that makes this bike highly welcomed is because the bike is super compact, much suitable for people who live in countries where everything should be as minimal as possible, for example, Japan and Singapore.
Reason Why You Need Mini Velo
Now, after getting the short introduction of the Mini Velo bike, it will be just great also to know what is the benefit of Mini Velo that make it become one the "must-have":
Easy to Store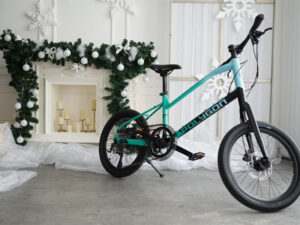 You don't have to worry about vertically cleaning some extra space for your Mini Velo because they are compact enough for you to store them in your tiny apartment easily. Besides, they are lightweight, so you can easily carry them onto an elevator or stairwell.
Accelerate Just Fine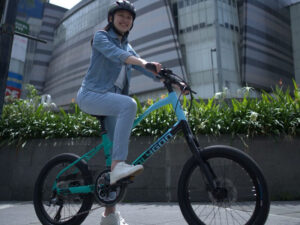 We have to agree that a 20-inches wheel of the bike indeed makes it accelerate faster than another bike with a giant wheel. Fun fact, this Mini Velo has occasionally been a ride used for racing events in Japan.
Allow You To Carry More Item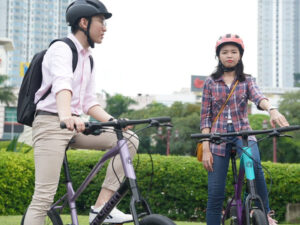 Most Mini Velo comes with a mounting rack. Polygon Zeta 2 comes with carrier-ready mounting that allows the rider to add a saddlebag and carry additional items without worry. You can always add weight to your Mini Velo when running errands or bringing takeouts.
Safety and Comfy Ride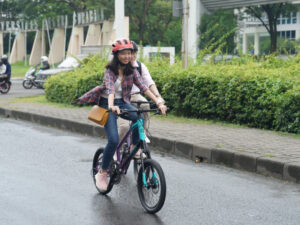 Most of the Mini Velo, especially Polygon Mini Velo Zeta 2, is completed by a powerful hydraulic disc brake that will ensure a safe stroll, especially when strolling around the park connector network.
Not only that but Zeta 2 is also equipped with fender-ready mounting to serve you a more comfortable ride even during a rainy season. The ergonomic saddle and handle grip is also customized to ensure a relaxing short ride.
Conclusion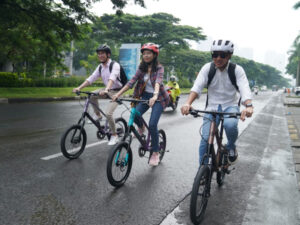 Living in an urban area, especially in countries where space of storage is a mandatory issue, portability is one of the criteria in finding a personal mobility device. However, some people don't want the hassle of setting up the bike whenever they want to use it. This is the reason why a folding bike is out of option.
Luckily, we still have another choice which is Mini Velo, with a body similar to a full-size bicycle with a 20-inches wheel; this bike is just as compact as the folding bike, except you don't need to fold and unfold it.
If you are looking for a perfect and cheap Mini Velo Singapore has, then you should give Polygon Zeta 2 a try. With only SG$799, you will get the most stylish and compact Mini Velo bike that provides a safe and comfortable ride.
Zeta 2 is built using AL6 Alloy, and the frame is going through a strict quality control process before and after its production making it light enough to be carried above any obstacles like an elevator or a stairwell. The frame is also designed with a fender-ready and rear-carrier ready, which allows you to have extra load easily and save you from being drenched during a rainy season.
Coming with two colors of Black and Blue Purple topped with a glossy finish, you can stroll to the most photogenic places in town and take a snap of yourself along with your bike because they will fit in any frame of photos just right.
Finished by 20-inches wheels for higher speed and excellent grip on the road, you probably won't ever find any affordable Mini Velo which will give you high-quality offers like what Polygon Zeta 2 can offer to you.
And if you have already decided to get this bike, you can visit Rodalink's offline store, or if coming to a store is inconvenient for you, you can always visit Rodalink's online web store to make a purchase. All you have to do is just register an account, then select Polygon Zeta 2 and put it into a cart for checkout.
Rodalink compromises to provide their customers with the best services and products, which is why you can find not only a wide range of bicycles in their store but also various accessories and parts. You can complete your Polygon Zeta 2's necessity by buying the additional carrier to install it on your bike directly from Rodalink.
The best thing about buying from Rodalink is getting your bike delivered in front of your doorstep in the assembled and ready-to-go form to ditch the hassle of setting the bike parts by parts yourself.
They will also give you one-time free tuning for the first three months, starting from the purchasing date. Not only that, but you will also get the five years warranty on the bike frames. And if you are purchasing cycling accessories and parts over SG$200, you will also be able to claim the free shipping service from Rodalink.
Regularly checking their website and subscribing to the newsletter will give you extra benefits as there might be special vouchers or offer ready for you to claim. So, no need to wait any longer. Find your best Mini Velo bike and the mandatory accessories for cyclists in Singapore, such as bike lock, light, and helmet, all in Rodalink. Shopping for your cycling needs won't be as easy as shopping on Rodalink.