Riding a bicycle overall is a good choice of sport. One that will give your body a good amount of exercise, while also having the chance to explore the outdoors. But mountain biking in specific is a more extreme and challenging type of cycling. It requires more energy and body movement to be able to tackle all the courses on the tracks. Here are 6 benefits of mountain biking and why you should do it as a choice of sport activity!
Improved Health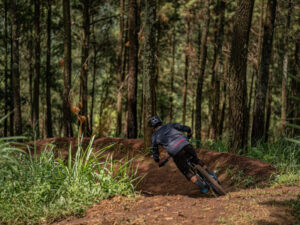 Being active is one of the keys to maintaining a healthier body. A good sport that you actually enjoy will help you do it gladly more often. By making it a routine, it is sure to improve your health. The British Medical Association studied 10,000 people and showed that riding a bicycle for at least 20 miles a week lessened the risk of coronary heart disease by almost 50%. Since mountain biking uses a large group of muscles,it requires a lot of oxygen. This makes your heart work steadily, increasing your heart's fitness by 3-7%. Since cycling is a form of cardio, it is also effective for losing weight and keeping your body weight in check.
Whole Body Workout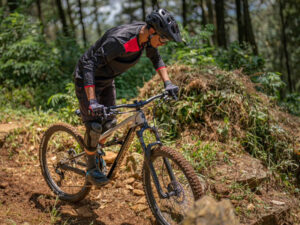 As mentioned earlier, mountain biking is a heavier type of sport. When you are facing different rough obstacles on the track, you will need your whole body to move and coordinate. This is a good workout for your whole body. Every body part is moving and enduring the shock each obstacle gives. No doubt, this will result in stronger muscle and body overall. The movements you do will also train your joints and ligaments each time with flexibility but on a low impact. This also trains your joints to be less stiff and reduce the stress it holds from being stiff. The balancing you do when you are riding through rough terrains also helps to improve your coordination. In the long run, this can reduce the risk of falling as you grow older.
Better Mental Health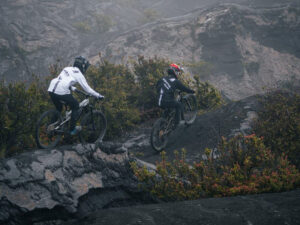 Sometimes, what you need to release the stress is to just let it all out. Quite frankly, there is no better way than just taking it on the obstacles. The adrenaline rush it gives will be a boost for your energy. It makes the heart beat faster, increases blood flow to the brain and muscles, as well as stimulates the body to make sugar to use for fuel. The sugar production will actually give your body more energy afterwards! You might be using a lot of energy for the ride, but you will feel more energized after it. The adrenaline rush also takes your mind off other things and lives in the moment, so you get to enjoy your fun time on the tracks to the fullest. This will help to get rid of the stress you receive from your day-to-day packed activity, resulting in a clearer mind to face the new week ahead.
Better Sleep Quality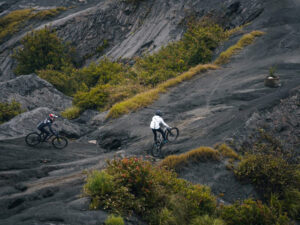 In order to have a better sleep quality, you will have to make sure that your body is tired enough. When you have bits of energy left, you will still be too energized to go to sleep, resulting in waking up in the middle of the night multiple times, or just having trouble falling asleep in the first place. By going on a mountain biking ride, you are guaranteed to be working yourself out and using all that energy you have. You will go to bed feeling tired enough to actually fall asleep fast and have a peaceful restful night.
Social Benefits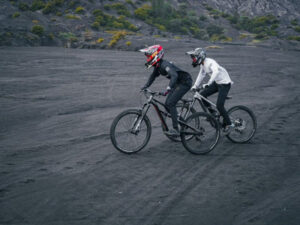 Cycling can be a fun activity to do with your friends. Most of the time, you will also find a cycling community in your area! It is a good experience to do sports with people that have the same taste as you. Instead of exploring the unknown by yourself, it is much better to do it with friends. They can support and encourage you to be able to tackle the obstacles and even help you when you are having trouble on the tracks. It is also a good way of changing your surroundings to always keep it new and fresh.
Enjoy A Dose of Nature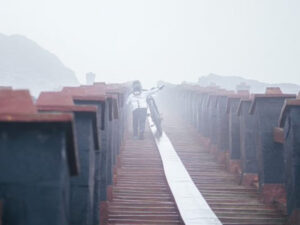 If you are always facing the bustling city view, getting a fresh breath of air from nature is definitely needed. Enjoy a new scenery of greens and nature, even exploring some new areas you have not been to before. Being out in nature improves relaxation and reduces stress. Plus, if you live in an area with beautiful greenery, mountain biking is a great way to appreciate nature.
Recommendations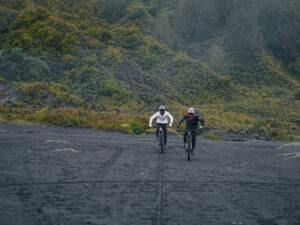 Now that you are convinced to do some mountain biking, here is our recommendation for you to get started!
The Polygon Xtrada 5 Mountain Bike is a good option if you are looking for a hardtail one. It is made from special Polygon's ALX alloy material, with Shimano Deore drivetrain (best in its class for outdoor adventure), and 10 speed options.
If you are more keen towards a full suspension one, the Marin Rift Zone JR Dual Suspension Bike is your best deal! Made with the durable yet flexible alloy material, with the same high quality Shimano Deore drivetrain, and 11 speed options.
To complete your MTB gear, you could also add some lamps to your bike, such as the Topeak Aero USB 1W Combo Light Set which includes both front and rear light. A bike computer will also help you navigate your way so you do not get lost. You can get the Bryton Rider 750 Bike Computer with Heart Rate & Speed Cadence from Rodalink Malaysia. A bike fender/mudguard is also important to prevent yourself and your bike frame from getting mud splashes. Our recommendation will be the Topeak Defender M1&XC11. It already comes in 2 for both front and rear wheels, complete cover from your front and rear tire.
Shop for your mountain bike and its accessories from Rodalink Malaysia bike shop now! You can visit our store by searching kedai basikal near me and pick our store location that is closest to you. Or, you can visit our website to enjoy free local delivery service, various payment methods, as well as 0% installment. Plus, all the products mentioned above are currently on sale! You can enjoy 15% off for Polygon and Marin bikes, as well as discounts on the bike accessories. You can also sign up to become a Rodalink Member from your very first purchase and enjoy exclusive promos and events. So, what are you waiting for? Shop now!