Are you new to the cycling community and want to start your cycling journey the right way? Here are our best tips on how to find the right road bike for beginners, just like you! We will take you through the basics of what a road bike is, up until the technicalities you need to know before deciding on one. Let's find your best fit!
What is a Road Bike?
A Road Bike is a bicycle designed specifically for fast riding on smooth paved surfaces. Road bike features are typically lightweight, with drop handlebars, and skinnier wheels to support rider's aerodynamics and go for speed while cycling.
To achieve the lightweight characteristics, a road bike's frame is usually made from carbon fiber or alloy material. Both can provide lightweight advantages while also still being quite sturdy and durable, an overall good entry-level material you can opt for. Although some road bikes are made from steel frame and fork, which offer a cheaper price point but are not as lightweight and durable.
To dive in deeper, cyclist has to know there are three types of road bikes, which are :
Performance Road Bike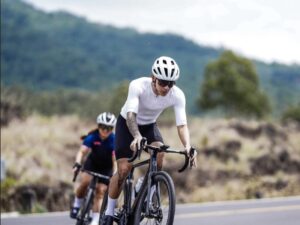 Just like its name, performance road bike, meaning this bike aims for speed. This particular road bike is suitable for racing and climbing. This type of road bike will have sturdier and stiffer frames, more premium components, and lighter wheels. The lineup you can go from Polygon Road Bike for performance is the Helios A. Our best pick is the Helios A7, with ACX Performance UCI certified frame and fork, and taper of 1-⅛" to 1-½" which makes this road bike lightweight and comfortable for riders.
Polygon Helios A7 comes with the pro-level electronic shift groupset Shimano, new and improved shape for less drag, a lightweight frame at around 800 grams, and ergonomic design for best control and comfort during ride. Visit Rodalink Malaysia website to get to know more about the Helios A9X lineup and choose the best one for you.
All-Rounder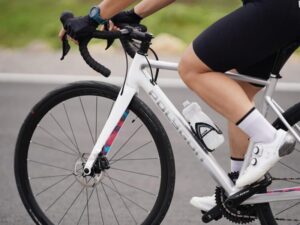 An All-Rounder Road Bike type is best for climbing purposes. The shape of this road bike might be slightly different than the other, supporting a range of positions for riders to cycle comfortably while still aiming for performance on steeper terrain. One of our best road bikes for this is the Strattos S8D.
Polygon Strattos S8D is made from ACX All-Rounder UCI approved frame and fork, with just 1-⅛" to 1-½" taper. This road bike comes with specialized seat stay design that absorbs road vibration to ensure riders continuous performance. The sleek tubing design supports great aerodynamics for less effort but same performance at the end of the day.
The Strattos lineup also offers an ALX alloy frame and carbon fiber fork. Visit Rodalink Malaysia to see more of our products and find a suitable one for you.
Gravel Bike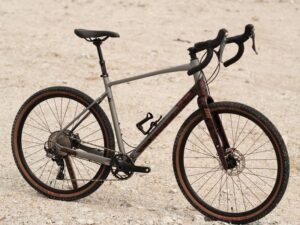 A Gravel Bike is designed for riders on harder, various surfaces. This road bike has more sporty geometry to support the riders on both smooth pavement and off-road cycling.
Gravel bikes have wider tyres, lower gearing, and stable handling than other road bikes. This feature will assist riders on off-road cycling by offering more control. Cutting through gravel roads, forest tracks, trails, byways, or bridle paths? Maybe you are planning on bike packing? Gravel bike is your best pick!
Polygon Bend R2 is our most recent model. Made from Gravel ALX frame and carbon rigid fork. This bike will give riders more comfort with its vibration-damping ability. The flared handlebar improves aerodynamics and comfort from underwraps gel pads on the handlebar.
Polygon Bend R2 also comes with hydraulic disc brakes for excellent brake performance, more consistent with less force.
Road Bike Components
While looking through the specs, here are the three main components of road bike you should pay attention to :
Frameset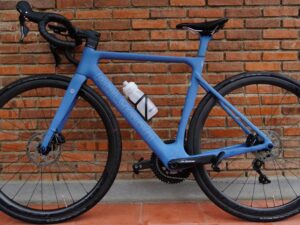 The price of the bike is mainly determined by its frameset material. Most entry-level bikes are made from aluminum alloy, which performs great in matters of weight and durability. Some manufacturers might use steel, but it is prone to corrosion and not as lightweight. The top quality material you can go for is carbon fiber which is the most lightweight of the two, but comes at a considerably higher price point.
If you are looking for a nicer version, a road bike will usually come with a composite frameset. Combining the reliability of alloy frame and the vibration-damping ability of carbon fiber fork for utmost performance at a reasonable price.
Tires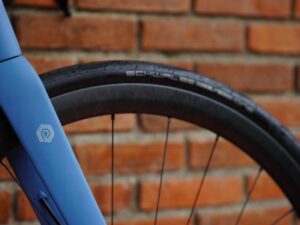 Polygon performance and all-rounder road bike comes with 700C slick tire for speed, while the gravel bike will come with 650B for better grip on various surfaces.
Brakes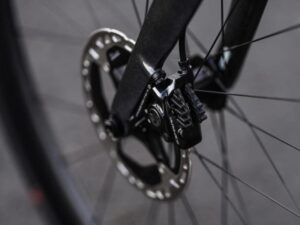 The best brake you can go for is a hydraulic disc brake. This brake will provide grip that is more consistent with less force needed. Disc brakes will give you a more accurate result between force and brake, and more on-time deceleration.
Tips to Choose Beginner Road Bike
Now comes the time for you to actually decide on which road bike you are buying. To choose the one that will suit you best, you have to determine your own riding style and the budget. Your body measurements will also come into play as you would want to choose a bike size appropriate to your height, serve your riding style, and is within the budget.
Each manufacturer will provide a size chart to help you find your perfect fit. For women in particular, some manufacturers will have their own product lineup which comes with smaller sizes for better fit.
Polygon road bike offers a variety of selection both for beginner and professional cyclists. Using high quality materials and Dura Ace or Shimano groupset, Polygon's road bike is considerably affordable compared to other manufacturers offering similar specs.
Polygon's take on innovation also results in our signature ACX and ALX frameset material, an advanced level of both alloy and carbon fiber. ACX is our entry-level material which is lightweight and durable. While the ALX offers a unique mix of aluminum blend for better durability than any other alloy material.
Gear Up!
You are one step closer to your riding journey! Now, all you have left to do is to wear the right gear for safety and comfort during cycling. Some of which you should have is helmet, front and rear light, and bike lock. Other additional gear to step up your experience is cycling clothes and shoes, which will provide more comfort and aerodynamics.
Key Takeaways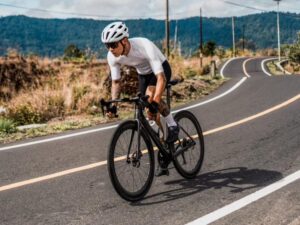 Road bikes are designed specifically for riding on smooth paved surfaces. Road bikes are lightweight, have drop handlebars, and slick tires.
Depending on your riding style, you will decide on different types of road bike. If you are aiming for performance and fast-riding on smoother surfaces, a performance bike is your answer. If you are looking for a bike that you can use for climbing, you can opt for an all-rounder road bike instead. And for exploring more of nature and facing harder terrains, you can always get the gravel bike.
Polygon has a wide range of bike selections for you, especially beginner road bikes. We guarantee high quality entry-level bikes with affordable and reasonable prices.
As one of the reliable bicycle shops, you can shop Polygon road bikes from Rodalink Malaysia. We are committed to providing high-quality services and products, including bike accessories, parts, and apparel.
Easily shop through our online store now! Just a few clicks away and you can get your orders delivered right to your doorstep. Enjoy free local delivery and choose within the various payment methods we provide that is best for you. You can also sign up to be a member of Rodalink's community for free and claim exclusive benefits. Let's get your points now!
We are currently having a sale on bike parts and gears. Complete your bike purchase with accessories to level up your cycling game. Shop your ready-to-ride bike now that is crafted specially for you, just from your phone! Visit Rodalink Malaysia now!