In cycling, it is common for riders to experience flat tires. This is because the air in the tire expands so it must be filled with air. The trick is to pump the tires with a bicycle pump.
Pumps on the market consist of various specifications and qualities. Although the basic concept is the same, namely to pump, not all tire pumps are the best or most suitable for your needs. Therefore, you must know how to choose the right and best bike pump that fits your bicycle tires. The following article will discuss how.
The Best Tips for Choosing the Correct Bike Pump
Nailing the appropriate tire pressure for your bike and the routes or trails you want to ride is one of the most things you should prepare. Plus, if you know approachable areas of bicycle maintenance to your routes, it'll be the best thing. But if the route you are taking is far from settlements, then you have to prepare a portable pump that you can take it anywhere. Therefore, here are some steps for you to know how to choose the right bike pump.
1. Easy to attach with a suitable valve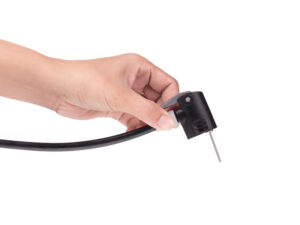 A good bicycle pump head makes it simple to attach and detach the hose from the two most common tire valve types, Schrader and Presta. It is critical to creating a quick and solid seal around the valve. Otherwise, you're basically letting out air and having to pump it back in. If you struggle to remove the nozzle, you will release air again, making the pressure measurement from the gauge less accurate.
After you've placed the universal or proper port over the valve, you'll need to clamp it in place to make a seal so air doesn't flow back out. This is an important step. Some pump heads make it extremely difficult to achieve a proper seal, requiring multiple attempts and allowing air to escape with each attempt. Others nearly always attach perfectly. Some of the clamps and levers are difficult to manipulate.
2. Choosing the right type of pump based on your needs
Buying the right bike pumps as needed is the key. Here are several types of pumps that you can choose from.
a. Floor pumps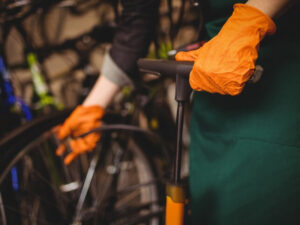 This type of pump is perfect for your personal needs, for example, to pump bicycle tires before hitting the road. It has large dimensions, so it is not recommended to take it on a trip. Moreover, floor pumps provide high-capacity air-filling power than others (some models inflate up to 220psi/10 bar) for a range of tasks, and they can handle high-pressure pump duties that many smaller portable pumps cannot. Such as Topeak Joeblow Mountain Floor Pump, Topeak Joeblow Twin Turbo Floor Pump, or the affordable Polygon Alloy ALX Floor Pump that you can order at kedai basikal Rodalink Malaysia.
Find More High-quality Floor Pump!
b. Frame-fit pumps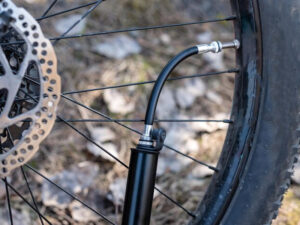 Next, this type of pump is suitable for those of you who use bicycles as a means of daily transportation. A frame pump is a portable pump designed to fit within a frame and become a part of the bike's front triangle until it is needed. All contemporary frame pumps have internal springs and are intended to be held along the top tube or down the seat tube.
Their large capacity (up to 160psi) is designed to fill the high-pressure tires used on road bikes. Make sure you know the specifications of your bike before purchasing this pump.
c. Mini pumps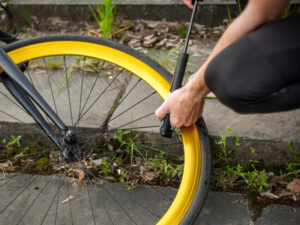 This type of bicycle pump is generally small-sized and easily carried by cyclists. Its easy portability will make it very easy for cyclists to inflate their tires when they are flat. These tiny, lightweight bike pumps offer a quick and easy fix for flat tires on the road or trail. Most can be fastened to your bicycle frame in a variety of locations using mounting hardware or a rip-and-stick strap. Mountain cyclists usually keep their mini-pumps inside their hydration packs, away from path hazards. It has less pumping power than a floor pump but enough to handle your flat tire.
You can find many options for mini hand pumps at Rodalink Malaysia with varied affordable prices from various brands. For example Topeak Pocket Rocket TPMB-1B Mini Hand Pump, Topeak Roadie DA G TRDA-1G Mini Hand Pump, etc.
Find More High-quality Mini Pump!
After knowing how to pump a bicycle properly, you should also know some things to consider when choosing a bike pump.
Important Things in Pumping a Tire
1. Inflation
In inflating tires, we must understand the air pressure that we will issue. The attachment point, the pump's stability, and how well the gauge works all have a role in inflation efficiency, but the most important element to consider is whether you need your pump to be better at high pressures or huge volumes.
Road tires, which are smaller than mountain bike tires but require air pressures of up to 120 PSI, benefit from high-pressure pumps. High-pressure pumps have narrower shafts, which allow them to be physically compressed at high pressures.
If we look at the side of the bicycle tire, we can see the size of the tire as well as the maximum air pressure in bars or psi. 1 bar is 14.5 psi (pounds square inches).
The maximum air pressure that the tire can retain, the "safe" limit set by the tire manufacturer, can still be exceeded by a few psi. However, if there is too much air, the tire may bulge or explode. Every tire has a different psi. So always adjust the air pressure of the tire that your bike needs.
2. Stability
Inflating tires requires constant stability so that the pressure applied is also the same. Therefore, you have to buy a tire pump that is stable and strong so it doesn't come off easily. The effort required to depress the pump's handle increases as the pressure within a tire increases with pumping.
A bicycle pump that is stable will be more efficient than one that has to fight to stay upright. A large base gives the user a large space to stand on and stabilize the pump. Tripod designs are the most stable. Heavier metal bases serve to ground the pump and keep it from toppling over.
A substantial base also improves stability in pumps where the pressure gauge is mounted higher on the pump shaft. While this brings the pump closer to the user's eyes for ease of viewing, it raises the pump's center of gravity, making it less stable.
3. Accuracy
We employed a separate digital pressure gauge that can bleed off air to our desired pressure to test the accuracy of our bicycle pumps. We utilized it to double-check the accuracy of each gauge and to see if the bike pump loses a lot of air after detaching the head. This is necessary to ensure that the wind pressure that we release is in the required amount.
You already know how to choose the right bicycle pump and things to pay attention to. You can buy a bicycle pump from your favorite brand at kedai basikal Rodalink Malaysia. We provide various types of bicycle pumps that will suit your needs.
Aside from bike pumps, you also need other cycle accessories to gain cycling experience, such as a helmet, water bottle, bicycle light, and so on. Variative prices and attractive promos are always waiting for you. Easy and diverse payment methods are also an option to simplify the buying and selling transaction process. You can directly visit the Rodalink Malaysia site here.
Find Rodalink On-going Promos Now!