As much fun riding your bike can offer, there will always be its own drawbacks. Especially, if you live in an area that does not support cycling all that well. Heavy traffic, narrow roads, pedestrians, and even high pollution levels. You can always go to another place that has a better environment to cycle at, but it would be such a hassle if you are busy and, well, do not want to put that much effort just to cycle. So, the best solution for you is an indoor bike trainer.
What is an Indoor Bike Trainer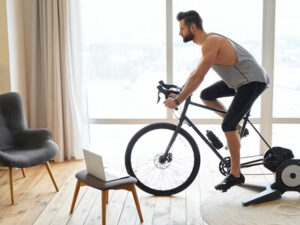 Just as the name suggests, an indoor bike trainer is a device that you can use as an additional piece to your bike, making it possible for you to cycle indoors. Do not worry about space, as a bike trainer will make your bike roll in its place instead of actually rolling around. There are two kinds of indoor bike trainer: a turbo trainer and a roller trainer. Let's break it down one by one.
Turbo trainer is a device you actually attach to the rear part of your bike. In this category, there are also two kinds of turbo trainer.
Direct-drive: this type of indoor bike trainer will require the rear wheel of your bike to be removed and completely replaced by the device, even down to the cassette mechanism. Your bike will be directly attached to the trainer at the rear derailleur, while the chain is connected to the bike trainer's cassette and moves it.
Wheel-on: this type will not require you to take out any parts of your bike. The wheel-on bike trainer will connect to your bike via a tightened trainer and its roller to give resistance.
A roller trainer is basically a base you put under your bike, which has a roller on it that will spin as you pedal your bike. This type of bike trainer is not attached to your bike at all, which is great as you will still be moving around, the best option to improve your core stability and leg speed.
Benefits of Indoor Bike Training
Now that you know the difference, let's take a look at the benefits of indoor bike training.
1. A Definite Work Out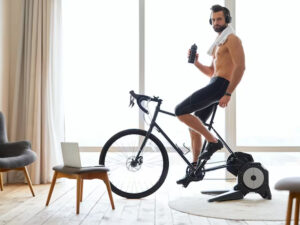 If you are targeting a specific goal to achieve, this might be hard if you are doing it by outdoor cycling. For example, when you have a target speed you want to reach, it could be difficult when you are riding in an area with lots of traffic, pedestrians, and traffic lights, as you have to slow down or stop multiple times. Or, maybe you want to achieve a certain leg power that requires resistance from an uphill ride, but the terrains around you are just not suitable enough. With indoor cycling, you can adjust the difficulty of your ride and not have to worry about getting interrupted at all.
2. Time Efficient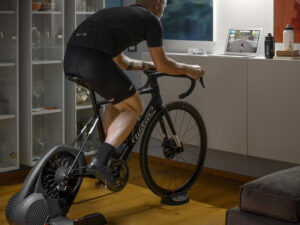 As mentioned before, a person with a busy schedule might find it hard to have spare time for cycling. If you have an indoor bike trainer, you can just hop on your bike and start cycling right away. It is a guaranteed way of still getting a work out done in the schedule that you have set. It is also a great way for people who are not able to leave their house for a long period of time, such as watching over a kid. They still get to cycle while watching their kids at the same time.
3. Cycle at Any Weather, Anytime!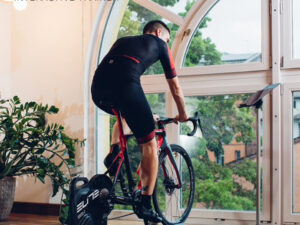 Weather and time can be a hindrance when you want to go cycling. But, with indoor cycling, you do not have to worry about this at all. Cycle during any weather and any time of the day when you can. As busy you are or as undetermined the weather can be, you are still able to get a good workout done!
4. Stay Connected with Your Friends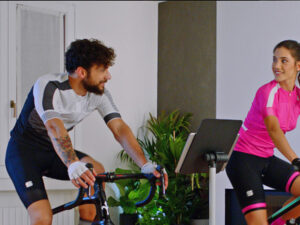 Even though you are cycling alone in the comforts of your house, you can actually still socialize and cycle with your friends. Sometimes, making the right schedule where all your friends can go to a specific place to cycle together can be difficult. Now, as you all can just cycle right away in your own homes, you can cycle together through a virtual race or group rides. It is healthy, practical, and fun at the same time!
What to Consider
Indoor bike trainers can cost a pretty penny. So, before whipping out your coins and investing in one, here are a couple of things you can consider.
Bike Compatibility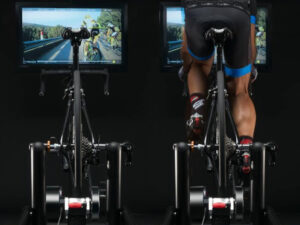 While most bike trainers will be compatible with several different bike types and sizes, it is always best to make sure. For example, if your bike has a smaller wheel of 16 inches size, you should ask whether the bike trainer is able to support the size or not. You can always add extra adapters or cassettes to make it fit. But of course, it is still better to find a bike trainer that will fit your bike perfectly as it is.
Price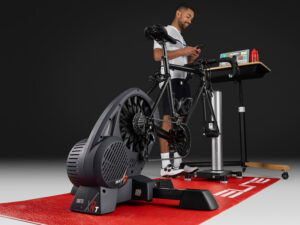 The most important thing to consider is the price. The wheel-on bike trainer is usually the most affordable out of them all while still giving a realistic feel of outdoor cycling. If you are looking for ones that will enhance your core stability and overall bike handling skills, a roller trainer is the right one for you. But, if budget is not a problem and you want a device that is quiet, with a super realistic outdoor cycling feel, then a direct-drive is your perfect choice.
Beginner Friendly or Not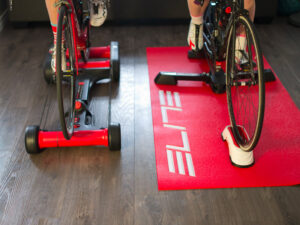 A bike trainer can be a bit of work to put together when you are buying a more professional one, with lots of various features. If you are a beginner, look for bike trainers that are easy to put together and use to save you a lot of time and effort.
Now that you have decided to buy an indoor bike trainer, it is time to find your perfect one from Rodalink Malaysia! We have a complete variety of bike trainers you can choose from. Our direct-drive recommendation is the Elite Direto XR-T Bike Trainer with Riser Block. This bike trainer can have an elevation of up to 24% climbs with its hyper-realistic gradient simulation. If you are looking for a wheel-on, you would want to check the Elite Qubo Power Mag Smart B+ Bike Trainer. It is connected to an iOS and Android compatible app so you can adjust the resistance you want. Lastly, if you are looking to improve your balance, the Elite Nero Roller Cycletrainer is your best pick. It can get up to 7% slope to mimic climbing experience and work on your core stability and leg power.
To get your personal recommendation, come and visit Rodalink Malaysia and discuss with our team! Search for kedai basikal near me and pick the store location that is closest to you. If you decide to shop online, you can get free local delivery and choose from our various payment methods. You can even enjoy a 0% installment from OCBC, or a RM50 off by using ShopBack It, Pay Later! Also, we are having a sale on bike parts and accessories live on our website now. It is the best time to complete your gear and enhance your cycling experience! Lastly, make sure you sign up to become a Rodalink Member to enjoy exclusive promos and offers. Shop now before the promo ends!