If you want to experience a different cycling sensation, a mountain bike (MTB) can be one of the choices. Cycling using a mountain bike on an uneven and smooth surface will certainly stimulate your adrenaline. Interestingly, bikers can also enjoy the natural panorama when cycling in the mountains. However, you should also pay attention to safety because the uneven terrain increases the chances of you getting injured. Before you choose to do this activity, you must first get to know mountain bikes and how they differ from other types of bikes. Mountain bikes are designed to survive on mountain trails. The terrain on the mountain surface is also more diverse, such as trails, forest tracks, cliff edges, and various other types of steep terrain.
Only by understanding these different types of mountain bikes, you can determine which one is right for you. You can decide which mountain bike to purchase by considering its price and the quality of its parts, once you've identified the most suitable types of bikes for your cycling style and preferred terrain. Here is a breakdown of the most essential points.
Mountain Bike Types
You can ride in extreme terrain with a mountain bike, but you should consider the types of mountain bikes before choosing one that suits your needs and your safety. Here are the types of mountain bikes: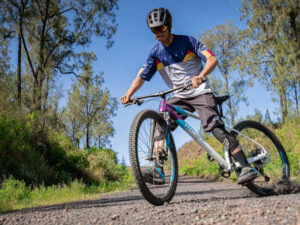 This type of bike has a lightweight design making it suitable for high speeds and also inclines. This type of mountain bike can be used for long distances and is often used by bikers who like to pump up their adrenaline and have high guts. However, to master this type of bike, the biker needs a lot of discipline.
There are several characteristics of cross-country bikes that you should know before buying this type of bike, including; the frame is made of carbon or aluminum, has a steep head tube angle, and has gears of 1×11 or 3×10. Cross Country Bike has 100-120 mm travel, which is great for dealing with rough surfaces. An example of this type of mountain bike is Polygon Xtrade 7, Polygon Siskiu D5 and D7, and Polygon Syncline C3 and C5 which you can buy on Rodalink Malaysia.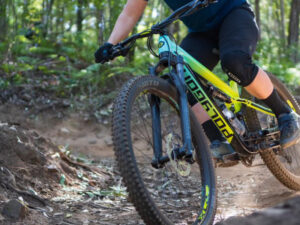 A trail mountain bike is developed from cross-country style, and it's used for riding in rugged areas with narrow trails. The difference is, this type is designed to be lighter than the Cross Country and the suspension is smoother. This is so that the biker can pass even the most difficult tracks. Trail bikes have a gentler angle to the frame, giving riders more confidence on steep downhill sections. They also tend to have longer handlebars with shorter stems than their road counterparts—the additional leverage makes hills less tiring. And traction is important when traveling at high speeds through rough terrain; most dirt bike tires will also feature aggressive groove/tread profiles for better grip in loose conditions. This bike is for people who want the experience of mountain biking at a reasonable price, but also desire something that can take them on various trails and terrains. Trail Mountain Bike has a 120-150 mm travel. An example of this type of bike is the Polygon Siskiu T7 which is available at Rodalink Malaysia.
Enduro/All Mountain Bike MBX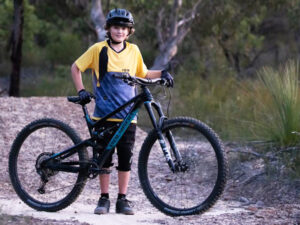 All-Mountain (AM) or enduro mountain bikes are a type of mountain bike used for more serious downhill and uphill riding. They have stronger frames, longer suspension travel, wider tires to grip the terrain better, and lower gears so your feet spin slower when pedaling up steep inclines. This type of bicycle is perfect for those of you who like long-distance cycling. Aspects of comfort and durability are things that are very considered in designing the design of this type of bicycle. Equipped with features that can minimize the effects of shocks, so you don't have to worry when passing through an uneven road surface. This bike has a general specification of 150–180mm suspension travel. The Polygon Siskiu N9 is an example of a specially designed Enduro bike. If you are interested in the Polygon Siskiu N9 bike, you can find it at Rodalink Malaysia.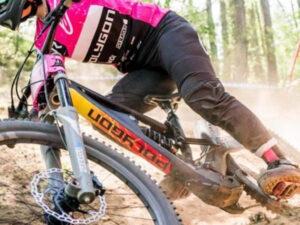 This bike is specially designed for down the mountain just like its name. It has a large and solid size and a strong yet lightweight frame. Usually, this type of bike is made of carbon fiber. Typically have 200mm or more of suspension travel, which allows the rider to enjoy a comfortable position on steep trails at high speeds.
Mountain Bike's Components
There are several important components that build a mountain bike, including:
1. Frame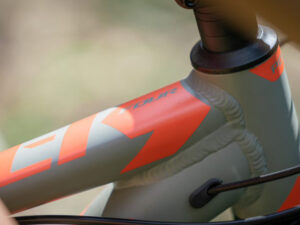 A bike's weight is determined by the material used in its construction. Mountain bikes are usually made of carbon fiber or alloy, lighter than steel but still sturdy enough to provide a smooth ride and control over rough terrain.
2. Forks and Suspension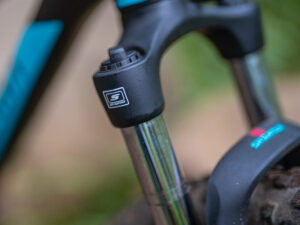 The suspension forks on a mountain bike might seem confusing, but we can start by discussing the different types. There are several different categories of suspension depending upon your needs—such as:
A travel fork used for cross-country riding should be around 100mm
If you're doing trail riding, it's about 130mm – 150 mm suspension forks.
Enduro riders can use forks with travel around 150 to 180mm, and
Downhill specialists will enjoy dual crowns around 203 or more
3. The Drivetrain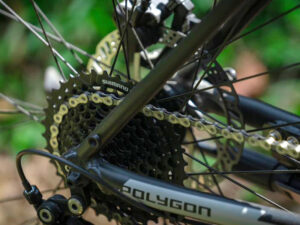 A drivetrain is a group of bike components such as shifters, cranksets, and a bottom bracket that transfers power from the rider to the rear wheel. Most modern mountain bikes for sale today only have a rear derailleur, cassette, chain, front chainring/crankset, and shifters — no front derailleurs. there are systems available starting at 9-speed up to 12-speed.
4. Brakes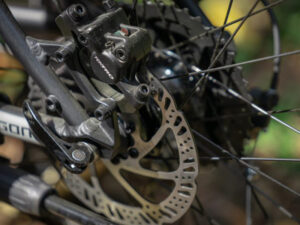 Mountain bikes are now equipped with disc brakes, a form of braking mechanism that has only been around for about two decades. There are two types: mechanical and hydraulic disc brakes. A disc brake is more durable and stronger than a V-Brake, so you can use it in any terrain.
5. Dropper Post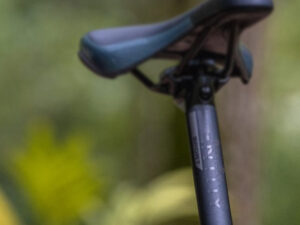 The dropper post makes it easier to ride through rough terrain by letting riders adjust their saddle height without getting off the bike. Dropper posts generally fall into two categories based on where their cables are located; External Routing is when the cable connects dropper posts to levers outside of a frame. Internal Routing is where these cables are built inside and run through tubes, making brackets look neat and more aerodynamic.
6. Tires and Its Accessories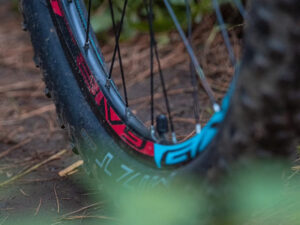 Mountain bike tire options range from well-known brands to small business offerings. Various mountain bike tires are available, including a model made for each type of condition—wet or dry and fast or muddy. In addition to tubeless tires, it's essential to understand which types of sealants are best suited for various conditions.
7. The Handlebars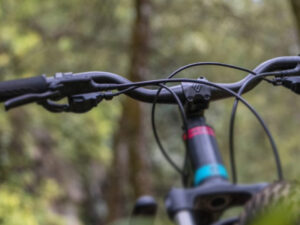 The handlebars on a bike determine the fitting size of that particular model. Handlebar risers come in different heights, and so do bars—wide ones offer more balance or stability when going downhill at high speeds; narrow ones allow for better aerodynamics on rolling parts like hillsides.
8. Saddle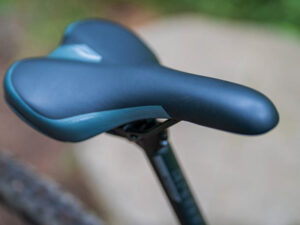 When you find a mountain saddle that complements your riding style, the experience will be more comfortable and enjoyable.
Conclusion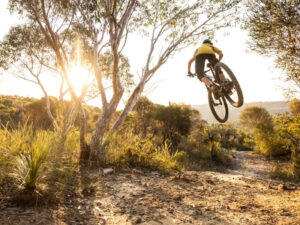 A Mountain bike is a type of bicycle that is suitable for use in mountainous plains with various challenging terrain. There are 4 types of mountain bikes which are differentiated based on the travel fork, namely; cross country (100-120mm), trail bike (120-150mm), enduro mountain bike (150-180mm), and downhill mountain bike (180-200mm). To choose the right mountain bike for your needs, you also have to know the components of a mountain bike such as the frame, fork, suspension, brake, saddle, and accessories. Once you know more about mountain bikes, you are now ready to choose your mountain bike!
If you are looking for a bicycle shop that provides various brands of mountain bikes, you can visit Rodalink Malaysia's website. Why Rodalink Malaysia? Many bicycle brands such as Polygon Mountain Bike, Lerun Mountain Bike, and Marin Mountain Bike with various series. In addition, by shopping for bicycles or accessories at Rodalink Malaysia, you can get free local delivery with various payments, which will make it easier for you. Let's start your cycling experience with Rodalink!