As beginners, you might want to just purchase your first road bike as it is. No confusing terms, too much customization, that might make you become indecisive or even hesitant about actually spending your money. As intimidating and weird the specs are, it is still important for you to know. Getting familiar with bike parts and its materials will actually benefit you. You know exactly what you are looking for, and how much money you should prepare. It even can help you narrow down your options instead of making you confused. So today, we have made a complete and basic guide for you to get to know it!
What are Road Bike Parts?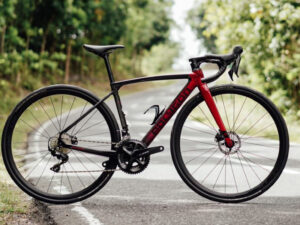 Just like the human body where we have anatomical features and body parts, so is your road bike! We have made a complete guide of road bike anatomy before. The article will explain more in depth about each road bike part. But, in this one, we are just going to breeze through and talk about the most basic and important stuff. Definitely a beginner-friendly who is just looking for their first road bike!
It is also important to note that different types of bike will also have different parts and anatomy–several or even more! Even in the road bike category itself, from performance, to all-rounder, and the gravel one will already have a few differences to it. Now, if you compare road bikes to, let's say, mountain bikes, it will have a lot more differences. In this article we will only be talking about road bikes in particular.
Road Bike Parts
First things first, to give a you a brief idea, here is a road bike parts diagram :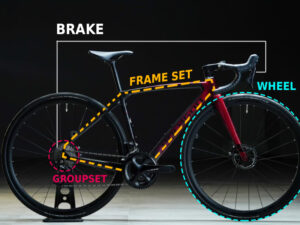 Now that you know what it looks like, let's talk about it one by one!
Frameset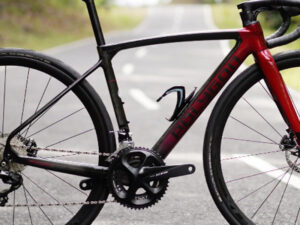 A frameset of a road bike is basically like the skeleton of our body. It is the main structure that holds all the other parts together. The materials used to manufacture the frameset will be the most determining factor of a bike's performance and its price, and it is no different when it comes to road bikes.
To get to know the different materials first, there are 3 types of material : carbon fiber, aluminum or alloy, and steel. Polygon Road Bike will usually use carbon fiber material. The best in its category, providing lightweight features and durability. Next up is alloy. The price of a bike made from alloy will be more affordable than the ones with carbon fiber. It is durable and lightweight enough. But, you can also find road bikes made from a carbon fiber and alloy mix, to get the most quality with reasonable price. Steel is the oldie but a goodie one. Used for such a long time and is particularly cheap. But unfortunately, it is very prone to corrosion. But nowadays, you can find bikes made out of steel that are durable.
Polygon road bikes have their own unique innovative carbon fiber. To manufacture its performance road bike frame, they use ACX carbon fiber. An advancement in carbon fiber material that offers not only lightweight features, but also the strongest and stiffest frame building material. This frame is so lightweight without sacrificing its durability, great for fast-riding purposes.
For Polygon alloy material, the ALX Alloy and AL6 Alloy are both advanced levels of aluminum materials. Its lightweight and durability is worth mentioning, different from any other alloy material out there. Once you experience riding it, you will notice how innovative they are!
Groupset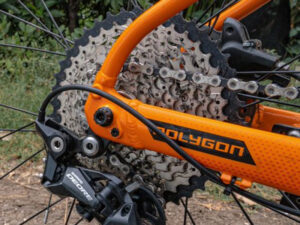 The groupset of your road bike is basically the powerhouse. It will transform the energy and effort you put from pedaling into what moves the bike. The main groupset is placed in the rear wheel, which consists of sprockets, rear derailleur, and shifter. Other parts such as the front derailleur, crankset, and chainring, will be placed under the seat tube and down tube, connected to the pedals. The crankset and chainring is where your road bike chain sits. The shifter is a cable connected to the derailleur. The derailleur itself is the mechanism that will actually move the chain between sprockets / gear.
Road bikes will have several options of cassette. Usually it will have a 9 – 10 cassette, meaning it will have 9 – 10 gear / speed options. A more expensive and professional one will have an up to 12 cassette.
Polygon Road Bikes use prestigious Shimano groupset, like a Dura-Ace, Ultegra, and 105 Di2. All built to enhance performance, while also giving ultimate control and comfortability on the road.
Wheel Size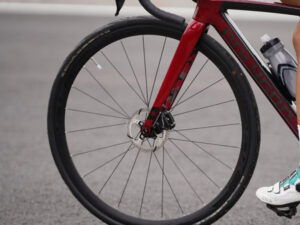 The standard of Polygon road bike wheels have an ISO diameter of 622mm and are referred to as 700c. The 622 mm rim found in road bikes is narrow, giving it a smooth rolling ability on the pavement and aerodynamics. It focuses on speed and efficiency for fast-riding.
Brake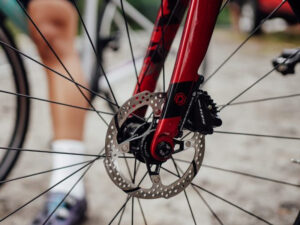 Polygon road bikes will come with hydraulic disc brakes, instead of rim brakes. It puts the braking mechanism force onto the disc, not the rim, so it is more effective. Brake levers will be situated behind the handlebars for you to pull and activate the brake.
Key Takeaways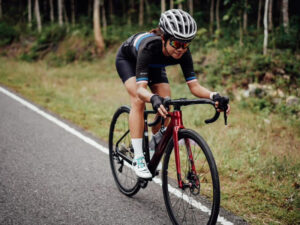 Polygon offers the highest quality material and components for your bike. At Rodalink Malaysia, you can shop for Polygon bike parts online. We have both carbon fiber and alloy frame set & fork, or even a mix of carbon fiber and alloy! We can not stress enough about how lightweight and durable it is. It enhances aerodynamics and promotes performance.
For a smoother roll on the road, you can also grab a Polygon wheel and tire. You can search from the whole wheel set even to the smallest details such as the hub.
Taking care of your road bike is also important to guarantee a comfortable riding journey ahead. You can shop for spare parts at Rodalink Malaysia as well. Polygon spare parts such as groupset and brake components. Make sure you are keeping an eye on them! A compromised groupset and brake needs replacement as soon as possible to prevent further damage caused on the road.
Rodalink Malaysia is your one-stop online road bike shop. We offer free local delivery and various payment methods. No more hassle while shopping online! Get comfortable in your own house, and we will take care of the rest for you. Just tap on your phone and all your road bike needs will land safely at your front door.
We are also having a sale on bike parts and accessories, and you can start accumulating your points when becoming a member of Rodalink Community. Trade your points for discounts and enjoy exclusive promo as well as events. More reason for you to start shopping! Visit our page now!