Cycling is a really good way to get some exercise in your body while also having fun, whether it is by yourself or with your friends. You might be a beginner to the cycling world, or have been cycling for a while. But, have you ever thought about wearing the full correct gears to complete your cycling essentials kit? As safe as you are during your ride by following all the rules in traffic, it is best to take preventive steps by wearing safety gears.
Speaking of rules, cycling in Malaysia is as simple as to stay cycling on the dedicated bicycle lanes, following traffic rules, and always being alert of other road users. If you have followed all the rules, let's see what you can do to take your safety up a notch by wearing complete gears.
Helmet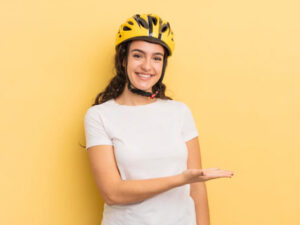 If you can only compromise on one safety gear to wear, it should be a bike helmet. Bike helmet is crucial to protect your head during a crash, reducing the amount of impact that could damage your head by a lot.
When looking for your bike helmet, it could be confusing since there are different types on the market. Let's see the difference one by one!
A road bike helmet will have a sleek design that is lightweight and has a lot of ventilation. On the other hand, mountain bike helmets will have thicker and bulkier design to give the utmost protection for cyclists. Urban or city bike helmets will have a more stylish design that is suitable to wear everyday, offering just the right amount of protection without making the helmet look too serious or funny in daily settings. Last but not least, there are also BMX helmets, which are used for BMX cycling that has the highest chance of a crash, hence the very protective design of BMX helmets.
Eyewear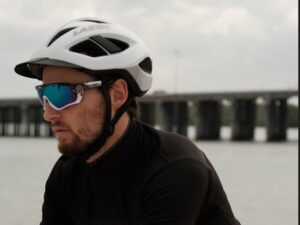 Eyewear is another must have for your bike gears. Although it offers protection for cyclists' eyes, it is more on the convenience side as well. When a cyclist uses eyewear during their ride, it protects their eyes from dust, debris, mud splashes, insects, and prevents your eyes from drying out. Yes, it does have health benefits, but it also makes the cyclist more comfortable during the ride. They do not have to worry about something getting in their eyes and potentially get an irritation. They can just cycle away with no problem!
Lock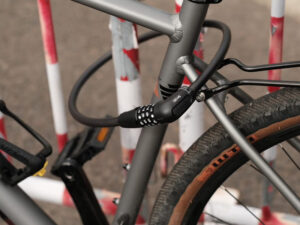 It is not uncommon that bike theft is getting more frequent these days. So, when you are planning on leaving your bike for a while, make sure you are parking it in the respective area and use a bike lock. There are several types of bike lock a cyclist can choose from, depending on the budget and practicality of use.
Usually, bike lock types that are available on the market will be : cable lock, u-lock, chain lock, and folding lock. The cable lock uses a bendy circular-shaped cable that often comes with a quick-release system.
The U-lock is another common type from heavy-duty metal. It is very durable and will not break easily. Since it is made from thick metal, the U-lock type tends to be heavier and more expensive than other types available on the market.
Another one is chain locks. Chain locks are made up of a series of hard steel links covered with protective nylon sleeves and a lock. The length of the chain is adjustable and flexible, so cyclists can secure their bike to more objects other than a dedicated bike post only. Chain locks are easy to carry around your seat post and are more resistant to common theft methods used on other bicycle lock types.
Lastly, the folding lock. Folding lock is considered to be a popular alternative to chain and cable locks. They have a simpler design that is suitable for commuters that use their bike for day-to-day transportation. Folding lock is also relatively more flexible, making it easier to lock on different objects rather than the U-lock.
Elbow and Knee Pads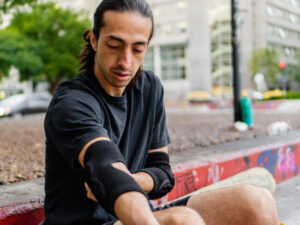 Just like bike helmets, your elbow and knee pads will further offer extra protection when you are cycling, especially for mountain biking. Crashes will be much more dangerous and damaging, so a protective pad will offer a lot of aid when it comes to reducing the amount of injuries that could have otherwise occurred if you do not wear one.
There are several options of elbows and knee pads offered on the market. Cyclists will want to consider the comfort during use, weights from lightweight to heavy-duty pads, and flexibility. The most important thing is to make sure you are choosing a pad that fits your knee and elbow like a glove. If it is loose, the pad could potentially move from an impact in a crash, decreasing the protection it should have been offering.
Lights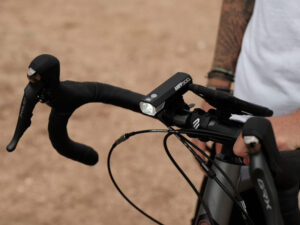 For vehicles with less than 4 wheels, lights are mandatory to be used even in broad daylight. Other than assisting your sight, the lights installed on your bike will also help other road users be aware of your presence, especially in low-light or hazy sight situations. You can either install a white light in front of your bike, a red light one on the rear, or both. Bike lights nowadays will come with a rechargeable feature using a USB plug, or a disposable battery. Whichever you choose, just pick the one that is most convenient for you and also offers a suitable amount of lighting, depending on your riding style and frequent situation. The general rule is a minimum of 200 lumens for urban commuting and 400 lumens for riding on unlit roads. You should also look for ones with IPX water-resistance rating of 5 at minimum.
Bike Tools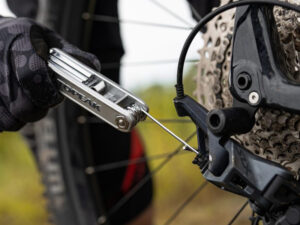 It is not uncommon when your bike experiences a little bit of trouble during your ride. Some parts might become loose that you just noticed, or even completely come off at one point, or any other possibility of inconvenience. Surely, you will not cut your ride short after that. You will still want to have a quick fix and continue to enjoy the journey. Fortunately, some problems can be easily fixed, even on the go! You can carry a set of bike tools to get you all prepared to fix any kind of frequent problems that might occur.
A bike tool is a dedicated set of travel size tools you can carry around easily. Designed to be compact and practical, many of them will be multifunctional as well. It can be a folding set of different types of screwdrivers, levers, extra tube or screws, a kit for flat tires, and a mini tire pump.
Shop now!
That wraps up the 6 must have cycling safety gears you should have. You know what they say, better be safe than sorry! So, what are you waiting for? Shop for your safety bike gears from Rodalink Malaysia! You can enjoy free local delivery and choose the payment method that suits you best. You can also start becoming a member of Rodalink Community to get exclusive promos and events. Register now and collect your points from your very first purchase! Also, for the cherry on top of the cake, we are also having a sale on bike accessories live on our website. Shop now before the promo ends!