With the recent global surge of demand on bicycles and parts, we see many stock shortages and delays for many popular brands such as Shimano components, Polygon, Marin, Tern and Willier bikes.
Because of the scarcity of these items, we notice there are many scalpers took this opportunity to jack up the retail price, in hope for desperate buyers who need the parts urgently. Well at least the buyer still gets their parts in the end of the transaction.
However, we are here to talk about the other opportunist who taking advantage during this desperate moment- SCAMMERS and how to spot one.
Unbelievable Attractive Discount/Deal

This is pretty obvious where the latest product is having a heavy discount for no reason. This scheme are mostly targeting those newbie who just joined the cycling bandwagon where they have no perception of certain product price range.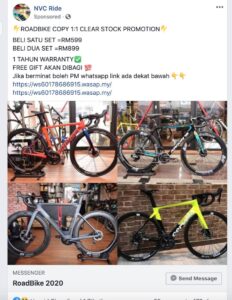 Another type of scheme usually popping out in your Facebook feed is the "Clear Stock Buy 1 set RM599, 2 sets RM899" from some unknown bike shop. Not only the promotion sound tempting, but the photos they upload are legit bike from popular brand. Again, usually these schemes are target those new cyclists without knowing the actual price range of those bikes but since these posts are listed in Facebook, usually you can see many kind hearted individuals leave their scam warning under the comment section.
From Mainland China?
Source of the goods is kinda harder to spot for scam activity as many legit bicycle parts that being sold in various e-commerce sites are shipped from China. No wrong for this provided the buyer don't mind about the warranty coverage from local authorized distributor or counterfeit product, which is another topic for some other day.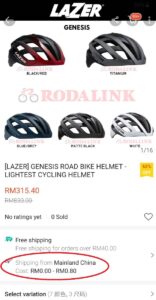 In this example from Shopee, the scammer used photos taken from our Shopee site, then offering huge discount and shipping from "Mainland China"? if this is not fishy then what?
Rodalink is a bicycle retail outlet that have multiple outlets in Indonesia, Singapore and Malaysia. Within Malaysia, we have 5 outlets plus 2 e-commerce sites in Shopee (https://shopee.com.my/lerun) and Rodalink.com.my. All the stock being sold in these channels are solely managed by our warehouse located in Malaysia only.
So how to avoid being scammed?
Purchased from credible source or authroized dealer of the brand. Rodalink outlets, Rodalink Shopee Store and Rodalink.com.my offer quality bicycles and bicycles parts form Polygon, Marin, Tern, Wilier, Shimano, Fizik, Elite, Schwalbe and more, allow you to shop with an ease of mind.
SHOP WITH US NOW AT: