Upgrading Your Bike – Do your bike has already begun to lose its charm? Or maybe you're getting bored with one type of bike you have. If you are looking to upgrade your bike, then the beginning of the year is the right time to start looking for a new bike. Upgrading means the new bike should be better than the previous one that you have. That's why Rodalink has a line up of bikes that can be chosen by the riders!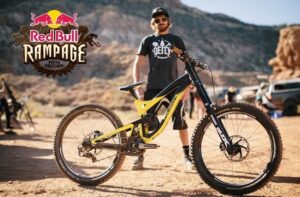 Best Selection To Upgrade MTB and Road Bikes
Marin Four Corners Blue
One interesting option to upgrade the bike is Four Corners Blue from Marin Bike. The specs are high enough for the price offered. This makes Marin Four Corners is one of the best bike upgrade deals you can get. Enjoy an exciting adventure with friends and family with this one bike. From the gravel streets to the flat, entrust Marin Four Corners!
Polygon Strattos S2 700C
Speed and stability on the road are the things that you need to have if you want to perform optimally as a rider road bike. If you still have a good MTB bike, maybe the one that needs to be upgraded is your road bike. Strattos S2 700C is an option that you can pick because, in addition to the stunning specifications, Strattos also has a look that supports your style as a rider. Every responsive maneuver and extra comfort when driving will make you fall in love with this bike.
Polygon Collosus DH9
Toughness and the looks are the two indications of qualified bicycles as well as geometry that suits your needs. Polygon always presents the best bike line up that meets all of your criteria. If you are interested in upgrading your MTB bikes then thisCollosus DH9 is one of the items you should see as one of your bike candidates. Sophisticated designs and specifications that will surpass other Downhill bikes make Collosus DH9 ready to provide a truly upgraded mountain bike experience for you.
Polygon Premier 5
Cross Country will be more fun if you upgrade your bike with Premier 5 from Polygon. The convenience provided by this one hardtail bike comes from better dampening ability with 120mm travel. Not only that, the slick look of this one bike will steal your attention as you pedal through the street. Sleek and light, Premier 5 is ready to be your cycling companion.
The best bike option should be equipped with accessories that also qualified. Do not worry, Rodalink also has the best choice in the line of accessories. Starting from a lubricant that helps the drivetrain, saddle cover up trainer we have to complete your adventure. Here are three accessories for you the riders:
Finish Line Teflon Plus Dry Lube
Lubricants are an important part that is often forgotten. Keeping the drivetrain moving smoothly is a must. The riders should always check whether the chain is sufficiently lubricated or not. The addition of lubricants also needs to be scheduled because weather factors can make the lubricant less effective. Finish line as a lubricant manufacturer that provides various types of lubricants and chain cleaners brings the best lubrication with a Teflon coating for you. Teflon Plus Dry Lube is a lubricant that is easy to apply and ready to provide ease of paddling for you anywhere.
Polygon Saddle Cover MTB
The cover saddle is one of the complementary accessories that riders need to have. In addition to providing extra comfort, saddle cover will also protect the cover from weather conditions that are too hot or rainy Polygon presents a compatible MTB saddle cover for you who want to upgrade MTB bikes.
Minoura Trainer Mag Ride
Weather is always difficult to predict. A storm that can come suddenly will disrupt your cycling activities. At times like this, Minoura has a Mag Ride Trainer that you can use in bad weather. Cycling at home will feel like cycling on the real track. Easy to install and easy to control, this trainer will provide an awesome cycling for you!