Marin city bikes have been around for a while and have a huge following of riders who swear by their quality, performance, and durability. But, before discussing the 5 best Marin City Bikes, let's find out about the Marin brand first!
Since 1986, Marin Bikes has been designing and manufacturing a wide array of different bike models in its Novato plant. Some of these designs have won prizes at various cycling competitions. Currently, Marin bikes are under PT. Insera Sena. Even though Marin bikes are now produced in Asia, the manufacturing process remains the same created at their headquarters in Petaluma, California.
If you're looking for a new bike or a new city bike, consider buying one from Marin. They make city bikes in different sizes to suit all riders. A Marin city bike can be the right choice for you regardless of whether you're a beginner or an experienced rider.
Next, let's discuss the 5 best Marin City Bikes in 2022, Rodalink's version:
1. Marin Presidio 2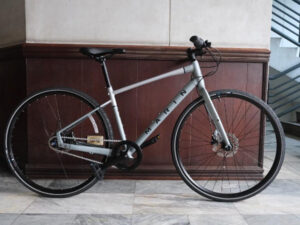 There are many bikes with those general characteristics, though—so what makes the Presidio stand out? For one thing, it has a reasonable frame and fork. A chromoly steel setup at that price point tends to leave a bike feeling sluggish; the Presidio's aluminum build does not suffer from this issue.
Marin has built a butted aluminum frame and fork into its bike, with Shimano Nexus hub-gear technology adding the 7 speeds necessary to handle any terrain. Although a 1×7 groupset would provide smaller gear jumps, it is easier to learn on and maintain than other drivetrains.
Many bikes at this price point include disc brakes, but few are as dependable as the Shimano flat-mount hydraulic offerings on the Presidio 2. Disc brakes are the strongest types of brakes, and these will stop a bike under any circumstances.
The 700x32mm Vee tires seem fast enough on blacktop and have not gotten a flat despite many trips over gravel paths and across the remains of someone's 12-pack of lager. The bike comes equipped with a saddle and ergonomic, easy-to-use hand grips. Its pedals aren't the super cheap flat style that often comes packaged with value bikes.
Get Quality Marin Presidio 2 City Bike Now!
2. Marin Fairfax 3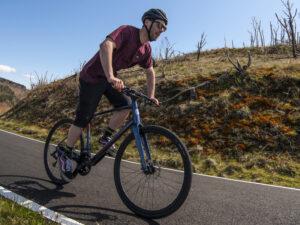 The sport-fitness geometry of Marin's bikes gives riders a feeling of lightness and agility without sacrificing stability. Disc brakes give you smooth, dependable stopping power in all kinds of weather. And with Shimano drivetrain components and a wide range of gears, you'll be prepared for any terrain that comes your way! The larger volume tires help smooth out rough roads and up the traction a bit for a more confident ride. The Fairfax rolls efficiently on 700c double wall rims—ready for your next series of road explorations!
The Fairfax 3 is a step up from the Series 2: it uses an upgraded tube set and machined headtube for better stiffness. It also has a carbon fiber fork and Shimano Sora/MicroSHIFT R9 components in a 2×9 speed drivetrain configuration. Marin Fairfax 3 bikes in price under $1,199.
Get The Best Marin Fairfax 3 City Bike Now!
3. Marin Fairfax 2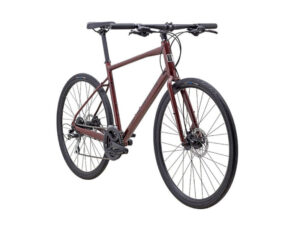 According to Marin, its Fairfax range is "built for the flat-bar fitness road rider". It has a wide gear range, wide tires for comfort—and maybe even occasional off-road riding—but most importantly it boasts hydraulic disc brakes. This bike is priced under $900!
You won't find a flat bar city bike with hydraulic disc brakes at any price—and they make a world of difference compared to more commonly-specced mechanical disc brakes. This bike's frame is made of aluminum and shaped to give a comfortable ride. The semi-compact geometry—with seat stays for added comfort, 35mm tires—is perfect for short rides or getting started on the road again!
The Fairfax 2's Shimano drivetrain is excellent for the price. A city bike like this will always be heavier than a fully-faired road bike–but Marin has compensated by building a tough, efficient transmission with an emphasis on lower gears. The fact that the bike comes with a 46/30T sub-compact crankset rather than a more common 50/34T is particularly impressive.
Tektro's M275 hydraulic disc brakes may be on the entry-level end of the spectrum, but they are excellent. They complement a ride that is very nice indeed. The Fairfax is comfortable, built to last, and has great components.
Get Quality Marin Fairfax 2 City Bike Now!
4. Marin Presidio 1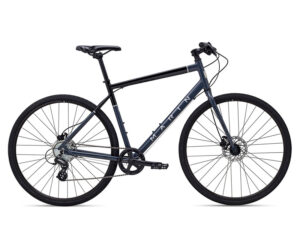 The Series 1 aluminum frame is the middle step in Marin's hierarchy of alloy offerings. The price of these bikes is under $700. The frame is also well-equipped with all the mounting points necessary for a full complement of fenders, and it's ready to accept racks in front or back as well. The disc brakes on the bike itself are a welcome addition because they're full hydraulic units—and rarely seen at this price point.
The brakes have a smooth action and provide plenty of stopping power, even at high speeds. The drivetrain is made up of a single 38-tooth chainring, paired with an 8-speed (11–34) cassette that offers plenty of gearing options. A rapid-fire shifter and Altus rear-derailleur mech provide smooth, quiet shifts in any situation.
The chainring has an integrated chain protector to keep stray clothing from catching or attracting oil marks. Marin even included a guide for the chainring, which is important when riding over rough ground.
The Presidio's riding position is fairly upright, but not too short; in fact, the frame's reach (412mm) is long for a large-sized bike even though Marin has specced it with a short stem. The short stem allows you to steer and maneuver swiftly, making the Presidio a great bike for slow-speed maneuvers—such as threading through gateways without having to dismount.
Get The Best Marin Presidio 1 City Bike Now!
5. Marin Terra Linda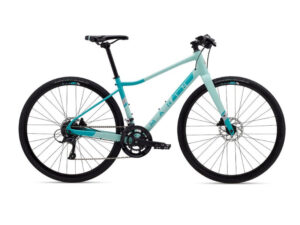 The Marin Terra Linda is the perfect bike for commuting or training. It provides a comfortable, upright position and can be used to get around town or on longer rides. The price range of this model is around $700-$1099.
The Hydroformed, triple-butted 6061 aluminum frame of this road bike features sporty geometry and an upright position to reduce strain on the hands, wrists, and shoulders while increasing visibility. The carbon fiber fork reduces weight while also damping high-frequency road vibration. The double crankset and 9-speed cassette provides 18 gears for climbing or sprinting—whatever the terrain calls for. The Shimano Sora rear derailleur helps you shift gears smoothly, while linear-pull dynamo-powered. Vee Tire 700Cx32mm provides a sporty ride no matter what surface you're on, and double-wall rims ensure that your braking power is there when you need it most.
The Marin Women's Marin Women's Fitness Plush saddle is contoured to provide comfort and support all day long, while the Commute Platform pedals accommodate most casual shoes. Aluminum cages boost power transfer from foot to pedal.
Get Quality Marin Terra Linda City Bike Now!
After reading this article, you can consider choosing a Marin city bike that suits your needs and the price fits your pocket! If you live in Singapore and lately have been looking for a "bike shop or bike shop near me", or are looking for a Marin City Bike—Rodalink provides quality selections from trusted brand names. There are many Rodalink promotions running at the moment. These include 0% OCBC installments, free delivery, and Shopback, and Pay Later options. For more details on these promos visit their website now!
Not only that, joining Rodalink Singapore will give you many benefits. Come on! Let's start this exciting cycling trip together!
Discover Your Needs at Rodalink Now!