With their excellent coverage, varied designs and strong focus on safety, today's mountain bike helmets are more comfortable and protective than ever.
Many people save on their bike equipment budget by taking helmets for granted and deciding not to buy one. Even though, a helmet is very important if you are going to mountain bike riders! For gliding over rocks and avoiding trees, spending a little extra money on a good cover is a good investment. Fit and retention systems are constantly improving, and safety advances such as the Multi-Directional Impact Protection System (MIPS) aim to reduce the chance of serious injury.
It's true that the price of mountain biking helmets is creeping up, but you don't need to worry, right now there are several MTB helmets with good quality but friendly to your pocket! Check out the top 5 mtb helmets under $150, Rodalink Singapore's version below!
1. Bell Nomad 2 MIPS Mountain Bike Helmet (109$)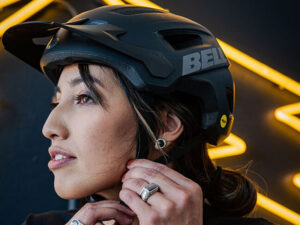 The Nomad 2 Mips meet the needs of trail riders without compromising on fit, function, style or safety. Here are a few features:
In-Mold Fusion polycarbonate shell
Ergo Fit with integrated MIPS
15 ventilation holes
Tri-Glides No-Twist harness design
An adjustable visor
Insect net
Ratchet closure
The Nomad 2 Mips are packed with features like the Mips Evolve system and the easy-to-use Ergo Fit dial, so you can enjoy the freedom to explore new places at your own pace. The Ergo Fit adjustment system on the Nomad 2 Mips provides great comfort over many miles. With increased cushioning for all-day support and a lightweight design that makes it easy to take away at night, this helmet is also perfect for weekend hikes. The new Nomad 2 features an in-molded polycarbonate shell that is Mips-equipped and offers low-profile coverage, the perfect blend of efficiency and style for any trail rider. The weight of this helmet is around 320 gr.
Get Bell Nomad 2 MIPS Mountain Bike Helmet Now!
2. Bell Spark 2 MIPS Mountain Bike Helmet (119$)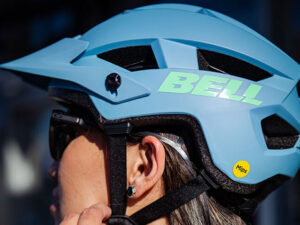 The Bell's Spark 2 MIPS helmet delivers ready-to-wear performance at an affordable price. The Ergo Fit system allows for easy on-the-fly adjustment and ensures a comfortable fit. The integrated MIPS provides industry-leading brain protection, while the adjustable visor offers easy goggles storage and sun protection. This helmet has several features, which are:
Inner polycarbonate shell fusion molding
Ergo fit
Integrated visor
Tri-Glides-No-Twist harness guide
Sweat guidance pads
Insect net
Ratchet closure
The helmet is secured with a "No-TwistTri-Glides" widget that keeps the straps flat and securely in place-no kinks when wearing them. The straps are easy to adjust and stay put once they are attached. This helmet has 13 air vents, ergo fit top adjusters, regular fitting types and has a head circle size (53-60cm). It has security standards over SPSC, which is suitable for MTB cycling. With a matt coating and a weight of around 330 gr.
Get Bell Spark 2 MIPS Mountain Bike Helmet Now!
3. Bell Drifter Bike Helmet (119$)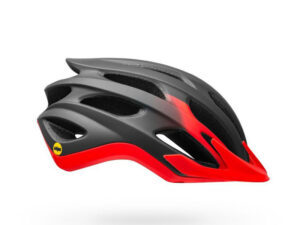 The Bell Drifter MIPS Cycling Helmet accompanies you to be ready for action. With its compact profile and lots of ventilation, you'll love driving-and with the easy-to-use Float Fit system, finding the right size has never been easier! So go ahead: face whatever comes your way with the Drifter MIPS Bike Helmet on your head. Its streamlined build gets a lot of attention, but the real story with the Drifter is its incredible versatility. The Drifter's removable visor is also perfect for epic all-day weekend rides. This helmet has features and specifications as follows:
Fusion In-Molding Polycarbonate Shell
A process pioneered by Bell bonds the outer shell of the helmet to a layer of EPS foam to create a more rigid helmet.
Float Fit & No-Twisr Tri-Glides
Minimalist and lightweight fit system with an easy-to-turn rubber overmolded dial for quick-adjustment fasteners that help keep straps even and positioned properly.
Sweat guide
The Sweat Guide pad design draws moisture from the brow pads and away from the glasses.
This helmet has a removable upper visor, 15 air vents, float fit & lightweight fit system upper adjuster with an easy-to-turn rubber over-molded dial for adjustments, with a regular upper fitting type. Head circle sizes for small (52-56cm), medium (55-59cm), and large (58-62cm), with US CPSC safety standards. This helmet is suitable for MTB cycling with a matt/glossy coating and a weight of around 300 gr.
Get Bell Drifter Bike Helmet Now!
4. Met Terranova Bike Helmet (149$)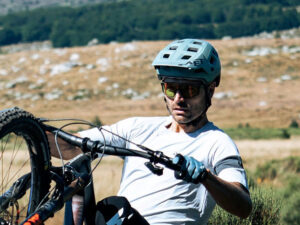 The MET Terranova Helmet is a great choice for mountain bikers looking for lightweight, yet sturdy protection. This helmet is well ventilated and equipped with MIPS technology to reduce the risk of head injury in the event of an accident. This helmet offers MIPS-C2 technology that allows the helmet lining to slide toward your head in a crash–reducing rotational forces that can cause serious injury. The color choices are limited, but the styles available can suit all tastes. With reasonable prices for handmade pieces, it's hard to find fault with this collection.
The Met Terranova is designed for both trail and mtb riding inspired by the award-winning Roam, ensuring optimal comfort. The helmet features accessory gel front pads compatible with visible-in-the-dark LED lights. Internal air ducts on the helmet allow for efficient ventilation. The visor can be adjusted without tools and flexibly injected to bend on impact. This unique feature helps manage the extra rotational force transferred to the neck during a crash. This helmet has the following features:
The top material is EPS liner, polycarbonate.
In-Mold construction, MIPS-C2 brain protection system
Vertical adjustment and ponytail compatible
Adjustable cam divider
Hand washable comfort pads
Internal air-channeling.
This helmet has a visor and 16 air vents, adjusters for the safe-T E-Duo fit system, with regular fitting types, head circle size S (52-56cm), M (56-58cm), L (58-61cm). CE security standards; AS/NZS;US, with MTB genre and has a matt coating and weight S (315 gr), M (335 gr), L (355 gr).
Get Met Terranova Bike Helmet Now!
5. Giro Radix Mips Mountain Bike Helmet (149$)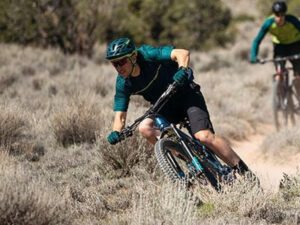 The Radix Mips helmet is for the rugged adventurer who values a perfect fit, low sunlight, and plenty of ventilation. The highly-adjustable 5.5 Mips Roc Loc system adjusts fit and feel for increased stability and long-range comfort while providing an added measure of protection from rotational forces. Here are a few features:
Lightweight, stable, and comfortable, the highly adjustable lets you adjust fit tension and fore/aft tilt quickly and easily with one hand.
With MIPS, the low-friction coating slides 10 to 15mm in all directions, reducing rotational motion to the brain during impact.
The P.O.V. Visor offers 15 degrees of adjustment to help prevent sunlight from entering the eye without obstructing vision.
In-mold construction combines a tough polycarbonate outer shell with a layer of shock-absorbing foam allowing for a lighter helmet and better ventilation.
The wind tunnel ventilation system combines active vents in the shell with internal exhaust that pushes fresh, cool air up and around the head and forces hot air out.
This helmet has cool fit anti-micro material, slimline webbing padding, lower hardbody shell, Quick dry padding. This helmet also has a regular type fitting with head circle sizes above S (52-55cm), M (55-59cm), L (59-63cm), XL (61-65cm). Security standards for compliance with US CPSC safety standards for bicycle helmets for persons age 5 and older, E.U.: CE EN1078, are of the MTB genre with matt coating and a weight of around 316 gr.
Get Giro Radix Mips Mountain Bike Helmet Now!
After reading this article, you can choose which helmet to use to support your safety and comfort in mountain biking. Considering getting a helmet specifically for mountain biking is the right decision! No matter how good you are, we still can't predict when an accident will occur, that's when the helmet will work to protect you! You can choose between the 5 MTB helmets above for consideration, which are of course pocket-friendly! No matter what shoes you choose, safety and comfort come first!
If you live in Singapore and have recently been looking for "bike shop near me or mtb helmets shop", or looking for a mtb bike helmet, such as the MIPS helmet in Singapore, you can visit the Rodalink Singapore website. Rodalink provides quality MTB helmets from trusted brands. Don't worry, you can find various promos at Rodalink, starting from 0% OCBC Installments, Free Delivery, and the Shopback it program, Pay Later, to various ongoing promos that you can check directly on the Rodalink website. Not only that, you can also get various benefits by becoming a member of Rodalink Singapore. What are you waiting for? Let's start your cycling journey with Rodalink Singapore!
Discover Your Needs at Rodalink Now!