Marin has returned to the bike market with high-end carbon bikes used by elite cyclists, as well as entry-level and mid-range models. Marin built its reputation by making innovative full-suspension and hardtail bikes. Although Marin still offers bikes in all styles, the company is aware of trends and makes sure its line-up represents current tastes.
Marin's bikes have different functions according to the terrain and type of cycling. You can read the article '5 Types Of Mountain Bike You Have to Know' for more details. Now, let's find out about the specs and uses of Marin Mountain Bike according to their respective line-ups. Check it out!
Marin Mountain Bike Line-up
Marin makes a wide range of mountain bikes, including models for XC Trail, Trail riding, and enduro racing. Let's discuss the line-up of Marin's mountain bikes one by one!
There are a number of line-ups of this Marin XC Trail mountain bike, including:
1. Marin Bayview Trail 24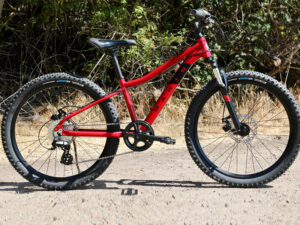 The 24″ Marin Bayview Trail Mountain Bike is an excellent choice for beginning riders. With short-reach brake levers that are easy to pull and wheels designed to roll forever, this bike has 7 speeds so you can tackle any trail.
The Aluminum Alloy frame has 135mm dropouts, and the SR Suntour Coil Fork is an entry-level mountain bike fork. The Shimano 7-speed drivetrain delivers easy shifting and intuitive use, with a single front chainring helping kids climb hills. Mechanical disc brakes offer powerful stopping power.
Fast and reliable, the 32 Spoke Double Wall Rims with Formula Hubs are ready to handle hard-hitting trails. The Crown Gem uses a high-volume rounded profile carcass, with siped and grooved tread blocks sweeping backward. This gives the tire ultimate steering control or driving/braking traction.
2. Marin Bobcat Trail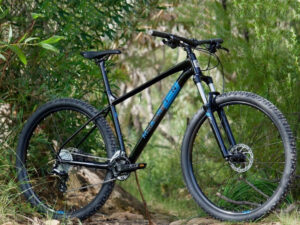 The Marin Bobcat Trail features three bikes, and they're great for anyone from teenagers to adults. The Marin Bobcat series uses easily serviceable components. It is a fantastic entry-level mountain bike that will get you started on your cycling hobby—at an affordable price!
The Marin Bobcat Trail has 3 models, namely the Bobcat Trail 3, 4, and 5. The Marin Bobcat Trail 3 is the most basic model, with features that outperform many other bikes in its price range. The Series 2 Aluminum Frame is lightweight and durable, giving you all the support you need. The Marin Bobcat Trail 4 is made of lightweight aluminum—like all Marin bikes. The frame's internal cable routing keeps cables out of sight and makes them look sleek. The SR Suntour HLO DS fork fits 120mm of travel to ensure a smooth ride over bumps. The Marin Bobcat Trail 5 has the highest specs, with wider wheels. Using tubeless tires with a width of 29mm, compared to 23mm on other models in this line.
3. Marin Wildcat Trail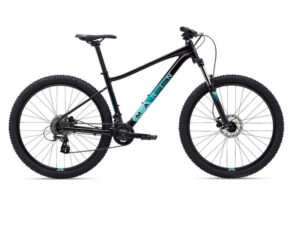 Marin Wildcat Trail is a great option for mountain bikers looking to ride more terrain and tackle more rugged trails. The three different models—are designed for riders at all levels, from the casual rider who wants to dabble in off-road cycling to someone with racing experience. The Wildcat comes in three different models: Trail 1, 3, and 5. All three bikes share the same frame, are available in four sizes—and have been designed to meet riders' varied skill levels and price points.
The top-of-the-line Wildcat Trail 5 boasts hydraulic disc brakes and a 1×11 drivetrain, along with an upgraded fork—with lockout and adjustable dampening—and 120mm of travel. The base Wildcat 1 has mechanical disc brakes, a 3x drivetrain, and a basic fork with 100mm of travel. The Wildcat Trail 3 provided an upgrade to a better quality front fork with lockout capabilities and hydraulic disc brakes. It came equipped with a 2x drivetrain. All Wildcat models use Shimano's mountain bike groupsets: from Tourney on the Wildcat 1 to Deore Shadow derailleur components for Marin Wildcat 5.
4. Marin Team Marin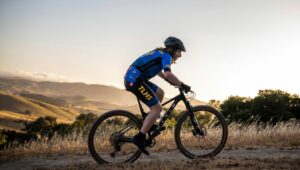 Marin Team is for aspiring cross-country racers, whether that's a high school athlete or someone who wants to add the occasional race into their riding schedule. It's built for fun, with modern geometry that makes it easy to ride on a variety of trails.
The series in this lineup are Marin Team Marin 1 and 2. Compared to the other, Team Marin 1 features a Superlight Aluminum frame. With a RockShox Judy Silver TK 120mm Travel. Shimano Deore 12-Speed drivetrain and Marin Aluminum Double Wall, 29mm Inner, MicroSpline Wheelset. Vee Tire rails Rocco XC is great for trail riding! In comparison, Team Marin 2 shares the same frame and fork as well, but has Shimano XT/SLX 12-Speed drivetrain with a Marin Aluminum Double Wall Rims wheelset.
Marin has several line-ups for this type of mountain bike, so let's get straight to it!
1. Marin El Roy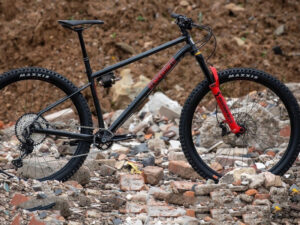 Marin El Roy—a 29er steel hardtail mountain bike designed for the rough and tumble world of downhill, enduro and bike park trails. Marin has crafted the frame from Series 3 double-butted cromoly, which is then electronically coated to protect it against corrosion and painted. The El Roy uses the long, low, and slack formula: Reach is very long, BB is fairly low, seat tube short and head angle quite slack. Two sizes will be available: Regular & Grande.
With its 140mm of travel, this Marzocchi Z1 fork has an air spring and a GRIP damper for better control on long climbs. The wheels feature Shimano hubs with internally-wired alloy rims, which are 29mm wide and wrapped in Maxxis Assegai 2.5 tires. The carcasses of these Double Down models were designed for downhill racing on loose terrain.
2. Marin Pine Mountain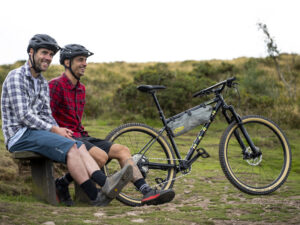 Marin Pine Mountain is a classic, steel hardtail that offers the modern trail capabilities of its predecessor—and more. The Pine's updated geometry and improved suspension will push your limits on new adventures.
Marin Pine Mountain 1 and 2 are 29-inch hardtail mountain bikes with the same frame but different components. Marin Pine Mountain 2 has a dropper post, nicer parts, and better suspension. The Pine Mountain is available in two models. The more basic Pine Mountain 1 offers entry-level features and the more advanced Pine Mountain 2 model features components found on modern mountain bikes. Pine Mountain 1 features a Shimano Deore 11-Speed groupset, while Pine Mountain 2 uses the more advanced and versatile Shimano SLX 12 Speed. Both bikes have hydraulic disc brakes—which are great for long rides that require stopping in all weather conditions! The tires are Vee Tire Flow Snap at 29×2.6″, perfect to roll over anything they come across during your journey.
3. Marin San Quentin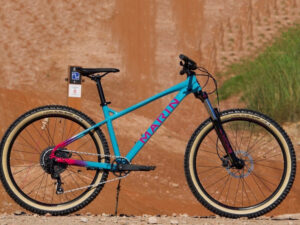 Marin San Quentin offers three different builds to fit any cyclist's needs. From entry-level to high-end, labeled simply as 1,2, and 3, the Marin creates a thoroughly modern and exciting hardtail. All models of Marin bikes share the same frame, and all are complemented by finishing kits made specifically for that model. It's great to see that all models come with short stems/wide bars, lock-on grips, and simple 1x drivetrains—it's a nice touch.
At its stock angles, the Reign is playful but stable on steep climbs and jumps. The San Quentin uses the same 6061 Aluminum, Double Butted frame in all models. With its slack 65-degree head angle and 650b tyres (27.5×3), this bike is built for descending. Climbing angles of 75° keep riders' bodies in an efficient pedaling position while keeping weight centered on the front wheel for maximum traction when ascending.
Marin took care to route the cable housing internally on models 2 and 3, allowing riders to use dropper posts without sacrificing good shifting. All bikes have internal routing for a dropper post and come with chainguard mounts as standard equipment. The stiff, accurate addition of a 15mm bolt-through axle is especially welcome on the entry-level model and rarely seen at this low price point.
4. Marin Rift Zone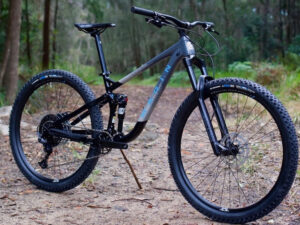 Marin Rift Zone 1 boasts a tough, light and comfy aluminum frame; grippy Vee Crown Gem tires that make riding off the beaten path a breeze; Shimano components for reliability you can count on mile after mile. Designed to push your limits but not your budget, the Marin Rift Zone 1 is available in either 27.5- or 29-inch wheel versions.
Marin Rift Zone 2 is a sturdy, lightweight bike with smooth-riding RockShox suspension. TransX dropper posts let you set up the perfect ride height for any trail conditions. It boasts a slew of our favorite Marin elements: a durable steel frame, reliable components, and effective suspension. And it comes in two sizes (27.5 or 29) so everyone can enjoy the ride!
Marin Rift Zone Junior feature a proprietary bolt-in 9mm rear axle to keep costs low, but they are both upgradeable to standard Boost 148×12 boost thru axles. Boost spacing on a kid's bike makes it easier to find parts since non-Boost MTB hubs are getting harder to find. Geometry is also different for the smaller bikes—a 65.5º head angle and 76º seat angle with 425mm chainstays. The Velvet X-Fusion fork, which is designed for smaller riders and lighter bikes (6" or 24″), has a less aggressive damper setting that makes the fork more compliant.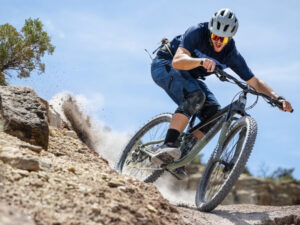 Alpine Trail is one of the line-ups in this type of mountain bike. There are several types such as Alpine Trail Carbon, Alpine XR Trial 7, and E1. Marin models made for "enduro-style riding and racing, where travel and geometry matter most" with rougher terrain in mind.
Marin offers the Alpine Trail in four sizes, from Small through Extra-Large. The effective seat tube angle of the Alpine Trail, at 78°, is quite steep—a sensible decision for a bike with short chainstays. A steeper seat tube angle and a shorter top tube make it easier to keep the front wheel weighted when climbing steep hills.
Then, Why Marin mountain bike? Is it that good? The answer is 'yes'. Marin bikes are one of the oldest in the mountain biking niche, having been made since its inception. Marin helped pioneer many MTB technologies and has constantly improved their bicycles over time. Also, Marin bikes have become a common sight in top-class mountain biking and gravel-racing competitions, where they're ridden by athletes such as Matt Jones, Juliet Elliott, Martha Gill—and Mark Matthews. Marin's bikes are made with the best materials, including high-quality carbon, aluminum, and steel parts. Marin components come from Shimano as well as other popular brands like SRAM.
If you live in Singapore and lately have been looking for a "bike shop or bike shop near me", or are looking for a Marin Mountain Bike—Rodalink provides quality selections from trusted brand names. There are many Rodalink promotions running at the moment. These include 0% OCBC installments, free delivery, and Shopback, Pay Later options. For more details on these promos visit their website now! Not only that, joining Rodalink Singapore will give you many benefits. Come on! Let's start this exciting cycling trip together!
Discover Your Needs at Rodalink Now!