There are a few things to take into consideration when selecting a new mountain bike. Each bike has its own intended terrain, geometry, and suspension technologies for tackling different trails and surfaces. Understanding the specific type of mountain bike you need will improve your experience during each ride. The following article will help you get the information you need about various types of mountain bikes!
Mountain Bike Types
1. Leisure (Entry Level XC)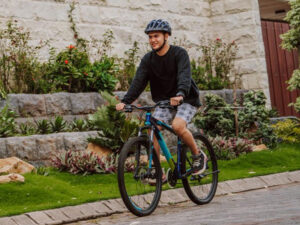 Mountain bikes (MTBs) Leisure are designed with a more upright sitting position for comfortable driving and can be used in both off-road and urban areas. They are also suited to light trail riding—for example, the Polygon Premier 4 or Premire 5 models. Typically leisure bikes have 120mm travel, which is enough to use on the trail. This bicycle is an excellent choice for leisurely rides. The upright geometry and durable frame make it comfortable to ride, while the hydraulic disc brakes provide good stopping power.
2. XC (Cross Country)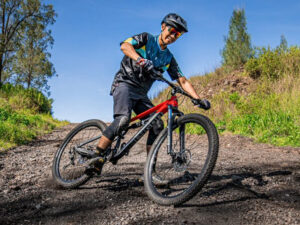 MTB XC (Cross Country) bicycles are sometimes called full-suspension bikes. They have a construction that makes it possible to ride moderate or extreme off-road tracks comfortably. Cross-country, or xc, bikes are designed for off-road riding on a variety of surfaces—from dirt to grass and small rocks—as well as forest trails and rocky paths.
The rider will pedal more to achieve a longer distance at maximum speed, and they'll use the saddle for a longer period. The XC geometry is built to focus on pedaling—speed on relatively flat terrain is its main objective. The lighter frame maximizes pedaling power. The shorter wheelbase of the bike makes for a more aggressive riding position and gives it an agile and sharp handling characteristic. Head-tube angle: The Head tube (where the front wheel attaches) of a bike is angled between 70 and 75 degrees so that riders can have more control over steering. Because of its short handlebars, this design makes riding feel very agile.
XC bikes have a shorter wheelbase, shorter bottom bracket drop, and shorter chainstay. These features help make the bike more nimble and agile, which means that you will be able to drive it in an aggressive position more easily. XC bikes usually use 90-100mm front suspension travel. For more recreational use and modern XC now also use 120mm travel. You can consider the Polygon Xtrada series mountain bike or the Siskiu D Series, with quality that is definitely good for XC bikes.
3. Trail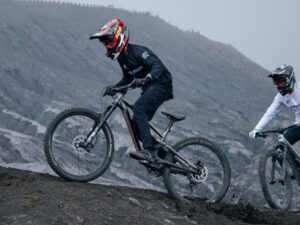 MTB Trail bikes share a lot in common with XC models. However, they are designed to be used on rough terrain, and usually have suspension systems installed into the middle of their frames so that riders can handle steep inclines and rocky obstacles.
The geometry of a trail bike is designed to be more stable for going downhill as well as efficient for pedaling uphill. The headtube angle is slightly slacker than the XC bike, this will make handling easier on the descents. A longer wheelbase improves the stability of a bike, whereas a shorter chain stay makes for better agility and decreased weight in the rear triangle.
Aluminum alloy is the most common material for this type of bike, although carbon can also be used in more expensive models. Suspension travel for trail bikes usually ranges from 120-140mm. An example of a good quality trail MTB bike is Polygon Siskiu T7 and Siskiu T8.
4. Enduro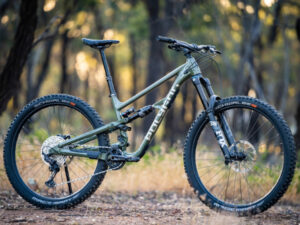 The Enduro is an off-road bike that combines durability and speed. Equipped with a mechanism that "functions" similar to a road bike, it can traverse all types of terrain: climbing, descending sandpits or mud—just like AM bikes. Enduro bikes are lighter than downhill bikes, but also agile when you ride them.
Enduro MTB bikes are built on dual or full suspension frames, making them suitable for moderate off-road riding. Its lighter weight and agile design mean this bike is better than most at jumping from high places—something not all bikes can do. The suspension on this bike has a travel between 150-180mm. Polygon Collosus N9 can be the right choice if you are looking for an enduro bike.
5. Downhill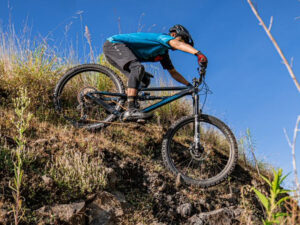 Downhill bikes are designed to ride on steep hills. In addition, this bike has a large frame so that the rider's body can remain stable when going down the mountain or racing on downhill terrain. The suspension also has a large travel, up to 200 millimeters. This allows the rider to land from a jump of over 2 meters in height smoothly and safely. An example of a bicycle that you can use for downhill cycling is the Polygon Siskiu N. The Siskiu N bicycle is a combination of parts, passion and technology designed to help you overcome your personal limitations in the mountains. An aggressive, fast-going bike for those who want total dominance on the climb. The 1x drivetrain makes this bike efficient for pedaling up hills, precise when you corner, and reliable for hitting descents.
Conclusion
After reading this article, you don't need to hesitate anymore to choose a mountain bike that suits your needs. Then, you can set your preference for the suspension on your mountain bike. Do you want a full suspension model, or would a rigid bike and a hardtail be enough? For beginners, a single-suspension mountain bike will work fine, but if you're looking to get off-roading more often or ride on more rugged terrain, consider purchasing a dual-suspension model.
If you live in Singapore and lately have been looking for a "bike shop or bike shop near me", or are looking for a mountain bike in Singapore, Rodalink provides a quality selection from trusted brands. Don't worry, there are many Rodalink promos available, ranging from 0% OCBC installments to free shipping and Shopback, Pay Later. Just check the website for details on the ongoing promo right now! Not only that, joining Rodalink Singapore will also give you many benefits. Come on, start your exciting cycling trip with us!