Trying something new is always thrilling. In biking, you can try to ride a different kind of bikes to know which one suits you the most. If you are looking for simplicity and easy-to-keep bike, you can try to ride foldable bike. As a beginner, you can start your journey in tring folding bike by getting the best budget folding bike possible.
If you are new to this and confused about what to get if you want the best budget folding bike, this article will help you figure it out! Here we will give you enough information about the most affordable foldable bicycle, Polygon folding bike alternative, and also 3 best budget folding bike for your references!
What is the Most Affordable Folding Bike?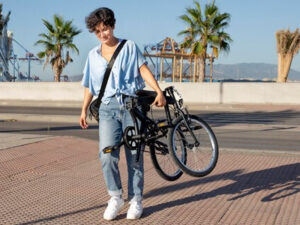 Basically, a folding bike is a bicycle that can be folded up into a small space. Its design prioritizes portability and minimal storage. Urban dwellers who struggle with their daily commute will find a useful solution in this unique innovation.
The best option for urban residents with studios or apartments that lack horizontal space is provided by folding bike manufacturers. Fold it up and store it safely at home. Additionally, you can carry it with you on buses or trains. It is intended for use on flat, short distances. Bikers now enjoy themselves on mountain roads while riding their folding bikes.
The price range for folding bike are varied, but if this is the first time you are trying folding bike, you can try to get the affordable folding bike. Getting the most affordable folding bike means you will still get and use the folding bike as it is, but with a much lower price that can save your bank account.
3 Most Affordable Folding Bikes
Here are 3 recommended folding bikes with affordable price that can slid into your buy list!
Polygon Urbano 3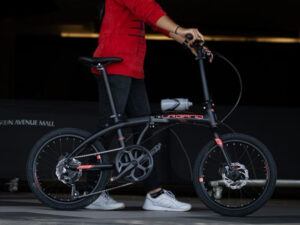 There are so many alternatives for you if you are trying to get your first and best deal folding bike. One of bicycle brands that provides the best bike with the most affordable price is Polygon. For folding bike, you can get their Urbano Series.
Polygon Urbano is constructed with 20″ wheels and a lightweight ALX frame to give the rider a more upright riding position that enhances visibility and comfort. For those of you looking for a distinctive, practical, and portable bike to lead an active lifestyle, Urbano was developed. It will reveal a life as you unfold it.
Urbano Series occupies 8 speed Shimano gearings that will ease you whenever you needs to run some errands. This bike is also compatible for you if you always bring your bike bags, racks, or baskets for your everyday ride.
Urbano Series come with 2 different models, which are Urbano 3 and Urbano 5. The first one is Polygon Urbano 3. According to Polygon, Urbano 3 is one of the most ideal models for people who want to own a bicycle but still save some space, since it is folding bike and can be folded into a smaller pact.
Compared to the other folding bike series by Polygon, Polygon Urbano 3 is the most affordable Urbano series. However, it is equipped with specifications that meet your needs for every day cycling.
The features for this model is the basic Urbano series features that have been mentioned above. With it's 20 inch tires, Polygon Urbano is perfect for riders that are looking for a unique, simple, and easy-to-carry ride that supports their lifestyle. The Polygon Urbano 3 Folding Bike costs less than $600.
Explore More Polygon Urbano 3 Folding Bike Now!
Polygon Urbano 5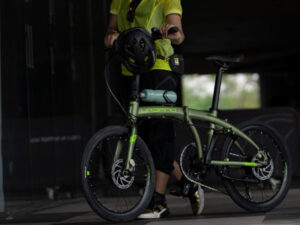 Polygon Urbano 5 is a compact bicycle with an elegant shape, making it comfortable to use. With these characteristics, folding bikes, including the Polygon Urbano 5, have a lot of enthusiasts among the bike riders community.
This model is basically the same ones with Urbano 3, but with more upgraded features. Maintube in the latest model looks higher compared to the previous one. This makes the newest model leans more to the adventurous folding bike.
Another element that gives the impression of adventure is the choice of a matte black base color which makes it look more elegant, plus the Urbano 5 is combined with a cream color similar to the Polygon Bend RIV.
Polygon Urbano 5 folding bike is equipped with Shimano Sora RD-R3000, Shimaon CS-HG200-9 11-34T, and Shimano Atlus SL-M2010-9 which supports up to 9 speeds. The frame is made of ALXALLOY, an aluminum alloy that has been used since the 1990s. With this mixture of materials, the Polygon Urbano 5 folding bike has maximum strength and durability. The Polygon Urbano 5 Folding Bike is priced at around $700.
Explore More Polygon Urbano 5 Folding Bike Now!
Wimcycle Pocket Rocket 2 Folding Bike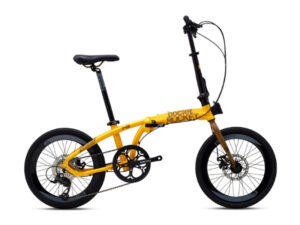 This Wimcycle model is also often called as Wimcycle Pocket Rocket 20, due to it's 20 inch wheels. This folding bike model has 6 speed levels and can be easily adjusted manually. The speed controller is also made from Microshift sets which are known for their quality and toughness
Even though the price is pretty affordable, the quality of this Pocket Rocket 20 should not be underestimated. The basic and main components have been equipped with alloy folding type class materials that have been specifically selected for a safer and more satisfying driving experience on the streets.
Because of this material, Pocket Rocket 20 is lighter and easier to carry wherever you go. In addition, the quality of the tires it has is well-known for its durability, measuring 20 x 1.5 inches overall. No need to be afraid if the tire surface becomes smoother faster. The Wimcycle Pocket Rocket 2 Folding Bike is priced under $500.
Explore More Wimcycle Pocket Rocket 2 Folding Bike Now!
Conclusion
Folding bike is the best for you if you are looking for a simple and neat bike to rides. There are several best budget choices that you can choose to buy, inducing the ones from Polygon. If you are looking for best budget folding bike Singapore, especially Polygon bike, you can get it from Rodalink!
As the official distributor of Polygon folding bike Singapore, Rodalink also provides other riding needs, such as accessories, child seat, helmet, cycling shoes, bike tires, and apparel. You can get all of that at the best price and guaranteed original.
You might also think about joining the Rodalink community to receive better discounts and offers. Rodalink can be your dependable cycling partner as you live out your adventurous riding dream right now!