Having the best bike with the best performance is almost every bikers dream. To achieve that, you need to find the best gears for your bike. If you own a gear bike, one thing you can do is to choose the best crankset for gravel bike to improve your bike performance. However, if you are planning to get your first gravel bike, here are what you need to know about gravel bike, crankset, and also the best crankset for gravel bike, so you can come prepared!
What is A Gravel Bike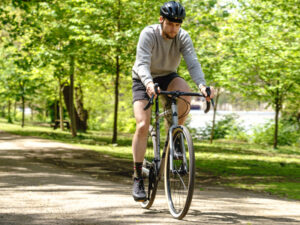 The popularity of gravel bikes has been rising recently, but what does gravel actually mean and why would you need another bike? Gravel bikes are one of the bike categories with the fastest growth, going from relative obscurity to being widely available in shops in a very short period of time.
They appear to be traditional road or touring bikes to the untrained eye, but there are subtle differences that matter when it comes to riding comfortably, effectively, and efficiently over varied terrain.
In essence, "gravel" refers to the freedom to ride wherever you please. With these bikes, you can travel off-road on bike paths, dirt roads, fire roads, and backcountry roads. They work well as a daily ride and are great for adventures. You're probably thinking that this isn't distinct enough to warrant its own category. That's kind of the point with gravel; they're made to be versatile rather than specific.
Gravel bikes are primarily made for versatile riding. With the efficiency of their road-related cousins, the mounts of a touring bike, and light off-road capability approaching that of a mountain bike, they are a jack of all trades.
Explore More Gravel Bike at Rodalink
What is A Crankset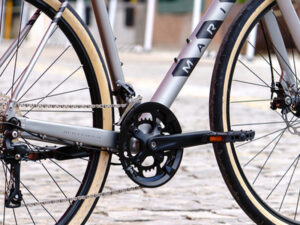 The core of your drivetrain is made up of a set of parts known as a crankset, also known as a chainset or front chainwheel. In essence, the crankset links the chain to the bike's drive wheel (rear wheel). The bottom bracket serves as a support and housing for the chainset as it rotates. You must turn the cranks in order to get the wheels moving. The bike is propelled forward when the chainset rotates in a clockwise direction.
The two crank arms that the pedals are attached to and one to three chainrings for the chain to run over make up the crankset. Modern designs also frequently include the central component, the axle or spindle, which joins the two sides. The bottom bracket, the bearing assembly that joins the cranks to the bike's frame, contains the axle in conventional cranksets.
Your crankset should give you access to a sufficient number of gears, along with your rear gearing, which is typically provided by a rear derailleur and a cassette with multiple sprockets, to let you choose the best gear for the terrain you're riding on.
Typically, cranksets have one, two, or three chainrings. On road bikes, two chainrings are most frequently found, while single rings are more frequently found on modern mountain bikes. 1x drivetrains, also known as single-ring systems, are becoming more and more common on road bikes as well as gravel bikes.
The number of teeth on the crankset's chainrings will determine your bike's gearing when combined with the cassette. However, there are options for every riding style and a wide range of chainring sizes. Typically, the chainrings are fastened to arms that extend from the right crank arm, also known as a spider.
There are also a variety of crank lengths available on marketplace. Although there are some that go longer, the shortest is typically 165mm (measured from the center of the bottom bracket to the center of the pedal spindle) and they increase in 2.5mm increments up to 175mm. Mid-sized road bikes typically have cranks that are 172.5mm in length, while mountain bikes typically have cranks that are 170mm or 175mm in length.
More leverage is provided by longer crank arms. They can also be found on some bigger bikes. The ground clearance you have when pedaling through a sharp turn or over obstacles off-road will be reduced if you attach a longer crank to your bike than the one it came with.
Explore More Crankset at Rodalink
Crankset for Gravel Bike with GRX Features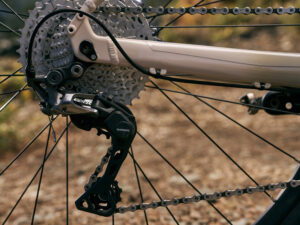 There are so many crankset designed for gravel bike. However, GRX from Shimano is yet the best one when it's come to crankset for gravel bike. The SHIMANO GRX distinguishes itself from the rest of the component market with its gravel-specific ergonomics, optimized gearing options, tough dependability, and quiet and stable drivetrain.
This is not a new set of road parts. It offers a comprehensive look at how cyclists want to discover the world. SHIMANO GRX encourages you to forgo justifications in favor of taking the difficult detour or riding a little bit further. You have the choice to 'Explore Beyond'.
The GRX series consists of three groupsets: the 400 series, which has a 10v mechanical drivetrain and would be at a quality level comparable to the road Tiagra; the 600 series, which also has a mechanical drivetrain but now has 11 sprockets on the cassette and the option of a single chainring; and lastly, the 800 series, which is positioned in the range at the level of the Shimano Ultegra and adds the availability of the Di2
You can get a gravel bikes with GRX already set, such as Marin Getsalt gravel bike series. However, you can also try to get our own Shimano GRX to put to your already owned gravel bike.
Conclusion
Crankset is an important part of your bike that will determine your bike's performance. If you own a gravel bike, the best crankset you can get is the one with FRX feature, which is SHIMANO GRX. If you are wondering where to get the best gravel bike, especially gravel bike Singapore with it's spare parts, you can try to buy them from Rodalink!
Rodalink offers a load variety of bikes, including Polygon gravel bike, or even Marin gravel bike. Rodalink also provides other riding needs, such as accessories, jersey, bike pants, eyewear, bike gloves, and socks. You can get all of that at the best price and guaranteed original.
You might also think about joining the Rodalink community to receive better discounts and offers. Rodalink can be your dependable cycling partner as you live out your adventurous riding dream right now!
Get Your Best Gravel Bike Now!