Various types of bike inventions nowadays may become one of the factors many people have a hard time deciding which to invest in. But if you are looking for a bike that can roll fast on the road while having a strong grip when crossing the dirt paths, you might have to consider having a gravel bike.
So what exactly is a gravel bike? When should the riders make their first bike investment on a gravel bike, and why? This article will be going to give you detailed information regarding the gravel bike, including the bike components and the reason why it is your best investment to make. Without extending the introduction, here is your needed guide. Enjoy your discoveries.
What is a Gravel Bike?
Some beginners might not be familiar with the terms of a gravel bike. A gravel bike is the type of bike that adapts the geometry of a road bike, such as the drop handlebar and more forward riding positions but is also equipped with a wider and knobby tire, lower gearing, and stable handling to give riders confidence during an off-road ride.
This type of bike is designed to suit the typical riders who are riding bikes for their daily commute but will also enjoy a ride on trail tracks during the weekend. However, gravel bikes are pretty versatile. Hence, there will be a few factors to consider before finding the best gravel bike that suits you best, such as:
Riding Terrain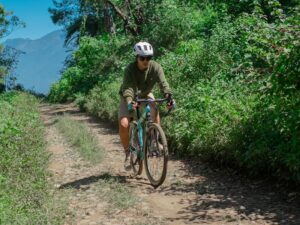 Your riding style or riding you wish to do is one of the things to consider before buying a gravel bike. For example, if you are usually riding a bike around the town yet looking for a bike that can perform well when you go for a short ride on a gravel road, you can consider getting an around town or bike path gravel bike.
If you are the type of rider who will go outdoor camping by riding a bike, you might want to consider a gravel bike with enough mounting points and built around a durable and robust material to allow you to carry loads for your short escape trip.
Bike Geometry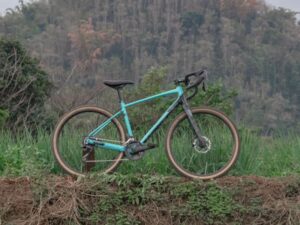 Since the bike frame is one of the components that riders are unable to modify, you are recommended to compare the geometry of the bike and find one that perfectly fits your size. Here is a quick guide to bike geometry to pay attention for:
The reach, measuring the horizontal distance from the center of the bottom bracket to the middle of the head tube;
The stack, measuring the vertical distance from the center of the bottom bracket to the center point at the top of the head tube;
The trail measures the horizontal between the point where the steering axis of the front wheel intersects the ground and the end of where the tire contacts the ground;
The distance between the centers of two wheels or known as wheelbase.
Gravel Bike Frame Materials
After getting to know about what is gravel bikes, now it is time to talk about the material that is often used to build gravel bike frames. Just like any other type of bike, the most common material used for a gravel bike is:
Carbon Fiber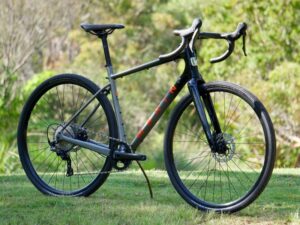 This material is lighter and easier to be shaped, which makes a unique frame design possible. There are a few different ways to manufacture carbon fiber resulting in different quality and pricing. Some people pointed out that carbon fiber material is not durable in the long run compared to steel material.
However, that's not quite the case for the carbon material for Polygon bikes. As an experienced bike manufacturer, Polygon can advance the manufacture of carbon fiber to build bike frames that are one step ahead of any of their competitors. The ACX Carbon from Polygon is known to be the lightest, stiffest, and strongest frame building material.
This ACX carbon has been scientifically blending the Toray T700 and High Modulus M series carbon, allowing it to construct a frame that is light in weight without decreasing its durability.
Aluminum/Alloy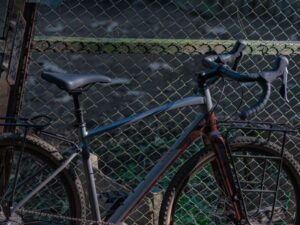 Aluminum alloy is also one of the lightweight materials that are more budget-friendly compared to carbon fiber. Most Polygon gravel bikes are also built with this material. However, the ALX Alloy material of the Polygon bike is processed through 6061 triple-butted tubings and heat treated for strength and durability, resulting in a frame material that means to last the test of time.
The AL6 Alloy material from Polygon is also a high-quality component that undergoes a strict quality control process before and after constructing the frame, ensuring the product is the best out of any competitors.
Steel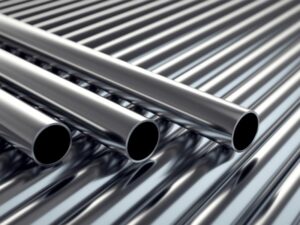 Steel became the versatile choice for bike frame building material until the discovery of aluminum alloy in the 1980s. Albeit not widely used as a bike building material in the modern era, steel material is still considered one of the easiest materials to work around. Many people still opt for steel-made bike frames for their capability to allow a smooth ride and their durability.
Steel material is also the most affordable compared to the other two materials. If you are not minding some extra pound of weight and are not riding or live around a high humidity area, you can consider a bike made of this material, too.
Do You Need a Gravel Bike?
Now comes the time to answer the question about the gravel bike vs road bike; which type that you need to get the most? The deciding factors for this question are where you live and what kind of ride you are doing.
For example, if you wish to explore the beaten track once in a while, riding on both tarmac and gravel, or go for a bikepacking experience during the weekends or long public holidays, a gravel bike will be a worthy investment.
Conclusion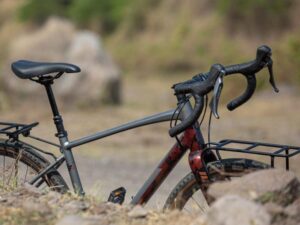 There is nothing better than getting a bike specialized in its specified terrain. For example, you will want to get a road bike to run around the smooth surface of urban pavement or a mountain bike if you often run into rougher terrain like forest track or singletrack. However, for some people, getting two types of bikes is not possible either because there's not enough space to keep more than one bike or the budget control is tightly supervised.
The invention of the gravel bike is meant to solve the struggle. It is acceptable to say that a gravel bike is an all-rounder as it can manage most types of terrain with ease because of the sturdy geometry and excellent handling combined with the wide and knobby tire.
Although a gravel bike might not be as quick and snappy as a race road bike nor become as tough as the singletrack cross-country mountain bike, a gravel bike still could cover most of the road surfaces. Commuter riders who seek an adventurous off-road ride during the weekend will immediately fall in love with gravel bikes.
Now, instead of finding a gravel bike second-handed, it will be best to visit Rodalink and find the gravel bike that suits you best at an affordable price. Rodalink is an official distributor of Polygon that also offers various types of bikes, parts, accessories, and apparels from the world's renowned brands.
While finding the high-performing and cheap gravel bike is not reasonably possible, purchasing the gravel bike Polygon will give you a bike manufactured with high-quality components, promising high performance at affordable pricing. You only need SG$1,249 to get the Bend R2 gravel bike that is comfortable with a little bit of aerodynamic geometry, equipped with a 2×9-speed Shimano Sora groupset.
If you have more on your budget, you can grab the Polygon Bend R5, which offers a comfortable ride with a vibration-damping carbon fork and dropper post that will give riders a perfect pedaling position at any time. Bend R5 is equipped with a 1×11-speed Shimano SLX groupset, an affordable groupset with a performance that matches the flagship group of Shimano XTR and XT.
By purchasing a bike through Rodalink, you will not have to worry about how to assemble it because they ensure you will get your bike delivered right in front of your doorstep in a ready-to-ride form. You can also buy now and pay for it later using Shop Back as the payment method, which offers 0% of the interest charge. No need to think about it anymore; visit Rodalink right now and grab the perfect bike that suits your style immediately.
You Might Love This!