When you're looking for the best mountain bike shoes, there are many options from which to choose. First, decide whether you want flat-pedal or clipless pedals—you can then narrow down your search by other factors like shoe material and price point. Mountain bike shoes offer a solid platform for delivering power, and strong construction to keep your feet protected during steep descents and technical terrain—all while providing a secure fit for long days on the trail.
The 5 best budget MTB shoes below include types of bike shoes that have a lightweight cross-country (XC) design for long rides and non-technical rides, trail models that can handle moderately rough terrain, and the toughest options for jumping.
Let's discuss the best MTB shoes under $150 in Singapore, Rodalink's version below!
1. Shimano SH-MX100 MTB Bike Shoes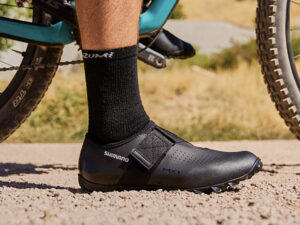 The Shimano SH-MX100 is a shoe built on comfort and reliable quality. This is truly a great Off-Road and Cross country shoe, perfect for the beginning cyclist who wants to take the next step. Here are some of the features:
Soft sock-like upper provides comfortable pedaling support and a snug fit
Quick tension Y-shaped cross straps hold the instep securely for a smooth pedaling,
Versatile MTB rubber outsole pattern supports stable pedaling and walking
Reflective heel slip enhances visibility,
A breathable synthetic leather composite upper with added ventilation provides a reliable fit
It has Shimano pedaling dynamics technology, last technology, outsole stiffness 5. This shoe has the XC racing type, with a cross strap closure system, and SPD type cleats.These shoes also have PD-M520, PD-ED500 pedals, suitable for supporting your MTB journey and weighing around 325 gr. The price for these shoes is under $75.
Buy Shimano SH-MX100 MTB Bike Shoes Now!
2. Shimano Bike Shoes Enduro SH-AM503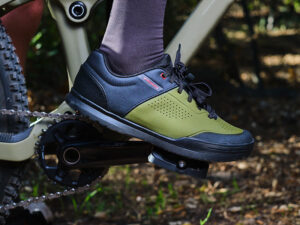 The Shimano SH-AM503 Enduro Bike Shoes provide stylish, performance, protection, comfort. The SH-AM503 features a high-grip rubber sole with traction treads on the toe and heel that are comfortable to wear even when walking. Pedal channels offer great stability from shoe to pedal even when not clamped. Sturdy toe cap provides added protection to the toe as well as a snug fit for all-day riding comfort. Here are some of the features:
Pedal channel for a stable shoe-to-pedal platform when not clamped
Grippy SHIMANO rubber outsole with insole and heel enhances stability during grip and walking
Padded ankle and asymmetrically raised sidewall sole for added protection
Made from premium materials that are comfortable to wear all day while cycling Robust toe cap for added foot protection
Durable synthetic mesh for protection and breathability
Better bike control and walkability with extended midfoot cleat range
Lighter, stronger and more durable than natural leather.
Having SPD technology, E-Bike rated, last tour volume & pedal channel, this shoe has a trail enduro type with a shoe lace closure system. It has SPD type cleats, PD-ME700 pedals, with the MTB genre and a around weight of 440 gr. These shoes have a price range of around $90.
Buy Shimano SH-AM503 Enduro Bike Shoes Now!
3. Shimano SH-GR501 Gravity Bike Shoes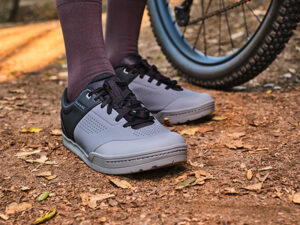 Shimano produces footwear for both road and off-road riders, with models designed to fit a variety of needs. The GR5 is one shoe designed by Shimano's Gravity team specifically for downhill mountain biking. It has many features:
Synthetic upper with mesh
Reinforced toe and ankle
Proprietary Shimano rubber outsole
Elastic "lace-keeper" for managing laces
Great pedal feel
The Shimano GR5 is a well-designed and assembled shoe, but it's rubber outsole makes it stand out. The heel and toe are treaded to help with off-the-bike traction. The smooth hexagon pattern on the shoe's sweet spot provides optimal engagement with platform pedals. In use, this makes shifting during a ride simple—simply reposition your foot for increased traction when needed and lock it back in place! This Shimano shoe has a synthetic leather+mesh upper material, and a rubber outsole material. It has a cleat type flat pedal, the best match pedal-PD-GR500/PD-GR400, suitable for mountain biking and weighs about 350gr. These shoes are priced under $110.
Buy Shimano SH-GR501 Gravity Bike Shoes Now!
4. Shimano AM702 Gravity Bike Shoes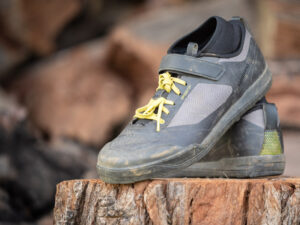 Still in the gravity shoe series, the Shimano AM702 Gravity Bike Shoes are a versatile downhill/enduro SPD shoe with excellent pedaling performance. Here are some of the features:
Maximize grip and durability with SHIMANO compound and pattern
Absorb less water and dry quickly with mesh and TPU upper
Sturdy toe cap for added toe protection
Asymmetrically raised padded ankle collar and sidewall insoles for added protection
Pedal channels for stable shoes to pedal platforms when not attached
This Shimano shoe has heat control with mesh perforated synthetic upper material. It has molded toe cap technology for additional toe protection, an ultra-grip rubber sole with toe, and heel traction tread to improve walking. This shoe has a gravity type with SPD type cleats, pedals PDM647, PD-M545, suitable for mountain biking and has a weight around 408 gr. These shoes range in price from $135 to $139.
Buy Shimano AM702 Gravity Bike Shoes Now!
5. Shimano SH-ET700 Trekking Bike Shoes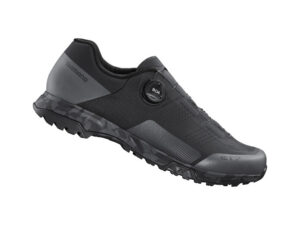 The Shimano SH-ET700 Trekking Bike Shoes are balanced and optimized to be the ultimate bike or hiking solution for cyclists. These shoes can provide a better cycling experience than ordinary sneakers or trekking shoes, providing longer riding comfort, better bicycle control, comfortable walkability, and special protection for cycling. Here are some of the features:
The single Boa L6 dial with optimized lacing pattern quickly and comfortably secures the shoe for efficient riding.
The Splash Shield forefoot membrane protects the toe with light water resistance without compromising fit or comfort.
Efficiency pedaling power transmission with semi-rigid power transfer blade.
Adaptive outsole cross-grooves create better grip with a variety of cage & pedal pin types.
The 360° traction block pattern offers better grip on a variety of pedals and terrain.
The up & down traction design block pattern on the heel & toe provides great grip over a variety of terrains.
Protective toe box and reflective details.
These Shimano shoes have synthetic leather + mesh upper materials, rubber + EVA outsole materials, and glass fiber reinforced nylon midsole materials. Has splash shield technology, volume tour last, E-Bike rated, outsole stiffness, synthetic leather & BOA closure technology. These shoes have pedals PD-T8000/PD-EH500/PD-M8141/PD-GR500, with MTB genre and weight 335 gr. The price range for these shoes is around $139.
Buy Shimano SH-ET700 Trekking Bike Shoes Now!
After reading this article, you can choose to use regular shoes or take your cycling skills to a more professional level using shoes specifically for mtb cycling. You can choose between the 5 MTB shoes above for your consideration, which of course are pocket-friendly! No matter which shoes you choose, safety and comfort come first!
If you live in Singapore and have been looking for "bike shop or bike shop near me" lately, or looking for mtb cycling shoes, like cleats shoes SPD in Singapore, you can visit the Rodalink Singapore website. Rodalink provides quality cleats shoes from brands that are already trusted. Don't worry, you can find various promos at Rodalink, starting from OCBC Installment 0%, Free Delivery, and Shopback it, Pay Later program, to different ongoing promos that you can check directly on the Rodalink website. Not only that, you can also get various benefits by joining Rodalink Singapore members. What are you waiting for? Let's start your cycling journey with Rodalink Singapore!
Discover More MTB Shoes at Rodalink!
Discover Your Needs at Rodalink Now!