Climate change nowadays results in unpredictable weather, making outdoor riding sometimes seem to be quite a big deal. Therefore, the idea of getting bike rollers for your indoor bike training has become one of the favorable options.
For people who are new to the term indoor bike training and wondering what a bike roller is, don't worry because this article is going to help you familiarize yourself with it by explaining different types of bike rollers and what benefits make it worth being invested in. Without furthering the introduction, here is the information you need to access and enjoy the reading.
What are Bike Rollers?
Bike rollers are one of the indoor bike training equipment which consists of three cylinders that are widely known as rollers. There are also belts to connect the middle roller to the front roller allowing the bike to spin when pedaled. Riders must put the bike on top of these rollers to start the training.
Unlike the other type of bike trainer, which is attached to the bike frame so riders can pedal at ease while catching up to their favorite series on TV, riding a bike roller requires lots of riders' attention and balance to ensure they do not fall to the ground.
Novice cyclists usually start using the rollers by placing them in a hallway or door frame to get support from the nearby wall in case falling happens. While riding on a bike roller, you will have to remove any sharp objects away from your bike roller, and a beginner is advised to wear a helmet to avoid head injury just in case you lose balance and fall to the ground.
Type of Bike Rollers
Before you decide to purchase any indoor bike rollers, it will be best to familiarize yourself and get to know these three types of bike rollers which being:
Conical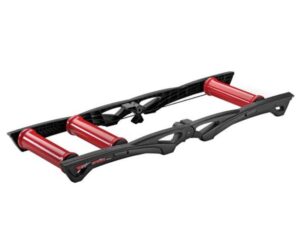 This type of bike roller is said to be the most rider-friendly with the slightly conical shape, which is wider on the roller side and skinnier in the middle, making it easier for riders to direct the tire to the center of the roller and keep it there, helping to assist newbie rider to have better control over the slick road bike tire while staying upright on the roller.
Flat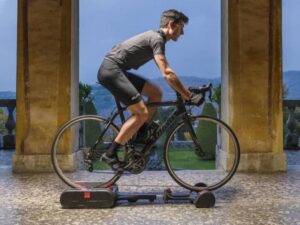 This type of roller is smooth and flat with the same width across the entire surface of the rollers. Since the flat bike rollers do not assist in keeping the bike centered and wobble-free, unlike the conical type, hence, before you decide to invest in this type of roller, when looking at the recommendation page of bike rollers for sale, you will have to ensure you get a little bit of riding skill.
Electronic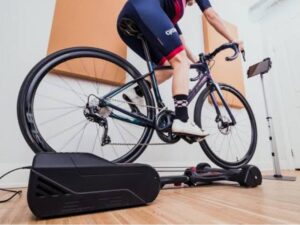 Are you looking for a bike roller with resistance that can change at different levels in response to your change of pace? If your answer is "yes," you might consider getting this electronic roller.
Physically, electronic rollers look the same as other types of rollers, except electronic rollers are intuitive and can communicate with training apps to help you customize your riding experience. One of the best smart bike rollers or electronic roller features is they can absorb the sudden change in movement and allow a quick stop to prevent riders from falling.
Benefits of a Bike Rollers
Some people who have already gotten used to outdoor riding might frown upon the idea of indoor riding. But the truth is, indoor bike training can also bring a lot of benefits, for example:
Help to Build Skills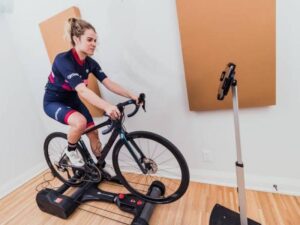 Riding on the bike rollers can be equally challenging as riding outdoors. Riders must acknowledge how to distribute their weight while controlling the pedal pressure and accurately predict how much weight should be channeled to the handlebar. Hence, training on bike rollers is a great option to develop cyclists' riding skills and guide riders to ride better on-road.
Workout Flexibility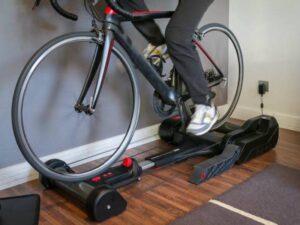 As we have mentioned earlier, the weather outside is not always sunny and great for a ride. Besides, the hectic schedule of your daily life might not match your scheduled outdoor riding session. But by getting a roller trainer as one of your valuable possessions, you will not have to worry about missing a day of your routine bike riding exercises.
You only need to set up the roller, put your bike on top of it, and then hop on and start pedaling. Daily exercise can be done everywhere, anytime, in the comfort of your home.
Portability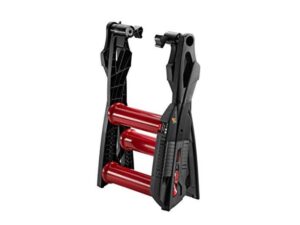 Most bike rollers are lightweight and foldable, so even if you have limited space in your apartment, you can still own a bike roller. Take out and set up the rollers when you want to exercise, then fold and store them in the corner of your room when you are not using them. You can even bring it along during your trip only by tucking the bike roller into your car trunk.
Conclusion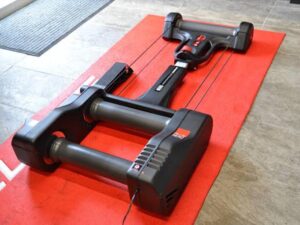 Investing in a bike roller should be one of the best decisions, especially if you care a lot about your daily exercise record. Besides, a bike roller is also a great help for beginners to train and improve their bike handling skills before hitting the road with lots of disturbances like traffic lights and passersby.
While there are plenty of bike rollers DIY on the internet that seems to be a great substitute, we still recommend getting an actual bike roller for better safety and a more realistic on-road riding experience. If you are under tight budget control, you can still get the best budget bike rollers at a high-performing quality if you visit Rodalink.
Rodalink is an official distributor of Polygon bikes that also offers varieties of bikes, parts, apparels, and accessories from the world's renowned brands. One of the best bike rollers Polygon you can consider for your investment is Elite Nero.
Nero is the top-interactive roller that will give you the most realistic riding experience. Nero merges the innovation of a Quick Motion and the interactivity of Arion Digital Smart B+, offering excellent technical performance with an appealing look which lists Nero as one of the best bike rollers Polygon Singapore that you should never miss.
Stop calculating and get your best budget bike rollers today at Rodalink. You can submit an online free registration to become part of the Rodalink members' community and get special offers and deals for every purchase. You can also buy the bike roller now and pay for it later by choosing Shop Back as your payment method with a 0% of interest charge.
You can also find another additional thing you might need for your indoor training activity, like a training mat, for example. Every accessories and any non-bikes purchased for SG$200 or above will be getting free service shipping. So what are you waiting for? Master your pedaling and bike skill starting from today and get the best roller only at Rodalink.
You Might Also Need