Gravel bike's popularity for being versatile on any route was not anything that a rider never heard of. Gravel bike was also known as the more upgraded version of road bike that can go on any surfaces. However, can gravel bikes go on trails? Is it safe? To find out more about that question on gravel bike, read the article below!
What are Gravel Bikes?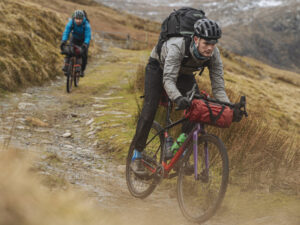 A recently developed subtype of hybrid bikes are gravel bikes. These drop-bar bikes travel much faster on roads than mountain bikes while offering a much better off-road experience than a road bike.
The adaptability of a gravel bike's user is one of its most distinctive features. Gravel bikes are useful for accomplishing both road bike and mountain bike feats because they sit in between a road bike and a mountain bike. Because of that, people keep comparing gravel bike vs mountain bike or with road bike, when all of them clearly has their own virtues.
Gravel bikes typically have a level of toughness and resilience that can withstand more challenging rides and adventures without sacrificing comfort.
The tyres on a gravel bike are one of its distinguishing characteristics that set it apart from the competition. Although the majority of gravel bikes use tyres that are 38mm or wider, gravel bikes must have tires that are at least 35mm wide. With these larger tires, cyclists can easily ride on fire roads, power line trails, farm tracks, and other more challenging terrain.
Advantages of Gravel Bikes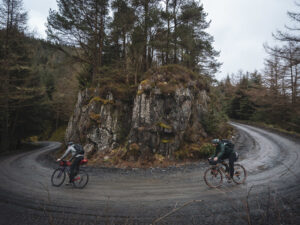 Gravel bikes can be used in a variety of exciting environments and terrains due to their toughness and stability, supporting even the most daring riders. A gravel bicycle can probably handle any environment.
They are suitable for use on paved roads as well as rocky gravel roads, off-roading trails, fire roads, and mountainous terrains with ease. They are excellent vehicles for enjoying rural and scenic settings to take in the beauty of natural landscapes because they are also good for long-distance rides.
Gravel bikes are a jack-of-all-trades type of bicycle, similar to hybrid bikes. With their wider tires and emphasis on going as quickly as possible, gravel bikes are slightly more suited to off-road trail riding.
It is attempting to know the typical gravel bike rider because this style of bike suits a wide range of cyclists with various needs and abilities. Since these bikes' versatility is one of their defining characteristics, riders of gravel bikes can also be quite versatile.
Gravel bikes are unquestionably the way to go for cyclists who don't want to feel pressured into making a bike purchase. These bikes can easily handle a variety of environments, making it simple to get started in a variety of biking events. This is the bike for you if you're a beginner who wants to try both traditional road biking and off-road biking.
Gravel bikes are beloved by those who enjoy bikepacking and multi-day cycling excursions. This is so that riders can use these bikes on any type of road without worrying about damaging or degrading their tyres.
Having a gravel bike at their disposal can also be helpful for commuters who live in densely populated cities. It's incredibly convenient to have one bike that can handle a variety of terrains where space in cities is at a premium. If you are one of those bikers, you can try to look for the best gravel bikes, since you are most likely in needs for one.
Can Gravel Bikes Go On Trails?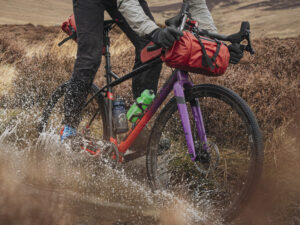 There are a lot of bikers who are questioning about can people riding mountain bike on gravel, or about drop bar mtb vs gravel bike, and how is the ride of gravel bike on mtb trails, since gravel bikes are popular for being good in any tracks they are facing.
Can gravel bikes go on trails? Gravel bikes are designed for use on a variety of surfaces, including trails. Gravel bikes are made for a more supple ride when compared to other bike models; this is true whether the trail is made of gravel, dirt, or mountainous terrain.
However, gravel bike limits may comes when talking about riding on trails. Although they are slower than most road bikes on the road, such as gravel bike on singletrack, they have trouble keeping up with mountain bikes on the trails. They are the kind of bike that strikes a nice balance. Allowing you to ride just one bike and experience both.
In fact, some gravel bikes are good enough to pass for mountain bikes. But it's crucial to keep in mind that not all gravel bikes can.
The majority of gravel bikes on the market have tires between 45 and 50 cm in diameter, which is insufficient for tearing up your local mountain bike trails. Combined with the lack of flexibility offered by tires with higher volume. Additionally, some gravel bikes have geometry that is perfect. Some attempt to mimic a slightly more adaptable road bike.
However, you can use a gravel bike as a mountain bike if you find the best one. Even some bikes that are marketed as "drop bar mountain bikes" are really just gravel bikes with a larger tire clearance and mountain bike geometry that only has drop bars instead of flats. Thus, if you find them, they can absolutely rock off any tracks, including trails.
Conclusion
Gravel bike might be the most versatile bike out there, but they are obviously not the perfect one to ride on every tracks. However, if you find the right one that have the best features to support any tracks, including mountain and trails, you totally got the perfect bike! If you are wondering where to get your gravel bike Singapore, you can get it from Rodalink!
Rodalink offers a load variety of bikes, including Polygon gravel bike, or even Marin gravel bike. Rodalink also provides other riding needs, such as accessories, jersey, bike pants, eyewear or sunglasses, bike gloves, socks, and shoes. You can get all of that at the best price and guaranteed original.
You might also think about joining the Rodalink community to receive better discounts and offers. Rodalink can be your dependable cycling partner as you live out your adventurous riding dream right now!
Find Your Best Gravel Bike Now!