The purpose of owning a bike might be different from one person to another. Whatever your purpose is, it is still valid to own any bike that support your main activity to have that bike. If you are looking for a bike only for daily commuting on short rides in the city, you may consider getting a city bike with basket! This article will help you to find out more about city bike and why you should consider bicycle with basket for adults!
What is a City Bike?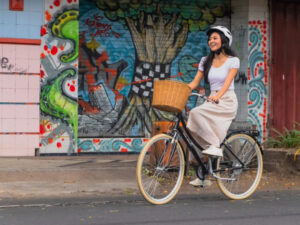 Looking for the best bike to ride if you are living in an urban environment might be a challenging work to do. That is why city bike is invented! A city bike, also known as a utility bike, is a type of bike that is primarily used for trips in cities. City bikes are designed with comfort and practicality in mind, allowing the rider to sit up straight rather than bent forward, as on road bikes.
City bikes are designed for people who want to commute or accomplish daily tasks with ease. They have flat handlebars and almost all models have mudguards, chain guards, lights, and incorporated pannier racks for belongings or shopping.
City bikes are designed to be low-maintenance, get the rider from one point to another quickly, and be easy to control while cycling. While city bikes are primarily intended for use on paved streets and asphalt surfaces. They're ideal for gentle bicycle trails and paths, as well as calm rides in nature with your loved ones!
Whereas traditional city bike designs had little gearing, modern urban designs have efficient drivetrains and a wide range of gearing to prepare riders for even the most hilly city streets.
There is no one type of commuter or commuter bike, just like there is no one type of commuter or commuter. A typical city bike used to have upright geometry, flat pedals, very little gearing, slim tires, and a comfortable seat. However, the category is expanding due to new technology and a larger desire to live a two-wheeled lifestyle.
Explore More City Bike at Rodalink Now
Why Should You Consider a Bike with a Basket?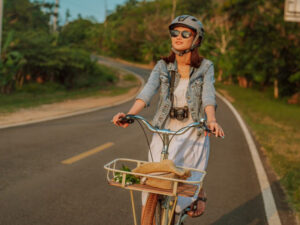 In movies or any entertainment you watch, you may often seen characters that live in the city owned a bike with basket that they mostly use to run some errands to the nearest market. That bike is what it is called as city bike with basket that helps people to fulfill their daily needs of errands.
City bikes are ideal for people who live in cities and want to commute without pressure or exhaustion. A city bike is a great choice if you prefer to travel conveniently to your destination over speed or off-roading capability. A city bike will function you well if you don't take cycling seriously and don't want to advance it in a fierce competition.
City bikes can be outfitted with a variety of fashionable and functional accessories. From locks and tools to lights, baskets, and child bike seats, they have it all. However, basket might be the most popular items that is associated with city bike.
It is due to the popularity of vintage bike with basket, especially bike with basket ladies, that is often seen in historical movies or pictures. City bikes have evolved alongside bicycles as their components have improved over time. Thus, not only vintage city bike that is popular, modern city bike with basket also seems to create it's own fuss over the years.
City bikes are designed to provide commuters and city voyagers with everything they need to avoid traffic and public transportation. They are dependable, stylish, and useful.
Bike racks for carrying bike bags or buying groceries and mudguards for dealing with inclement weather are common features of city bikes. They ensure an upturned riding position with flat style handlebars, allowing the rider to feel comfortable and safe navigating urban areas. City bikes are built to withstand the rigors of urban riding, with an emphasis on reliability over weight.
City bikes serve several functions which could be used for a variety of journeys. Some people use it as a commuter bike, and others use it to go to the market, explore the city, or merely get some evening workout in the park.
If you are wondering why you need to consider having a city bike with basket is obviously because it is practical if you need it only for daily use. Riding a city bike with basket on it is much easier than riding a specific bike, such as road bike or hybrid bike, since the purpose of city bike is only for daily use.
The basket on the bike will surely helps you to bring your groceries from the market to your place. Imagine if you are buying your monthly supplies and did not own a city bike with basket, you need to bring those heavy groceries yourself while walking to your place. If you own a city bike, everything will be done faster and easier!
City bikes with basket are also goods for aestethic purpose. You will looks way better if you are going around the cities riding a very cute city bike with basket on it. You will looks exactly like those movie characters that you often watch, busy minding their own business while relieving their stress by biking.
Why Rodalink?
City bike is a perfect solution if you are looking for a bike to support your daily life. If you are often troubled with your heavy groceries, getting city bike with basket is the perfect move for you! Moreover, city bike with basket also often comes with a very aestethically pleasing designs. If you really want to own one and you live in Singapore, you can order it from Rodalink!
Rodalink offers a large variety of bikes, including Polygon city bike with basket and cute designs. Rodalink also provides other riding needs, such as accessories, jersey, bike pants, eyewear, bike gloves, and socks. You can get all of that at the best price and guaranteed original.
You might also think about joining the Rodalink community to receive better discounts and offers. Rodalink can be your dependable cycling partner as you live out your adventurous riding dream right now!