Cycling has many health benefits, proven through many studies and research—one of the most direct cycling benefits for legs. Whether you are aiming to work on building up your thigh muscle or want to prevent yourself from getting overly muscular legs, you may find this article informative for you to plan your workout routine.
4 Cycling Benefits for Legs
While cycling is a whole-body workout, it primarily benefits the leg muscles the most. Here are some cycling benefits for legs you should know:
Cycling Help to Sculpt Muscles Faster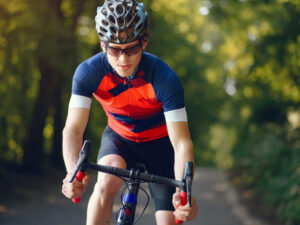 Do you wish to get a perfectly toned and sculpted leg muscle? If your answer is a 'yes,' you have one reason to hop on your bike now and start cycling. Bike exercise is one of the best ways to help you get your legs in shape and quickly tone them up. The easy way is by pedaling faster.
While we can't be sure about how long does it take to build leg muscle cycling, a routine cycling exercise will let you achieve this goal faster.
Cycling Will Help You Get a Greater Leg Strength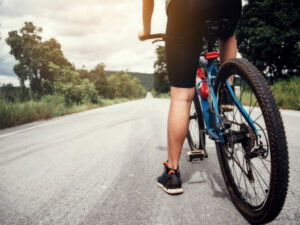 A combination of low cadence (pedal rotation pace) and high resistance workout is excellent in helping cyclists increase their leg strength. According to an article published by Applied Physiology, Nutrition, and Metabolism in February 2016, a cadence utility below 80 revolutions per minute can help to improve leg strength.
The rider can focus on using a bike with gear that can provide this considerable resistance, such as an 18-speed bike set in high fourth gear or lower, depending on their fitness level. For a better result, riders can incorporate weightlifting exercises like squatting, lunging, or leg pressing into their workout regime a few times a week.
Cycling Help to Lowering Joints Stress and Preventing Osteoarthritis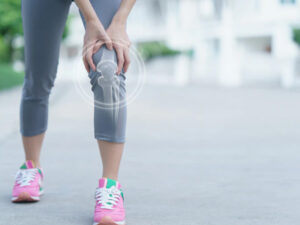 Cycling is common to be part of treatment methods for rehabilitation of knees or other joints related injuries caused by high-impacted exercise like running. By cycling, you can work on your muscles without too much stress.
Besides, studies report that women are twice times riskier of being diagnosed with osteoarthritis than men. One of the cycling benefits for ladies is reducing the risk of osteoarthritis since it is a low-impact exercise limiting stress on weight-bearing joints like the hips, knees, and feet. Aside from this, cycling movement can help to lubricate the joints, which reduces pain and stiffness.
Cycling is Effective in Tone Up Quadriceps Muscles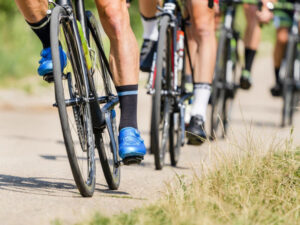 If riders want to get the bike moving, they need to put down pressure on the pedal with the power released through the knee and hip. This action will need the help of other muscles like the quads and glutes, along with the calf and hamstrings, which means that cycling is considered the best method to get riders' thigh muscles toned up and keep them in shape with minimum effort that won't overstress the joints.
3 Tips For Focussing on Your Legs Through Cycling
Some people—especially those considering cycling— will probably be concerned about the effect of cycling on body shape as they are afraid of getting an overly muscular leg that doesn't seem proportional to the upper body figure.
Cycling on Sprints and Hills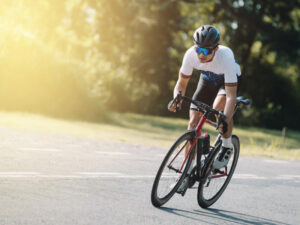 Riding around the hills and sprints area will build muscle and train your strength during cycling. Hill riding also offers the best exercise for toned-up arms and legs. If riders often sprint by their bike over the hill area, they will have a higher chance of developing the best quads over time.
Ride Indoor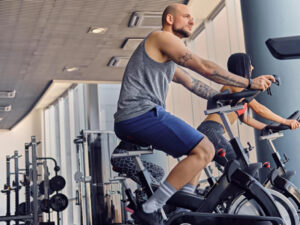 Whether you wish to know the cycling benefits for males and females, you won't find a relatable answer if you are not consistent with your workout. But again, not everyone has the privilege to ride their bike every single day. Not to mention, the weather outside can sometimes become one of the reasons why keeping up with daily workout routines seems to be a far catch.
Hence, the innovation of indoor bike trainers is launched to allow riders to keep up with the daily training schedule without having to move from the comfort of their houses. The investment in an indoor bike trainer will make you less worried about how to squeeze out a little time to exercise or whether the rain is going to pour down anytime soon.
Toning Up Legs in Next Level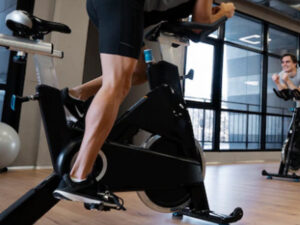 There are so many health benefits of cycling 15 minutes a day for cyclists. Remember that riding at a slow, steady, and long pace will help riders to burn fat and calories while replacing them with muscles, helping riders to get a better body composition and perfectly toned leg muscles.
Conclusion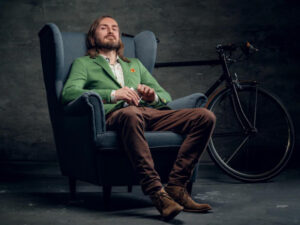 One of the biggest concerns—especially for women cyclists— is the effect of cycling on body shape females, worried that they might accidentally get a giant-sized leg muscle that makes their body far from proportional.
The good thing is that while cycling helps to build up your leg muscles, it still won't overbuild them. If female cyclists wish to get a more muscular body figure, they are advised to consume more protein and synthesize them into muscle cells. In short, without this additional protein intake, the cycling legs before and after female is more likely to be less apparent than the male due to the difference in testosterone hormone levels.
If we compare the cycling benefits and disadvantages, the former still gets the upper hand, proving that it is a worthy exercise activity to practice. For a better result, you can consider combining indoor and outdoor cycling exercises. You only need to spare around 15 minutes daily to ride your bike, and you will see a change year later.
Ready to start your exercise by cycling? Get your needed gearing only at a trusted dealer like Rodalink. Rodalink will provide you with a wide range of bikes, accessories, parts, and even apparel for indoor and outdoor cycling, all in the best-performing quality from renowned brands.
Besides, Rodalink is the only official dealer to ensure customers get their bikes delivered in ready-to-ride form, a beneficial service, especially for a beginner. In addition, Rodalink is partnering with Shop Back, allowing their customers to purchase with a pay later system for 0% of installment fee charges which is pretty helpful for people that need to control their spending budget.
Stop waiting for a healthier lifestyle and fun muscle-building practice, and start cycling with Rodalink.
Complete Your Cycling, Get This Free Shipping!