Starting to get into cycling is always thrilling! You might always wanted to have everything prepared for your cycling, so you can get your best experiences out of it. One of biking items that you might want to have is cycling shoes, since it will support your cycling, especially when you ride them for specific trails. Here are what you need to know about cycling shoes, road cycling shoes, and best cycling shoes for beginners!
Cycling Shoes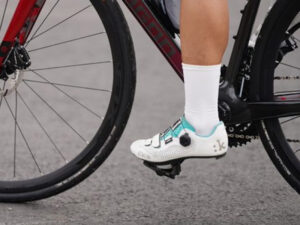 Cycling shoes are any shoes that you wear while riding your bike. Almost everyone starts out riding in their sneakers, but if you find yourself going on longer rides or training for events, you'll want to look into cycling shoes. Cycling shoes are designed specially for the sport, and they can enhance your performance and your overall biking experience, whether you ride inside or outside.
Cycling shoes will allow you to stay comfortable and perform well on your bike. Cycling shoes are classified into two types: flat-pedal shoes, that have flat soles like sneakers but also have some cycling-specific features, and clip-in shoes, which clip directly into your pedals. Flat-soled and clipless shoes come in a variety of styles for various types of riding, such as road riding, mountain biking, and spinning.
There are several types of shoes for specific bike riding. The first one is mountain bike shoes. Mountain bike shoes are typically designed with grippy soles to provide extra traction on rough trails. Shoes that insert into clipless pedals have two-hole cleats recessed into the sole, making walking easier; shoes that operate with flat pedals have a sticky rubber sole but no outsoles.
There is also casual bike shoes. These look like sneakers and are a great choice for leisure riders or commuters who want a number of the features of bike shoes but prefer more comfy, stylish kicks. Casual bike shoes that collaborate with clipless pedals have recessed cleats that make walking easier.
Road Cycling Shoes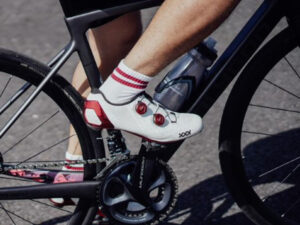 Another type of cycling shoes is road cycling shoes. Road cycling shoes, that feature the stiffest soles and use three-hole protruding cleats to connect shoes to clipless pedals, may be preferred by cyclists seeking maximum pedaling efficiency. They have little tread and are not intended for long walks.
Because they have the stiffest soles and the widest cleats, road bike shoes provide the best power transfer. They are typically compliant with a 3-bolt cleat and pedal setup, and they are difficult to walk in due to the exposed cleats that stick out from the sole. If you ride on the road and don't spend a lot of time on your feet when you're not pedaling, road bike shoes are for you. Triathletes also use this type of cycling shoe.
Best Cycling Shoes
Whenever you are planning to get your first items of everything, you must always wanted them to be the best. If you are planning on getting your first cycling shoes, here are some recommended products so you can get the best experience using it!
Shimano RC902 Wide Fit Road Competition Bike Shoes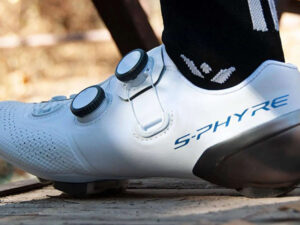 The first recommendation comes from road bike shoes. Shimano has taken the bold step of changing the fit, with a narrower forefoot area and a new '360-degree Surround Wrapping' upper in its third generation. The materials and building used lend a high-quality feel in the hand and on the foot, and with four available colors (white, black, red, and blue), the S-Phyre RC902 shoe definitely has the glittery factor to match its hefty price tag.
Shimano's original Shimano S-Phyre RC902 road shoes were the lightest shoes the company had ever made. It not only had a new fit, but it was also stiffer than earlier models and featured Boa dial retention.
Get Shimano RC902 Road Bike Shoes Now!
Shimano SH-AM903 Enduro Bike Shoes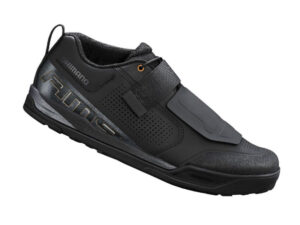 The next recommendation comes from mountain cycling shoes, Shimano SH-AM903 Enduro Bike Shoes. Shimano is best known for their high-quality mountain bike elements, but their shoe lineup is equally impressive, ranging from lighter weight XC models to muscly enduro and even e-bike-specific designs.
The Shimano AM903 is designed for downhill and enduro riding, so it's not surprising that the shoes felt stiff and sturdy right out of the box. On the plus side, they began to break in and soften after only a few rides, and overall comfort has improved significantly since then. The single-pull speed-lacing system on the Shimano AM903 is designed to allow for faster and easier adjustments on the trail.
Get Shimano AM903 Enduro Mountain Bike Shoes Now!
Shimano SH-ME702 Wide Fit Trail Enduro Bike Shoes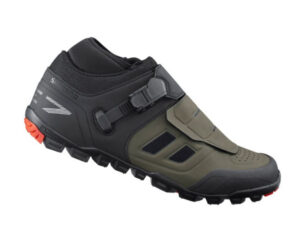 The last one is a gravel riding shoes. In terms of gravitational pull trail action, the Shimano ME7 shoes remain unrivaled. These are ideal for enduro because they provide efficient pedaling while remaining extremely comfortable.
Shimano's top-of-the-line trail/enduro shoe, the ME7, is designed to meet the requirements of riders looking for something stiff and comfortable enough to wear for hours on end while also offering traction for traipsing over unrideable trail sections. The ME7 is available in sizes 38-48 and weighs around 455 grams for a size 45, putting it on the lighter end of a spectrum for such a style of shoe.
Get Shimano ME702 Trail Enduro Mountain Bike Shoes Now!
Conclusion
Cycling shoes may hold a different importance for different riders. However, if you are planning to get one, you may look for the recommendations on this list. If you have decided to get one of them, or if you are looking for another cycling shoes Singapore, you can order it from Rodalink!
Rodalink offers a large variety of bikes, including it's cycling shoes. You can get the original Shimano cycling shoes, along with other brands, and also many types of cycling shoes here! Rodalink also provides other riding needs, such as accessories, jersey, bike pants, sunglasses, bike gloves, and socks. You can get all of that at the best price and guaranteed original.
You might also think about joining the Rodalink community to receive better discounts and offers. Rodalink can be your dependable cycling partner as you live out your adventurous riding dream right now!