With the rise in popularity of gravel bikes, more people have started to acknowledge and enjoy the fun of riding through a beaten path, leading to many bike manufacturers innovating a flat bar gravel bike instead of the standard gravel bike with a drop handlebar.
But does a flat bar gravel bike offer better performance than the drop handlebar gravel bike? Between flat bar gravel bike vs hybrid, which one is more worth the investment, and how do both differ? Find out your answer through this article.
What is a Flat Bar Gravel Bike?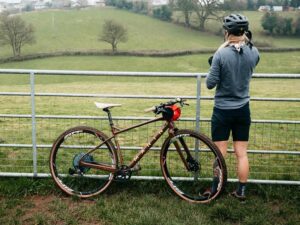 Think of a standard gravel bike that we are familiar with, except the handling is now flat instead of drop handlebars. Since the invention of this variant of a gravel bike, it has been a discussion topic among cyclists. There are lots of people who argue that a flat bar gravel bike is just another hybrid bike, while some others disagree.
In response to these arguments, flat bar gravel bikes will maintain a longer wheelbase and a slack head angle with a more progressive geometry that aims to support fast and aggressive riding. The wider bars offer better handling over the bike, which becomes a factor that riders look forward to when hurtling down the off-road trails.
Moreover, a hybrid bike will usually use the 700c wheel, while the flat gravel bike will still stick to the 650b. But of course, the comparison to find out which is best between the flat bar gravel bike and the hybrid bike will depend on the rider's riding style and how they want their bike to perform.
Flat Bar Gravel Bike Pros and Cons
Before we head further to where you can find a flat bar gravel bike under $1000 in the market or whether or not there's a best flat bar gravel bike that worth your money, it will be fantastic to tell the pros and cons of this innovation, such as:
| | |
| --- | --- |
| Pros of Flat Bar Gravel Bike | Cons of Flat Bar Gravel Bike |
| Offering a more upright riding position that allows the rider to ride more comfortably for longer rides | Limited offer for hand position on the handlebar |
| Allowing better handling at rougher and more technical terrain | Less aerodynamic efficiency on faster speed, the upright position makes cutting through the wind not as smooth |
| More space to mount bike accessories like the bike light or cyclo-computers | Some people might find the flat bar gravel bike design is just like the old-school mountain bike |
To conclude, a flat bar gravel bike is more suitable for riders seeking a bike with an upright riding position for better comfort and improving off-road handling.
Reason Why You Should Use Flat Bar Gravel Bike
You have now gained insight into what differentiates the standard gravel bike, flat bar gravel bike, and hybrid bike. Before you start asking where to find flat bar gravel for sale, here is some reason why you should use a flat bar gravel bike:
Most flat bar gravel bikes come with additional steering luggage, allowing riders to get better control over the bike;
When operating the brake on the bumpy surface, you will have much more handgrip to keep you on the bike;
The flat bar grip tends to be durable and easier to maintain;
When you need to change or maintain the gear and brakes cable, a flat handlebar gives more straightforward access;
Flat bar gravel bikes give more space to mount bikepacking handlebar packs and accessories.
Conclusion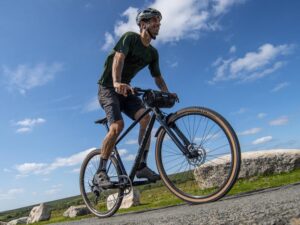 While some cyclists still find the invention of a flat bar gravel bike quite odd, it still represents the effort made by the industries to include a broader range of people in a new segment of riding.
Some groups even find the invention of the flat bar gravel bike better for them as it welcomes more riders into gravel cycling instead of consigning gravel bike owners only to boardwalks and bike paths. Besides, this invention made the flat bar adventure bike more realistic as it could allow riders to cover long distances on the road with a more comfortable riding position.
By the end of the day, the shape of a handlebar will not change the purpose of a gravel bike which is supposed to be a tradeoff between the off-road ability and efficiency of a road bike. But whether or not you need this type of gravel bike will be dependent on your personal preferences.
If you are looking for the best flat bar gravel bike, there will be plenty of options out there with various ranges of pricing, or you can visit Rodalink for a broader range of choices. Rodalink is an official distributor of Polygon bikes that also offers varieties of bikes from the world's renowned brands.
While there still is no specific Polygon flat bar gravel bike launched on the market, you can still take a look at their city bike collection, such as the Polygon Path 3, which is also supported by slightly raised flat bar handlebars and slacker head tube angle that offers a more comfortable riding position.
Polygon Path 3 combines the efficiency of a road bike with its specific commuter geometry, making it a perfect bike for social rides. The 3×9-speed Shimano Acera groupset is the type of groupset often used for entry-level cross-country mountain bikes, allowing riders to climb the long steep sections due to the lower gear and pedal down the fast descents on the higher gear.
Of course, if you need another type of bike, you can directly come to Rodalink's physical store at Jurong East and East Coast. Rodalink's professional team will assist you until you find the bike that perfectly fits your riding style and budget.
Aside from finding the perfect bike, you can also find the needed accessories, parts, and apparel to complete your cycling needs before hitting the road. For a more beneficial purchase, you can complete the free registration as Rodalink's community members and get the special deals as well as participate in the events that are exclusive for members only.
So what are you waiting for? Your riding journey will be fantastic if you start with Rodalink.
You Might Also Need