There are many kinds of bicycle handlebars, but two main types stand out from the rest: flat bars and drop bars. If you're new to biking, deciding between drop bars and flat bars can be tricky. Both types of handlebars perform different functions on a bike, but both are fantastic in their own way!
Therefore, it's important to find a bike that strikes the balance between comfort when commuting and speed. Flat bar bikes and drop bar bikes are similar in many ways, but they also have some key differences. In this guide, we'll talk about how these two styles of bikes compare so that you can make an informed decision when choosing between them.
What Is Flat Bar?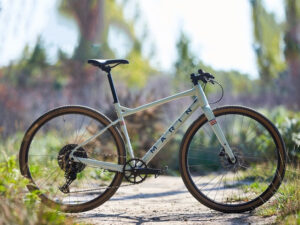 Flat handlebars, as their name suggests, are a type of bicycle bar that has a flat design. Unlike curved or riser bars, they don't curve in all directions—but they can have slight angles for added comfort while riding. Flat handlebars are perfect for riding in big cities, great if you want to ride short distances for fun—and comfortable too. Overall they're one of the best choices when it comes to handlebars. Some examples of the types of bicycles that have flat bar handlebars are city bikes and hybrid bikes.
The flat bar has a more basic design. The flat bar provides only one position and puts you in an upright stance, which is more comfortable. This position, which requires a bit of flexibility and is more suitable for carrying a backpack, offers less versatility because it only has one hand position. Flat bar bikes offer a more relaxed and upright riding position for short urban trips. They are easier to control around obstacles than drop bars, because of the wide flat handlebar. With no obstructions in front of you, it's much more stable on bumpy roads.
What Is Drop Bar?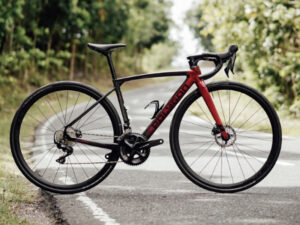 Drop handlebars are more suitable for high-speed, long-distance cycling. The drop design gives riders leverage over the front wheel and provides greater control than other types of handlebars when riding on rough terrain. The curved design that wraps around each edge of the board curves forward and down first, then back toward the rider's stance. Some examples of types of bicycles that have drop bar handlebars are road bikes and gravel bikes.
The drop bar has a more sophisticated design with three different ways to grab it: the hood, drip, and top positions. Drop bars are built for speed and offer greater aerodynamics. They put you in a more horizontal body position, which allows you to ride at faster speeds with less effort from your upper body muscles. Drop bars require more flexibility than flat ones—which is why they're typically used by experienced riders. Drop bars put you in a more aerodynamic position, which makes them better suited for high-speed riding than straight flat handlebars. Drop bars are great for high-speed cornering because they allow you to lean your body in the direction of a turn. They also give you more control over steering and provide better stability when riding fast.
Flat Bar vs Drop Bar: Comfort, Speed, and Ease
After knowing what a flat bar and a drop bar are, it's time to discuss the advantages and disadvantages of each. First let's breakdown the advantages and disadvantages of Flat Bars:
Flat bars provide better control because they are wider.
Easy to steer and generally good for off-road driving.
Flat bar components are affordable and easily available.
Replacing flat bar cables is much easier due to their simple construction.
The flat bar makes easy accessibility to the brake lever.
Flat bars have more space to put up your stuff, mirrors, lights, and more.
The upright position also provides better visibility of what's ahead.
The nice flat bar for new cyclists.
Disadvantages of Flat Bars:
The flat bar has one option for hand position.
Flat bars do not offer good rider aerodynamics.
It's harder to get through small gaps because the flat bars are wider.
Flat bars are not very efficient because the upright position causes a lot of drag.
Flat bars do not allow you to travel at high speed.
Next, let's also talk about the advantages and disadvantages of Drop Bars:
The drop bar provides multiple hand positions for comfort and versatility.
Drop bars give you more aerodynamics.
Drop bars can fit in tight spaces allowing you to squeeze between traffic.
This will allow you to ride faster with less energy.
Drop bars provide more speed and range.
Disadvantages of Drop Bars:
Difficult to access the brake lever on the drop bar.
It takes a lot of effort to control the drop bar.
Drop bar components are often more fragile than those found on drop bar bikes.
Part of the drop bar is harder to find.
It's more difficult to replace the shift cable and brake cable than a drop bar.
A drop bar has less space to attach other accessories to the handle.
Drop bars do not provide good visibility.
This type of handlebar is not suitable for off-road riding.
Now to make it easier, let's see Flat Bar vs Drop Bar in terms of comfort, speed and ease through the table below:
| | Flat Bar | Drop Bar |
| --- | --- | --- |
| Comfort | Upright sitting position so that it is more comfortable. | Drop bars will put you in a more horizontal, less comfortable position. |
| Speed | Less aerodynamic because the flat bar does not allow you to take an aerodynamic posture. | Drop bars are more suitable for higher speed riding as they allow you to go lower, and improve aerodynamics. |
| Ease | It's easier to control the bike, perfect for new cyclists. | Takes a lot of effort to control, hard to access the brake levers. Suitable for professional cyclists. |
Conclusion
If you're looking for a bike to ride on leisurely rides around town or go on weekend trips, consider getting a flat bar. If instead, you want something that will help build up your strength and endurance during hill training sessions, then a drop bar might be the best option. If you're new to cycling, consider a bike with flat handlebars. But if speed and distance are important factors for your commute, go with a drop bar model—they're built specifically for long rides that get the blood pumping. Now that you have read about each of the two different types of drop bars, it is your decision as to which one will work best for you!
If you live in Singapore and have been looking for "bike shop or bike shop near me" lately, or looking for a city or hybrid bikes with flat bars, or road and gravel bikes with drop bars, in Singapore, you can visit the Rodalink Singapore website. Rodalink provides quality flat bar or drop bar bikes from brands that are already trusted. Don't worry, you can find various promos at Rodalink, starting from OCBC Installment 0%, Free Delivery, and Shopback it, Pay Later program, to different ongoing promos that you can check directly on the Rodalink website. Not only that, you can also get various benefits by joining Rodalink Singapore members. What are you waiting for, let's start your cycling journey with Rodalink Singapore!
Explore More Bikes at Rodalink.com