One of the biggest dilemmas for riders is choosing which type of bike they will invest in. It will be much easier if you are only interested in one riding style, but what if you are interested in road and mountain biking all at once? You might want to try looking for a hybrid bike that combines the design of a mountain, road, and touring bike features.
Surprisingly, there are various types of hybrid bikes, too. If you want to know which one is the best hybrid bike that is suitable for your riding style, you might want to read this article and find your answer through it. Without extending the introduction, here is the information you need.
What is a Hybrid Bike?
The hybrid bike is a type of bike that mixes the features of a road bike and mountain bike. A hybrid bike has a fast-rolling 700c wheel with a flat handlebar often found in mountain bikes. When riding on a hybrid bike, riders can have a more upright riding position. The larger tire volume offers more comfort for the riders.
The overall machine found in a hybrid bike is more similar to a mountain bike than a road bike. Some of the hybrid bikes might also come with full mudguards or pannier racks that are often found in touring bikes. The hybrid bike is suitable for riders who enjoy adventurous riding on a light trail and riding a bike for commuting.
Type of Hybrid Bike
Generally, there are three types of the hybrid bike, being:
Traditional Hybrid Bike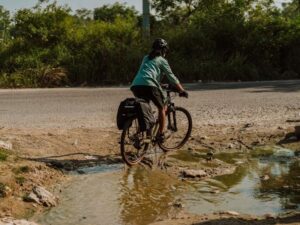 Just as the name suggests, this type of hybrid bike has traditionally styled frames that sometimes include a steep-through top tube that make it easier for mounting. This type of hybrid bike gives riders an upright riding position making it an excellent choice for short trips and urban commuting.
The drawback of the traditional hybrid bike is that it doesn't come with handling and speed, which are often found on other types of hybrid bikes.
Sport and Leisure Hybrid Bike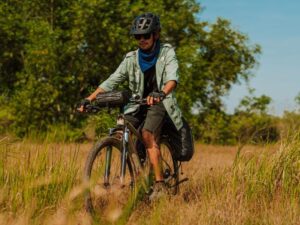 This type of hybrid bike is quite similar to the flat-handlebar road bike that has no longer been manufactured, except the sport and leisure hybrid bike usually comes with wider tires or suspension that allows riders to ride on rougher ground.
For the riding positions, the sport and leisure hybrid bike will have a more upright riding position than a road bike as well as sportier than the traditional hybrid bike, allowing the riders to travel faster.
Electronic Hybrid Bike
The electronic hybrid bike is suitable for riding on the roads but can also cope with off-road use, such as on canal paths and bridleways. Some might come with a suspension to absorb bumps when riding over the rough ground, while others might come with a rigid fork.
You might also find an electronic hybrid bike equipped with a mudguard, pannier rack, and built-in lights and lock. When riding on an electronic hybrid bike, riders can choose to either ride in a very upright or sportier position, depending on the rider's preferences.
Hybrid Bike Features
Before purchasing a hybrid bike, it will be best to find one that suits you best by considering your riding style. Aside from this, you might also familiarize yourself with the hybrid bike features and match the most suitable trait with your riding style. These are a few features you should know:
Bike Frame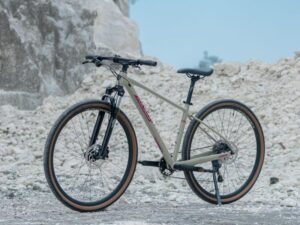 Generally, there are three types of material often used to build a bike, such as:
Carbon fiber: is the most flexible material that allows the designers to create frames with particular balance properties they wish, such as comfort, stiffness, and so on. This is also the lightest material to build a bike frame, except the price is quite pricey;
Aluminum alloy: more affordable than the carbon fiber material but also offers the lightweight and stiffness that will make a bike run fast and smooth on the road;
Steel: is considered the most robust and affordable material compared to alloy material but not as lightweight as alloy or carbon fiber material.
Suspension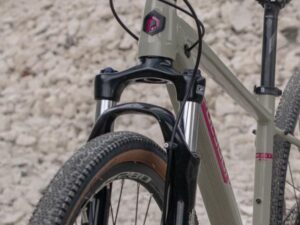 Some hybrid bikes will not come with a suspension, but Polygon hybrid bikes like the Heist X5, for example, come with an adjustable SR Suntour NVX fork with 63mm travel to help absorb impacts on the front wheel and smoothen the ride on rougher surfaces.
Wheel Size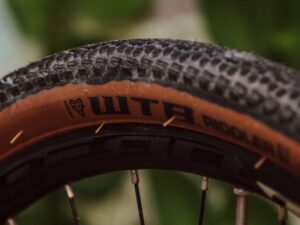 The standard of the hybrid bikes' wheel is the 700c wheel, while some might be coming with the 26-inches wheel that is slightly smaller compared to the 700c. But to be honest, riders should focus more on their riding style when choosing the best hybrid bike for the money instead of worrying too much about the wheel size.
Gear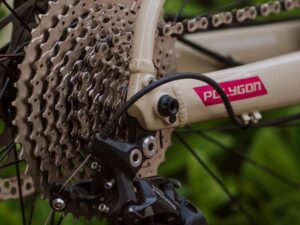 The number of gearing you need will depend on your fitness level and where you will be riding your bike. Riders who only ride through flat terrain can go for a lesser number of gearing combinations in comparison to riders who opt for hill riding.
A hybrid bike like the Polygon Heist X5 is a single-speed bike with a Shimano Deore groupset that is not only light in weight but also responsive to help riders ease the long ride.
Handlebar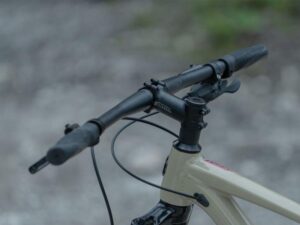 The hybrid bike will have a flat handlebar just like those found in mountain bikes. The seat set will be below the handlebars to offer more comfortable riding positions.
Brakes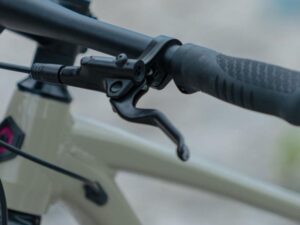 Some hybrid bikes might be equipped with rim brakes, if not disc brakes. As for the Polygon Heist X5 and Polygon Heist X7, both are coming with Shimano hydraulic disc brakes that allow their rider to stop the bike with a lower effort so riders can keep their focus more on the road and riding safety.
Conclusion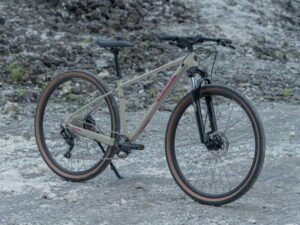 If you are the type of rider who often commutes using a bike but also wants to enjoy adventurous light-roads riding during the weekend, the hybrid bike will be the best investment.
Whether looking for the best hybrid bike for women or the hybrid bike for men, we recommend you take a look at Rodalink's bike collection. At Rodalink, you will find a wide range of bikes, accessories, parts, and apparels selection from the world's renowned brands.
Aside from that, Rodalink offers a high-performing bike equipped with top-tier components like the Shimano at a competitive price range which is guaranteed to be more affordable than other brands that provide the same features.
By purchasing through Rodalink, you will not have to learn how to assemble your bike parts by parts because Rodalink ensures that every bike purchase at their store will be delivered to the customer in a ready-to-ride form which by means, you can directly hit the road once your bike arrived on your doorstep.
You can also choose the buy it now and pay for it later by choosing Shop Back as your payment method for a 0% interest fee charge. So what are you waiting for? Visit Rodalink and grab the best hybrid bike that is suitable for your needs immediately.