Folding bike is one of the most popular kinds of bicycle that city people prefer to have. If you are familiar with folding bikes, you must have heard about foldable bike helmets. However, if this is your first time hearing about helmets for foldable bicycles, no worries! This article will help you to know about foldable bike helmets and whether it is worth it for you to own one of those foldable bike helmets!
What is a Foldable Bike Helmet?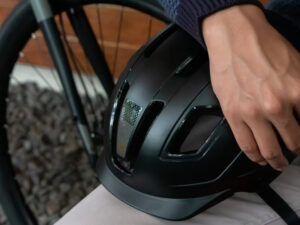 Folding bikes have evolved over the past two decades from being the cycling world's outcast to one of the most popular modes of transportation, particularly in larger cities.
Folding bicycles are made to be folded into a small size so they can be easily stored indoors and transported on public transportation or in cars with minimal effort, frequently even under people's desks during the workday.
Despite the fact that folded sizes vary from brand to brand, the majority of folding bikes can be folded down to a size that allows for a wide range of storage options. This has security benefits as well because you can keep them in your line of sight much easier than with a full-sized bicycle. People tend to look for the lightest folding bike for an easier ride and store.
Manufacturers of folding bikes offer the best solution for urban residents who live in studios or apartments with limited horizontal space. It can be safely stored at home by being folded. You can also bring it with you on buses or trains. It is designed to be used over flat, brief distances. Now, cyclists enjoy riding their folding bikes on mountain roads.
Following the popularity of folding bikes, there is one item that has also gained so much popularity over the years. That item is a foldable bike helmet.
Cycling safety is largely dependent on wearing a helmet. Without one, a bike accident could leave you with serious injuries, if not worse. Additionally, it is forbidden to ride a bike without a helmet in the majority of countries. Even in Singapore, it is mandatory to ride your bike with your helmet on.
Carrying a helmet around when not in use is one of the major obstacles faced by bikers. It's likely that you'll end up carrying the majority of helmets in your hands unless you have a very large bag that isn't already completely full. However, the nuisance for carrying a helmet is not comparable to the safety it has to offer for yourself, so it is better to carry around your helmet than getting yourself hurt in an accident.
A typical helmet is made up of two main components: a hard outer shell and a soft inner liner. The hard shell is intended to spread the force of an impact over a larger area, making your skull less likely to fracture, whereas the soft inner is intended to squeeze inward and absorb the impact energy, transmitting less of it to your head.
The best helmet is the one you're most likely to wear, not the one that looks cool. If it looks great but is uncomfortable or too hot to wear, you're less likely to keep it on your head, making it a waste of time. The most important considerations when purchasing a helmet are how much it fits your head, it's comfortability, it's air circulation, and whether it met the safety standard or not.
How to Choose the Right Foldable Bike Helmet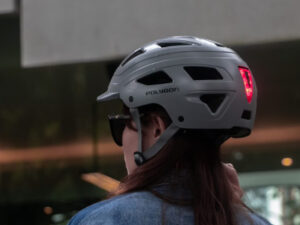 A good fit is essential when selecting a bike helmet because an ill-fitting cover can actually jeopardize effectiveness in a crash. You'll be having to wear it for every mile of every ride, so it should be comfortable. To find the correct size bike helmet, begin by trying to measure your head circumference, as helmet sizing is based on this.
Wrap an adaptable tape measure around the largest proportion of your head, place it about one inch above your brows to determine your head circumference. Alternatively, wrap a string all over your head and measure the length with a yardstick. Some brands provide an all-fits size, but mostly the sizing they use are ranging from extra small to extra large.
There are several types of helmet based on it's use. If you are going to use the helmet as your foldable bike helmet, you better go with the commuter helmet ones. It has come to refer to a helmet with a rounded shape, as opposed to the elongated road style. It usually has vents and is made of EPS foam covered by a thin plastic coating. It may include commuting accessories such as mirrors, winter ear flaps, and rear blinkers.
The perfect products you can get for your first ever foldable bike helmets are Abus Hyban 2.0 Urban Bike Helmet and Bell Daily Urban Bike Helmet. They are light, affordable, and offer the best quality of commuter helmet you can find on it's league.
The safety of a foldable bike helmet cannot be ruled out for fundamental reasons. The protective function, like that of all helmets, can only be guaranteed if the helmet has been approved by the Consumer Product Safety Commission (CPSC) for use as a standard bike helmet. The CPSC will place a sticker inside helmets that pass testing.
Choose The Right Foldable Bike Helmet Now!
Conclusion
Foldable helmet is the answer for you if you prefer riding a foldable bicycle, since both of them are compact and easy to store. If you are wondering about it's safety, most foldable helmets have passed the safety test and it is totally worth it for you to try to get one! For Singapore citizens, you can try to get your bike helmet from Rodalink!
Rodalink offers a large variety of bikes, including foldable bikes. Rodalink also provides other riding needs, such as accessories, child seat, bike tires, and apparel. You can get all of that at the best price and guaranteed original.
You might also think about joining the Rodalink community to receive better discounts and offers. Rodalink can be your dependable cycling partner as you live out your adventurous riding dream right now!
Discover Your Needs at Rodalink Now!