Riding a bike together with your child might help them to create a core memory that they will cherish even after they grew up. If you own a folding bike, you can try to do it by getting a folding bike with child seat. The folding bike seat will ensure your child's safety and improve their comfort. Here is what you need to know about it!
What is Folding Bike?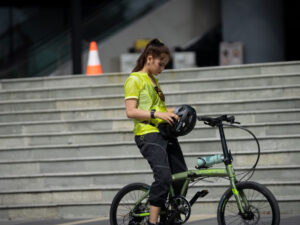 If you don't have much space at home and need a mode of transportation for city commuting and errands, folding bikes are a good option. Folding bikes are bicycles that fold into a compact manner and can be carried into buildings more easily. While folding bikes were initially conceived for short distances and flat roadways, many cycling enthusiasts use them for epic rides up mountain roads and bike touring over hundreds of kilometers.
Folding bikes are an excellent option for bimodal transportation because they can be easily transported while going to ride in buses, trains, cars, planes, and boats, which makes them a great choice for city dwellers and leisure travelers.
Folding bike frames are made up of several hinged parts rather than a single solid frame. Quick release clamps hold the frame together during assembly. They also have an adjustable post and lockable handlebars, and some may even have foldable pedals.
Loosening the clamps on the frame, seat post, and handlebars allows you to fold the bike when it's time to pack it. Each component clips into place, ensuring that the folded bike remains secure while in use.
Each folding bike has an a little different method, but they are all easy to use. Most will employ quick release clamps, which can be stiffened or loosened in a matter of seconds. With some training, you should be able to ride away in under a minute.
Can I Ride a Folding Bike with a Child Seat?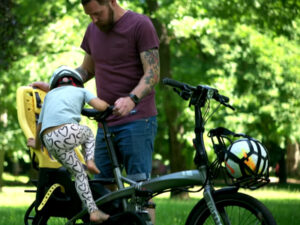 A child seat for your bike is one of the best things you can buy if you want to ride your bike with one child aged six months to four years. Just about all child seats are appropriate for children aged nine months to four years. The lower limit is determined by your child's ability to sit up unsupported – that is, just on ground rather than bolstered with cushions.
Thus, there must be no longer an questions about whether are child bike seats safe, since it's very own purpose to give is to provide safety for your child.
Children's bike seats attach to your bike and offer a convenient place for younger children to sit. This enables cyclists to transport a mini passenger for anything from a trip to school or preschool to recreational rides in the park. Children's bike seats can have a few safety features, such as high sides, seat belts or a harness, or sometimes footrests to keep tiny feet and legs nicely tucked in, in addition to providing a place to sit.
Child seat has been pretty common to attach on a bigger frame bike, such as city bike with child seat, but it is possible to attach child bike seat for small frame bike such as foldable bike? A child bike seat can be attached to a folding bike safely if the bike has a high weight limit, enough space for a child seat, and the correct type of child seat.
A folding bike's main appeal is its compact and lightweight structure, which makes it ideal for daily commute and tight storage. Unfortunately, this restricts what you can attach to your folding bike. This could be a serious issue for parents who want to bike with their children.
Bringing your child along on your folding bike is either impossible or extremely dangerous if it has a low weight capacity. Even the lightest of parents and their children will struggle to ride a standard folding bike. Even if your weight is 200 lbs (90 kg) or less than the capacity, there is not much room for extra weight.
However, these potential obstacles do not make it completely impossible, and the prospect warrants careful consideration before making a decision. There are things you need to consider before buying a folding bike and learning how to fit a child bike seat onto your bike, such as your weight, your child's weight, the seat's weight, and how much any other equipment needed weight.
How to Pick the Folding Bike with a Child Seat?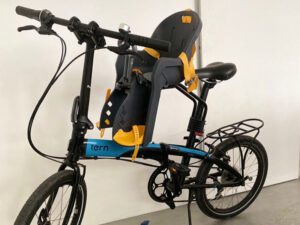 There are some ways to pick the best folding bike with child seat for your child. First, Due to the additional weight at the back, do not choose the lightest foldable bike. You don't want the front end of the bike to become too light and lift.
You also need to take into account the total capacity of the folding bike with child seat. Lastly, consider the design and type of the foldable bike.
Not all folding bikes can accommodate a toddler's bike seat. In general, these bikes are still quite low. The baby bicycle seat must be placed much higher than the wheel at the saddle level. This way, you'll have enough room to pedal while keeping your baby's feet safe.
You need to choose the right child seat to put onto your folding bike while considering the bike's weight, the child seat's weight, and also your child's weight. Make sure to calculate (weight) them thoroughly so you won't get into any trouble while riding your bike with your child.
Discover Bicycle Child Seat at Rodalink!
Conclusion
Installing a child seat onto your folding bike might not be the best choice, but it is still possible, even though you need to consider a lot of aspects. To get your best folding bike and child seat in Singapore, order it from Rodalink!
As the official distributor of Polygon folding bike Singapore, Rodalink also provides other riding needs, such as accessories, bike parts, helmet, bike tires, and apparel. You can get all of that at the best price and guaranteed original.
You might also think about joining the Rodalink community to receive better discounts and offers. Rodalink can be your dependable cycling partner as you live out your adventurous riding dream right now!
Discover Your Needs at Rodalink Now!