Cycling has become a physical activity that many people do. At some time, cycling has also become a trend that is widely practiced, because it is a good exercise for physical activity. Therefore, cleat shoes are presented as a complementary product. Well-made clipless pedals can make your ride more enjoyable by improving pedaling efficiency and power transfer at the same time their burly construction helps keep you in control over rough terrain—all while keeping your feet firmly planted on the ground!
Cycling cleats are safer and more comfortable than regular sneakers because they have been specifically designed for cycling. The special shoes and pedals allow you to ride in a more powerful, fast way that is impossible with normal footwear. Cyclists choose shoes with cleats for a more stable ride and precise cornering.
There are so many benefits of cycling shoes, including:
Using these shoes will make your cycling experience more comfortable and easier. If you get used to the cleats, you'll find that they allow for a better pedaling motion than normal sneakers—and are less harsh on your feet at the same time.
Cycling shoes that clamp down on the pedals make it easier to stabilize the bike, but in order to stop and unclip you will need more practice.
Cycling shoes with cleats offer greater control and stability than sneakers in wet conditions.
Wearing cycling shoes increases your power while pedaling, as the clip on the shoe puts you in a position that's optimal for pushing down on the pedal. You will also feel a "lift" as you ride because your shoes are attached to the pedals. All in all, this allows you to ride much faster!
After knowing what cleats are, how does the comparison between cycling wearing cleats vs regular shoes? Check it out below!
Cycling Cleat Shoes vs Regular Shoes?
While there are many benefits to using a bike with cleats, this doesn't mean that if you use sneakers, it's wrong. Sneakers for cycling may be more comfortable because they're detached (flexible) and easier on your feet.
Sneakers can be the best choice if you use a bicycle for low speed or short distances. But if your cycling experience involves some long-distance traveling—on hilly terrain or otherwise—bicycle shoes with cleats will enhance your pedaling efficiency and comfort. While this is true, clipless pedals can help you stop your feet from sliding around, which happens when pedaling at high cadences or sprinting.
If you choose to ride a bike with cleats instead of regular shoes, there are some things that you should keep in mind. First, cycling shoes require special pedals—you can't just mount any old set onto your bike and expect them to work properly. Second (and this is important), riding bikes with cleat-style pedals requires additional skill because you must always ensure your feet are positioned correctly on the pedal during each stroke so as not to lose momentum or fall off entirely. Before riding a bike with cleats, you must learn how to engage and release the pedals.
Then what about other sports shoes or sneakers that are used for cycling? The answer is yes.If you don't wear bicycle-specific shoes on the road, your pedaling effectiveness will suffer, and regular shoes may feel uncomfortable.
Cleat Shoe Type: SPD & SPD-SL
SPD Shoes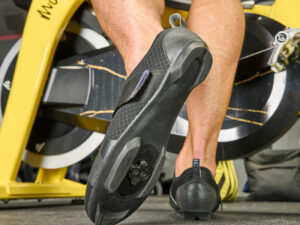 SPD pedals are more efficient than many other bike pedals and can provide an edge on hilly terrain or windy areas. Another reason to use SPD pedals is that they distribute your weight more evenly across the pedal, which helps reduce pressure on your feet if you are cycling for long periods.
Double-sided entry on SPD offers a secure connection between your shoe and the pedal, even when you're wearing cleats, which makes them easy to get in and out of. SPD pedals can be fitted to most shoes with two-bolt cleats. However, some newer models are now available that use three-bolt cleats and will offer a more secure connection between the shoe and pedal. SPD has mud-shedding, and it is very important when riding in wet and muddy conditions. Pedals that don't shed mud can leave your feet uncomfortable and cold during a ride. There are two main types of mud-shedding pedals: open and closed. Open designs allow mud to pass through the pedal body, while closed designs use sealed bearings and internal seals to keep it inside.
However, there are some drawbacks to using SPD pedals: they can be difficult to clip into if you're not used to them. Additionally, they don't offer as much float as other pedal designs, which means your feet can sometimes feel uncomfortable or sore after long rides. SPD pedals are great for many riders—but not for all!
SPD-DL Shoes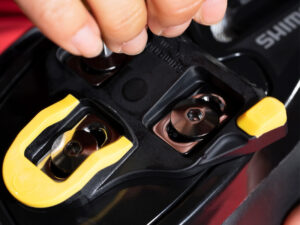 As one of the most commonly used pedals in competitive cycling, SPD-SL pedals offer excellent power transfer thanks to their large surface area. SPD-SL pedals offer a very stable platform that is perfect for sprinting, cornering, and riding out of the saddle. The stability also makes them ideal for racing—since every watt of your energy goes into propelling you forward! When racing, SPD-SL pedals are easy to get into and out of because they have a wide release angle that makes transitions quick.
SPD-SL pedals are more expensive than SPDs because they're made with better materials and construction, which results in a longer lifespan. Single-sided pedals with a wide platform are popular among road cyclists because they allow you to keep your foot close to the pedal for maximum efficiency. The SPD-SL pedal is called an eggbeater because of its four-sided design. The ease with which you can release your foot from the pedal makes it especially helpful for making quick stops during a ride. The SPD-SL pedals offer a more customizable fit by providing an adjustable toe float. You can adjust the tension on the pedal without taking off your shoe—making it easy to fine-tune the feel of this pedal.
The cons of SPD-SL shoes are some riders find them uncomfortable. Not as adjustable as float pedals. And can be difficult to clip in and out of if you're not used to them.
To make it easier for you to differentiate SPD and SPD-SL cleats, you can see the table below:
| | SPD | SPD-SL |
| --- | --- | --- |
| 1 | Double-sided Entry | Single-side Entry |
| 2 | Walkable Cleats | Bigger Pedal Platform |
| 3 | Mud-Shedding | Adjust Ability |
Conclusion
After reading this article, it will be easier for you to consider and decide which shoes you will use for your cycling activities. You can choose to use regular shoes or take your cycling skills to a more professional level using SPD or SPD-SL cleats cycling shoes. SPD pedals have a smaller platform and are typically used with mountain bikes or other off-road vehicles. On the other hand, SPD-SL pedals have a larger platform that is designed for road biking. No matter what is your cycling type and your choice of shoes, safety, and comfort come first, riders!
If you live in Singapore and have been looking for "bike shop or bike shop near me" lately, or looking for cycling shoes, like cleats shoes SPD or SPD-SL in Singapore, you can visit the Rodalink Singapore website. Rodalink provides quality cleats shoes from brands that are already trusted. Don't worry, you can find various promos at Rodalink, starting from OCBC Installment 0%, Free Delivery, and Shopback it, Pay Later program, to different ongoing promos that you can check directly on the Rodalink website. Not only that, you can also get various benefits by joining Rodalink Singapore members. What are you waiting for? Let's start your cycling journey with Rodalink Singapore!
Explore Cycling Shoes at Rodalink Now!