Unlike other bikes, a city bike is designed to be used in an urban setting. Comfortable and practical are two words that perfectly describe this type of bicycle: they come with flat handlebars so the rider can sit comfortably rather than hunching over them as on road bikes. City bikes use fewer gears than road or mountain bikes and often have features such as step-through frames, chain guards, and baskets. City bikes are designed to be used for transportation rather than athletics, so they require minimal maintenance and get riders from point A to B efficiently. They're also easy to control while cycling!
You can find out more about city bikes in this article: City Bike Singapore, Complete Guide to Buy Your First Bike!
Next, let's talk about one of the city's bicycle brands that has excellent quality, Marin City Bike!
What Is a Marin City Bike?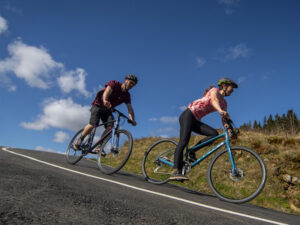 Marin has been making and selling bicycles for more than 30 years, and a series of exciting new bike launches have begun to raise Marin's profile in the cycling community. You'll find a variety of interesting, cool, and attractive options—from city to mountain bikes. In this article, we'll be discussing the city bike—one of many types of Marin bicycles.
Marin's hybrid, urban, and fitness bikes are popular with average people and enthusiast cyclists because they allow them to stay fit, commute daily, and ride more. There are several series or line-ups of Marin city bikes, let's talk about them one by one!
Marin City-Fitness Bikes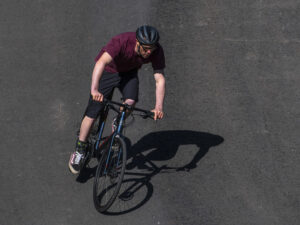 The Fairfax and Terra Linda line of fitness bikes offer the speed of a road bike with an upright riding position, making them perfect for meeting your weekly cycling goals. The Fairfax and Terra Linda bikes are equally suited to shorter after-work rides or longer weekend adventures.
All frames have disc brakes, which provide reliable stopping power in all conditions. And all models can be outfitted with racks and fenders for use as commuter bikes. These are affordable aluminum bikes with sleek tires and endurance geometry, which makes them a good choice for long-distance riding.
You can find Marin Fairfax 1,2 and 3 or Marin Terra Linda 2 and 3 on the Rodalink Singapore website.
Marin City-Urban Bike
In this lineup, there are several types of Marin city bikes—Presidio, Larkspur, and Muirwoods. These urban-oriented bicycles could just as easily get you to and from the daily grind as they would help you escape into nature on weekends.
Marin Muirwoods City Bike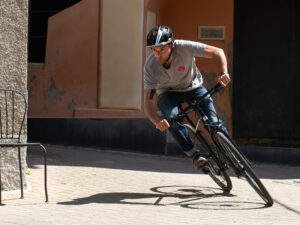 Muirwoods are happiest in the concrete jungle, jumping curbs or cutting through parks on their way to shops (or universities). Commuter bikes are designed to perform well on both the road and off it, with tires that can handle rough terrain. The Muirwoods' steel frame is made without any of the fancy hydroforming seen on its aluminum counterparts, but it's still just as handsome and functional. This bike is as sturdy and reliable as they come, making it a great choice for commuting to work.
This sturdy steel-frame bike, with its hydraulic disc brakes and 29-inch wheels, is a good friend that will support you through any challenge. The Muirwoods' triple ring crank (48/36/26) and 9-speed, 12-36t cassette give riders options while also helping to make almost any climb manageable. For tackling urban terrain, the bike comes equipped with slick tires and a flat bar that makes for more aggressive handling. A steel frame helps cushion the blow when you hit potholes or bunny-hop the curb.
Marin Presidio City Bike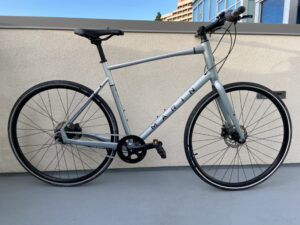 Presidio's components make for a very durable, long-term, low-maintenance commuter. The slider dropouts make chain tensioning easy, and internal cable routing gives the bike a streamlined look. The Presidio 1 is the least expensive offering among Marin's new line of commuter bikes. Its Shimano Nexus 3-speed internal hub is easier to maintain than other, similarly priced external drivetrains. Other features include Vee Tire Co. Baldy tires, which are puncture-resistant and have reflective sidewalls for enhanced visibility in low light conditions; as well as Shimano hydraulic disc brakes—they'll keep you safe during hectic morning commutes!
The Presidio 2 is a modest upgrade from the base model, which includes a straight-blade aluminum fork and 7 speeds in its Shimano Nexus internal drivetrain. The Presidio 3 includes an 8-speed Gates Carbon Drive belt drive system, along with flat-mount Tektro hydraulic disc brakes. The bicycle's most impressive features are its space for fenders, rear rack, and kickstand.
Explore More Marin Presidio City Bike!
Marin Larkspur City Bike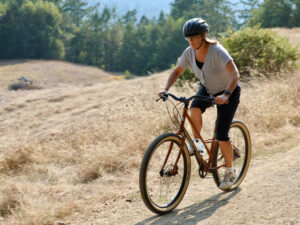 The Marin Larkspur is a comfortable, cruisy bike with urban warrior written all over it—right out of the box. Like many veteran riders' bikes from years past, this one was designed to be used daily and built for comfort even in the most challenging conditions. A blend of the best features from mountain bikes and commuter models, Larkspur is a bike that takes you wherever you want to go. The Larkspur's butted Series 2 frame and the mixte step-thru design make it a comfortable bike to ride, even with carriers and baby seats attached.
Both Larkspur models use modern, wide-range drivetrains. The Larkspur 1 has a 10-speed and the Larkspur 2 uses an 11-speed system—these drivetrains are strong and durable, with ample gearing for most riders' needs. They're simpler than front derailleurs because they don't require shifting between gears that aren't optimal for the terrain being ridden on. Hydraulic disc brakes provide reliable stopping power even in wet or muddy conditions, and they need little upkeep. You can find Marin Larkspur City Bike on Rodalink Singapore website!
If you live in Singapore and lately have been looking for a "bike shop or bike shop near me", or are looking for a Marin City Bike—Rodalink provides quality selections from trusted brand names. There are many Rodalink promotions running at the moment. These include 0% OCBC installments, free delivery, and Shopback, and Pay Later options. For more details on these promos visit their website now!
Not only that, joining Rodalink Singapore will give you many benefits. Come on! Let's start this exciting cycling trip together!